'Andor' Episodes 1-3 Recap/Review
Posted On September 20, 2022
---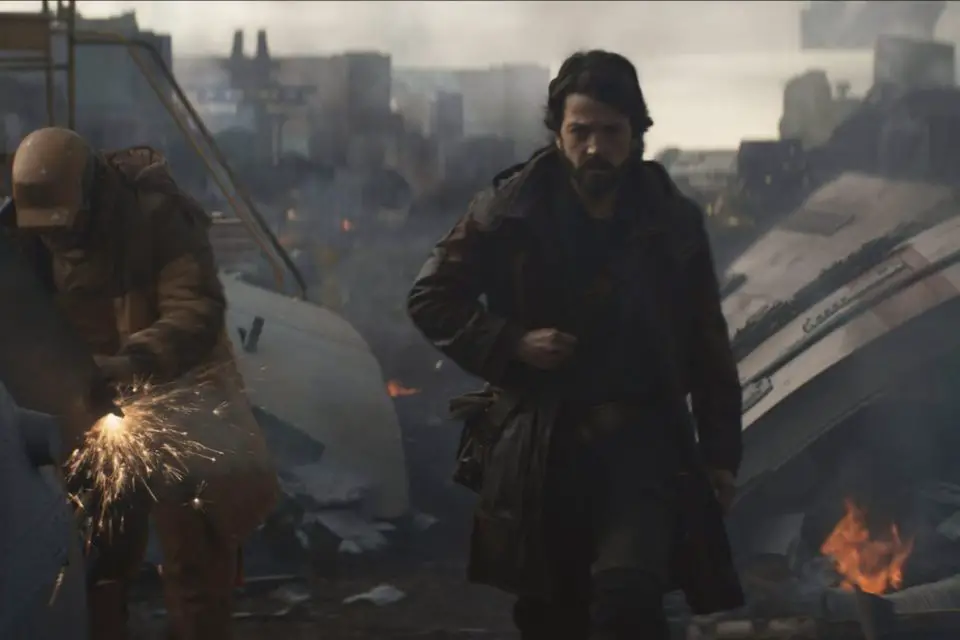 Andor is the latest Disney+ show set in the world of Star Wars, following, you guessed it: Cassian Andor, rebel spy and imperial saboteur. Established years before the events of Rogue One: A Star Wars Story, the series at the time of its announcement felt wholly unnecessary. Diego Luna's character felt like one that was already well-developed, with an emotional conclusion in Rogue One. What would be the point of expounding on an already well-written character and dwelling on the past?
Thankfully, Andor is a series that justifies its existence and then some. The first three episodes, directed by Toby Haynes and written by Tony Gilroy, craft an epic opening salvo. Its premiere provides a gritter and refreshing tone that a Star Wars project hasn't had for quite a while. With an exciting premise and structure, Andor looks to offer a new espionage-filled and entertaining television season.

One of the best aspects about the first three episodes of Andor is that, much like its title character, the show isn't all that concerned with the larger Star Wars universe. Gone are the references to Jedi or high-ranking imperial officers and leaders. In its place is the seedy world Cassian Andor inhabits and his need to look out for his interests. Diego Luna approaches the character of Cassian in an even more nihilistic way than in Rogue One, if you can believe it. Before Cassian is even aware of a rebellion, he's just a drifter looking out for himself.
The expert level of detail in character development makes Andor feel that much more real. The first two of the three episodes in the premiere play out more like a thriller than a Star Wars story. Because of that, the pacing is much more methodical. Andor is a slow burn. Haynes and Gilroy are cold and calculated in getting Cassian where he needs to go in the story. Moreover, the supporting cast surrounding Cassian makes this world feel more real than it ever has.

Adria Arjona, who plays an associate and a relatively close friend to Andor named Bix Caleen, is one of those supporting players. Arjona has a world-weariness and authenticity about her, making Bix a great contrast to Cassian. The first three episodes do an excellent job showing the world Andor lives in, honing in on a gritty and dark tone that's been used sparingly in Star Wars up to this point.
Every body that's dropped in Andor thus far has had real weight to it. That's saying something, as the body count in other series like Mandalorian makes casualties feel like background decoration. In Andor, it's the exact opposite. Every decision made by the characters has lasting consequences. Consequences that build up in an explosive third episode.
After the slow burn of the first two episodes, which saw Cassian commit a crime that required him to go off-world, Andor episode 3 kicks things into gear. In the explosive end to the series premiere, there is one standout, aside from Luna. That standout is Stellan Skarsgård, who plays the character of Luthen Rael.

Luthen feels like a representative of everything about Andor that works as a series. Skarsgård brings real humanity to the character of Luthen. A character that's bitter about the state of the galaxy and someone who's angry enough to rile even Cassian Andor up to join his cause. The line delivery and subtle physicality brought to the character of Luthen make me excited to see what Skarsgård brings to the rest of the series.
With Andor finding himself with no choice but to go along with Luthen to ensure his own safety, the 3-episode premiere of Andor ends on a high note. The pieces are coming together for Andor to become a part of something bigger. Moreover, the tease of further exploring the origins of the rebellion and the consequences that come with opposing the empire proves Andor has more story to tell than I initially thought.
The score, cinematography, and always impeccable production design that come with a Star Wars project are here too. Not only is Andor aesthetically pleasing, but it also has an engaging story to complement it. Overall, viewers are in for a treat if the first three episodes are anything to go by.  – Ernesto Valenzuela
Rating: 9/10
—–
Did you enjoy this article? If so, consider visiting our YouTube channel, where we discuss the latest and greatest in pop culture news.
---
Trending Now