'Glorious' Review: "Gloryholes and Cosmic Nightmares"
Posted On August 18, 2022
---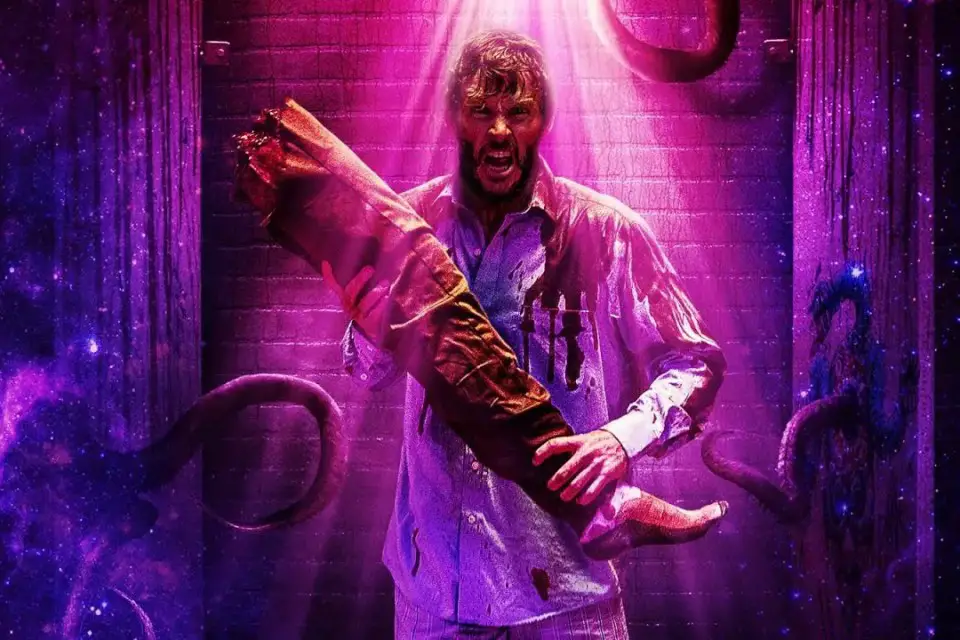 There have been quite a few single-location horror pictures this year. Some of them are good (See For Me), and others are well… let's just say they are not up to par (No Exit). However, none are set in one of the dirtiest and grimiest places in the world: a rest-stop bathroom. This is where Rebekah McKendry's latest film and Fantasia Fest smash, Glorious, sets itself – in a bathroom with all sorts of weird fluids on its floors and looks like it smells of hell, albeit brightly colored in a purple hue. McKendry treats Glorious as a stage play version of a cosmic horror picture, with limited settings, characters, and camera maneuvers. She puts herself to the test by restraining what she can do.
Glorious centers around a heartbroken and down-on-his-luck man named Wes (Ryan Kwanten). After plenty of years together with his partner, he has broken up with her. Wes is homeless and searching for a place to stay. He's currently living in his car, crawling into the bottom of the bottle because there's no other remedy that suits him. So he makes a quick visit to a rest stop to grab a snack (which is a terrible decision) and take the edge off. An alcohol-induced rampage causes him to burn pictures and clothes of his former partner.  Now, he's a total wreck, with a hangover eating him on the inside. He goes to the bathroom to throw up and clean himself so he can continue his journey to nowhere. However, he finds himself trapped, with one person sitting beside him. 

"The universe has a favor to ask", says the "person" at the stall next to Wes. This is where the horrors of the narrative begin. The "person" next to him isn't human. He's a god and speaks through a glory hole (which is voiced by J.K. Simmons). It is a confrontation in a rest-stop bathroom for seventy-nine minutes with Lovecraftian lore, cosmic horror, and comedy attached. Does it all work? Well, not quite. It's enjoyable in parts. Glorious has a claustrophobic mesh between horror sub-genres, yet it doesn't enthrall due to a lack of guidance and exploration. Glorious develops as a horror stage play with what seems like a gimmick, but then it runs its course and is more than that. However, it isn't appropriately crafted and feels sloppy, especially as it goes deeper into the madness.
You can argue that the filmmaking is messy and grotty to fit the setting. Nonetheless, there are most instances in which it feels too poor to withstand that argument. McKendry uses a recently-broke relationship, viewed via one of the partners (primarily), and combines it with seeking answers from God in times of sheer anguish. In this case, God answers. It's not the one the main character suspects, bringing him further trepidation and eventual closure via horror-comedy set-pieces. Wes' anger is used to fuel the Lovecraftian nightmare that's boiling up in the back end of Glorious, but it barely has weight or heft. Of course, I wasn't expecting that it dwelled into the multi-faceted aspects of separation and loneliness.

To a certain degree, one would expect that if it implements such themes, it would try and pursue to present an exciting and engaging showcase, but it never happens. Instead, it focuses purely on its horror-comedy techniques rather than developing a coherent story. Anyhow, there are some elements in Glorious that I quite enjoyed. Since J.K. Simmons is using his voice, Ryan Kwanten needs to carry the on-screen antics entirely. And he does, to some extent. Kwantem's physicality towards the material is quite entertaining, with plenty of gags and wisecracks that work on a 50/50 basis. In the least, he does the best with what's provided and manages to elevate some of the film's quips. Some camera movements and directorial techniques also impress but only leave a hint of the film's true potential.
This is clearly a pandemic-era horror film production. That doesn't diminish it; I have seen plenty of delightful movies produced during the times. What injures the experience Glorious has to offer is its lack of exploration of its ideas. It makes it hard to be fully invested in the Lovecraftian nightmare if there's no expansiveness to what's being presented beforehand. – Hector Gonzalez
Rating: 5/10
Glorious will be available to stream on Shudder on August 18th, 2022.
---
Trending Now