'Easter Sunday' Review: "Perfectly Pleasant"
---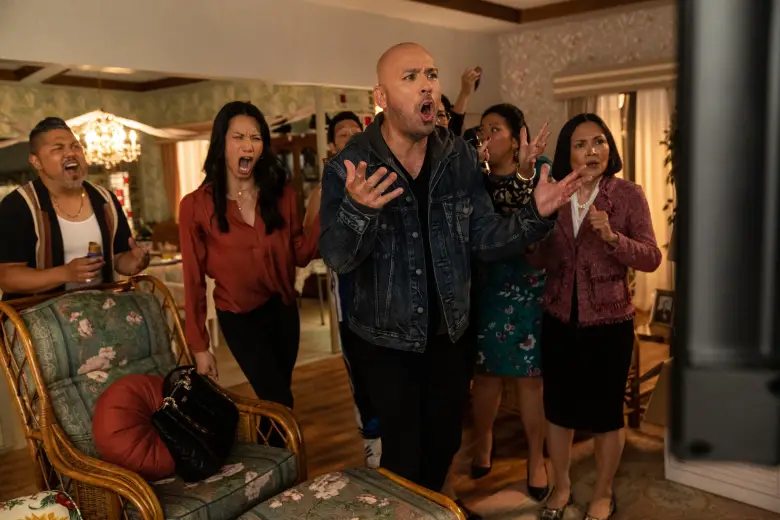 The current state of cinema centers around event films. Look at the controversial shelving of Warner Bros/HBO Max's Batgirl for example. Tentpoles make the most money, so tentpoles are what get greenlit. The movies have never been more focused on the bottom line. It was in this mood that I sat down to watch Universal's new comedy Easter Sunday. Seeing a film made for $17 million, with low stakes, a largely unknown cast, and a commitment to representing a culture other than the white Americans that are doted on by the studios feels like a warm blanket.
Now, Easter Sunday isn't anything necessarily special. Really, it feels right at home on a streamer rather than poised for theatrical. But it does just enough to hold audience's attention. Comedian Jo Koy stars as Joe Valencia, a Filipino-American actor/stand-up who is in the midst of trying to book a coveted role on a sitcom. In the midst of this process, he takes a trip with his son, Junior (Brandon Wardell), to go to his family's Easter Sunday celebration. What they find is a family is varying degrees of crisis. His mother (Lydia Gaston) and aunt Teresa (Tia Carrere) are bickering worse than ever. His cousin (Eugene Cordero) owes a lot of money to a local gangster named Dev Deluxe (Asif Ali), all the way Junior starts to fall for a local (Eva Noblezada). Shenanigans ensue!
Said shenanigans aren't exactly full of belly laughs. Director Jay Chandrasekhar, who also stars as Joe's agent, is far away from days of directing barn-burners like Super Troopers. His laid-back style of filmmaking has made for some fairly mediocre films in the past. But in this case, it works to the film's credit. This isn't a film with massive gags or anything of the like. There are zany antics, sure, though they earn chuckles or nods, save for a hilarious supporting role from Tiffany Haddish that's sure to bring the house down. And you know, it's enough to watch Jo Koy in a leading role that matches the film's lackadaisical energy as he watches his family get into wacky situations involving an empanada competition, Manny Pacquiao's stolen boxing gloves, and an appearance from legendary actor Lou Diamond Phillips as… Lou Diamond Phillips.

The strongest aspect of Easter Sunday is the representation of the Filipino-American experience. As someone who is not part of that community, I appreciated writers Ken Chang and Kate Angelo giving a window into that world. What makes cinema a powerful tool is that it can be a way to better understand one another. This is done with love and care, not trying to over-explain that specific experience for consumption. Rather, it takes time to recreate it. I was honored to get to spend some time with the Valencias, who are all made up of a cast of outstanding Filipino-American actors.
Easter Sunday may not be the most original movie, or even the most exciting, but it serves up a perfectly pleasant story about the importance of family and embracing what makes yours unique. And all told from a perspective we don't get to see nearly ever in a Hollywood film! I'm not sure if I'll ever watch Easter Sunday again. I like my comedy high-concept or a joke-per-second. These kinds of light romps are kind of a one-and-done for me. However, I can see this movie being very special for a lot of people. It puts its money where its mouth is by employing Filipino-American talent, wears its heart on its sleeve, and tells a real, honest story. In an era where "content" consistently overtakes art, I'll take it. – James Preston Poole
Rating: 6/10
Easter Sunday is now in theaters.
---
Trending Now