'Men' Review: "Striking Visuals, Lackluster Story"
---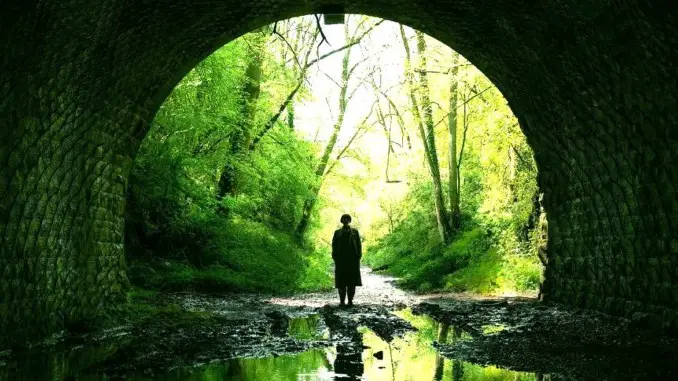 Alex Garland is no stranger to the genre of horror. After the tense and superb Ex Machina and the existential dread of Anhhilation, Garland has returned to give movie-goers another glimpse into his weirdly creative stories of trauma. This time around it's in the form of folk horror. Titled Men, Jessie Buckley plays Harper, a woman traumatized by the violent death of her abusive husband. Seeking solace in the countryside, Harper rents a house in a small village. However, things take a sinister turn as Harper feels the sudden looming and stalking presence of a strange man.
Garland follows a similar structure to that of his previous film, Annihilation. The film is told in a non-linear format for most of the runtime. Telling the story of Harper and her husband James (Paapa Essiedu) on the fateful day that led to her seclusion in a village for the next two weeks. On a technical level, Men is a superb example of filmmaking that is just plain pretty to look at. The visuals feel crisp, distinct, and made to watch in a theater. Moreover, the cinematography by Rob Hardy helps at accentuating the tension of the story. The images put on screen can feel dangerously lifelike in one frame and dreamlike in the next.

However, in terms of story and themes, Men staggers a bit more than it should. Annihilation and Ex Machina had a prominent theme and story that carried the narrative arc of their main characters. However, Men feels like an aimless gallop through trippy and dream-like folk horror with a touch of toxic masculinity. The project definitely feels less ambitious than Garland's previous work, and while that works for the setting and performances, the story struggles because of it.
Buckley's subtle performance helps to make the surreal aspects of the film a little bit more grounded in reality. The wounded demeanor of her character helps to drive home Garland's message on toxic masculinity. Throughout the film, Harper, seeking closure and solace in her own life, is instead told by several different men (all played fantastically by Rory Kinnear) what she did wrong. It's in these scenes of conversation with different versions of Kinnear that Men is at its most clear.

The rest of the dragged-out folk horror of Men makes for ambiguous storytelling. While Harper is clearly struggling with her own demons, the way it's brought about on-screen and the odd conclusion don't seem to correlate with the character and her struggles. The loose theme struggles to justify the bold visuals and trippy format of storytelling. Men has enough in the scares and visual department, showing that Garland and co. can still create captivating images. However, it isn't enough to keep the story afloat. From the intense argument Harper has with her abusive husband, to another one week later with a vicar, Men poses interesting questions. To what degree is one man similar to another, and how far across do these characteristics spread out?
They are frightening questions, ones that Harper confronts metaphorically and terrifyingly. What follows is some of the most disturbing body horror I've seen in a while. However, that doesn't answer the question that the film poses. If anything, it's just a literal and physical manifestation of the themes of the movie. It's scary, but it doesn't help to bring closure to the struggles of Buckley's character nor is it particularly engaging when all is said and done.
Overall, Men boasts impressive technical aspects and some incredible performances out of its very small cast. However, the themes and story are sincerely lacking. Some might say the film's cryptic nature is part of the point. But when it tends to be vague for the sake of it, whatever insight it has on its mind falls through the cracks. – Ernesto Valenzuela
Rating – 5/10
Men is Now Playing in Theaters.
---
Trending Now
You may also like