'Tokyo Vice' Episodes 6-7 Spoiler Recap/Review
---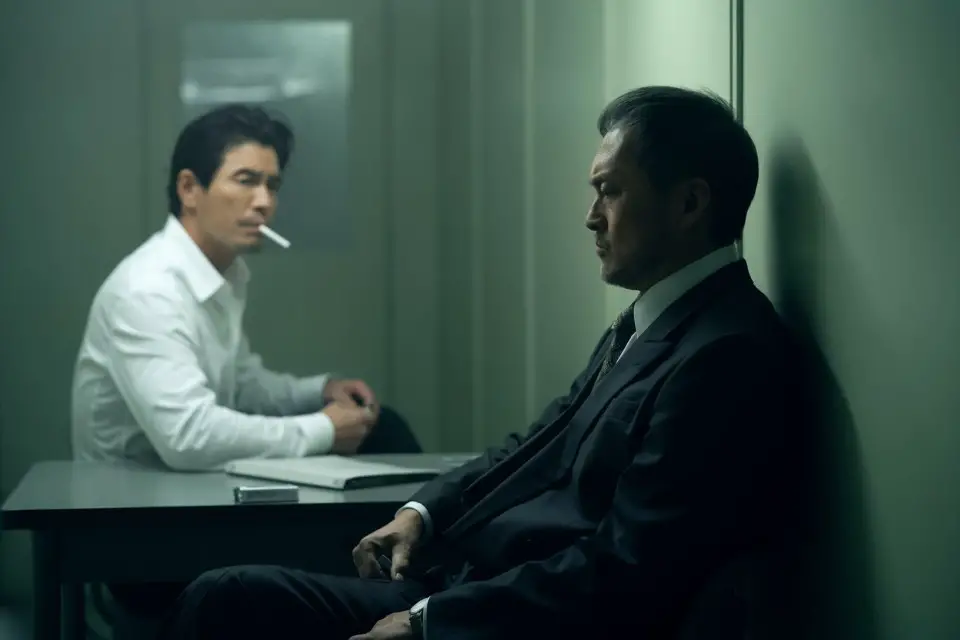 The following will contain spoilers for the sixth and seventh episodes of Tokyo Vice. For our review of the last two episodes, click here.
Tokyo Vice is geared towards an intense conclusion if these last two episodes are anything to go by. After all the intrigue in episodes 4 & 5, episodes 6 & 7 of the show set everything in motion with Jake's story finally intersecting with that of the Yakuza and the police. Not only that, but these episodes highlight the consequences of journalism. Consequences that Jake learns the hard way.
It's not often that a show is able to make journalism as intense as a criminal organization. That's one thing Tokyo Vice thrives at. It's never more evident than in these two episodes. The majority of these episodes follow the plotline of a tip Aldenstein receives. One revolving around a drug shipment via plane. As Jake receives this information from the head of a crime family, he feels an impulsive need to pursue it.
While his relationship with Hiroto Katagiri (Watanabe) has strengthened over the course of the season, it's this info Jake receives that puts their friendship to the test. Katagiri advises Jake to sit on the info while he investigates, telling him to do nothing. However, over the past few episodes, Jake's hit wall after wall in pursuing a story.  Impatient and in need of a story, Jake pursues the info regardless. Ignoring Katagiri, he goes to another cop.

Tokyo Vice excels in the details of its story. Every choice the characters make feels real and helps elevate the tension of these two episodes especially. While Jake has his heart in the right place, wanting justice and to keep a dangerous substance off the streets, he fails to see the bigger picture. His other connection in the force follows the lead, and unbeknownst to Jake is a crooked cop working for Tozawa. Tozawa's plane lands, and the crooked cop has it searched every inch except for the spot he knows the drugs are at.
Made to look like a fool, Jake loses all credibility with the police force and is shamed by Katagiri, who warned him of this exact scenario. Unbeknownst to Jake, who was only trying to do the right thing, he only made the situation worse. Tozawa now knows to have the drugs transported another way and send the police back to square one. The repercussions of Jake's decision reverberate through his work and personal life and the show demonstrates that incredibly well.

On the other side of the story of Tokyo Vice, there are the much less interesting developments between Sato and Samantha. Samantha's story is one that has dragged throughout this first season of Tokyo Vice. It's managed to have its moments and only got a bit more interesting when Sato became more involved with her. Episodes 6 & 7 showcase more of their relationship and Sato's growing disillusionment with his life. As one of Samantha's closest friends goes missing, Sato agrees to help search for her, to the detriment of their relationship.
Sato, to help Samantha before this, killed the man that was after her. His conscience begins to weigh on him, he takes it out on her. It's a bit of a contrived and cliche story angle, one that doesn't entirely fit with the tone of Tokyo Vice. This could have been avoided altogether had Samantha not been made an integral part of the story. Instead, these B Plots revolving around Samantha (and now Sato) begin to slow the show's momentum.

Things continue to pick up when Jake begins to find a different route toward Tozawa. Turning to Yakuza fan magazines, Jake finds a disheveled reporter fanboy who photographs Tozawa for one of those magazines. It's an interesting new angle that Jake uses to his advantage to discover more about Tozawa. The struggle Jake has with this larger-than-life criminal is translated well on the show. Viewers feel a sense of helplessness as his activities go nearly unpunished.
Katagiri, meanwhile, attempts to flesh out the rat. Watanabe continues to do what he does best, with his subtle performance speaking volumes about his exhaustion from all the crime and corruption. It's a hilarious side plot in the episode, that manages to provide a moment of levity in an intense series. With Tozawa's health deteriorating and his rat in the force being found out, Tokyo Vice, all Samantha subplots aside, has used its seven episodes well to set up what will undoubtedly be an engaging and thrilling finale. – Ernesto Valenzuela 
Grade – 7.5/10
Tokyo Vice Airs New Episodes Every Thursday on HBO Max.
---
Trending Now