'Outer Range' Episode 3 & 4 Spoiler Recap/Review
---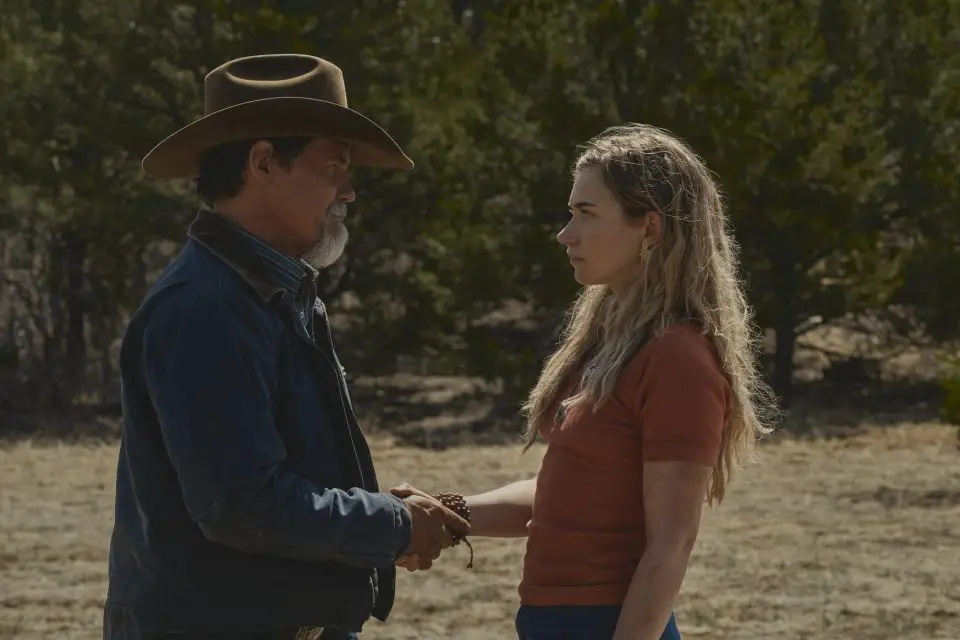 This review contains spoilers for Amazon's Outer Range, for last week's review click here.
The Earth is an ancient and mysterious place. There's a lot we don't know about this planet, and a lot of things we will never know. The dark depths of our own oceans and the outer reaches of space continue to be unknown to us. We live in a universe of mysteries. Outer Range is based around those mysteries, and the consequences that come from them. While the show hasn't completely showed its hand, it has shown that it's capable of keeping us locked in. Even when the show isn't going full Sci-Fi, it still maintains its pace, keeping us wanting more.
This week's episodes of Outer Range are a culmination of the seeds planted in the first two episodes. Perry killing Trevor Tillerson, Autumn pushing Royal into the hole, and the Tillerson family wanting the Abbott's West pasture. There was a lot of information to digest in the first two episodes. Namely, what is the hole? When Royal was pushed in by Autumn, and we went to the other side, he was told he'd been dead for two years. Was it time travel? A different dimension? Who knows.
Episode 3 of Outer Range was more grounded. Of course, it opened with a dialogue from Royal about the Earth and mythology. It was more focused on Deputy Sherriff Joy, and her investigation into Trevor's disappearance though. Sheriff Joy stops a robbery at a convenient store to show us just how bad ass she is. Then, she goes into the station where she's met by her fellow officers and her political opponent Officer Mark. The two discuss Trevor, and ultimately agree to disagree on the matter.

Sheriff Joy finds Rhett's blood on Trevor's belt buckle. After he wins the bull riding contest and hangs out with Maria, Rhett gets arrested for urinating on a police car. She questions him for a second time about Trevor, and he gives her a very thin story. She knows it, but lets him go anyway. Royal takes the belt buckle and tells Rhett the truth about his parents. How his father died, as well as him leaving his mother and sister afterwards, never to see them again. He throws the buckle into the hole.
Autumn goes into town, and finds Perry. She asks him about Rebecca, and tries to give him some advice on being happy. He takes it, and begins to wonder about her. The Tillerson family is worried about Trevor. Wayne is more worried about getting the land from Abbott. He tells his son, Luke, to offer Royal $1 million dollars. After an argument ensues, the boys leave. Royal rides to Autumn's camp, to talk. He's still upset she pushed him in the hole, but she asks him what happened in the hole. Royal doesn't tell her everything, but he explains that he had been dead for two years. This is the first time the writing acknowledges the time traveling within the hole. The episode ends with Trevor's body being found in the woods by Amy.
The fourth episode is where things start to truly form. We see one of Wayne Tillerson's workers bring him a rock, a certain type of rock. There's some mysterious black material inside of it. He's excited thinking that he's struck gold. It's the same black material in the stone Autumn has on her necklace. In episode three, she shakes hands with Royal and a mountain completely disappears. This is the material from inside the hole. The big question is: what is it?

Sheriff Joy begins questioning the Abbott family. She starts with Amy and the family quickly comes up with a story as to what happened that night with Rhett and Trevor. He fought Trevor, left when he was alive and went to hangout with Maria. Rhett has no idea at all what's going on. He's at the store, and ends up getting questioned before his family can reach him. Maria and Rhett stick with the story though; that is, until Maria gets pulled in by herself and confesses that she lied.
That's when things go a little off the rails. Sheriff Joy tries to get the Abbott boys to tell on each other, which is a tactic that cops use when they try to catch a suspect. Neither one can keep their story straight. She almost pulls it off before Royal comes and gets his boys. The Tillerson boys' mother, Patricia, comes into town. She is also angry with Wayne because of his obsession with the rocks. He shows her one, and she starts to understand.
Patricia shows up at the Coroner's Office to see Trevor's body. What happens next is extremely wild. After kicking out Patricia so they can do the autopsy report, the Coroner tells Sheriff Joy the breakdown. Rhett had only been dead for 10 hours, even though he was missing for ten days. Which kind of ruins her investigation of the Abbotts. Shortly after, Royal shows up to the office of Karl Cleaver, and threatens him over his land.

There's a funeral for Trevor, where Patricia spots Perry as the one that killed Rhett. After the very colorful and strange funeral, the repass happens. There, Royal tells Sheriff Joy about how lawless and ruthless the land is. Cecilia approaches Cleaver, and he tells her he moved the court date up. In the meantime, Royal and Autumn are playing a game of cards. They wager, Royal puts up his West pasture, and she bets her necklace. She loses the necklace.
The episode ends on a particularly weird cliffhanger. Wayne decides to go onto Royal's land. He runs through the gate to the West pasture, and meets Royal at the wormhole. The two men tussle, and Wayne knocks Royal out cold. He speeds off in excitement and we are left to wait until next week to find the implications of the situation.
While these episodes do not expand the lore of the hole, they are entertaining. Episode three was more of a filler than anything, but it was still exciting. Zev Borow delivers a pretty anxiety-inducing episode of Outer Range. The blood on Trevor's belt buckle, Royal stealing the belt buckle, Sheriff Joy becoming curious. There was a lot going on there. This was a necessary episode, despite it feeling significantly slower than the first two.

Brian Watkins stepped in for the fourth episode, with the help of Lucy Thurber. They didn't expand the lore either, but they made a more intriguing episode. There's some kind of legend here that they haven't told us about. Autumn is clearly far more important than we could've guessed and could be connected to Rebecca. We will have to wait and see.
Jennifer Getzinger brings these episodes to us in a way that's extremely fun. These characters are portrayed well and in a way that makes it hard to choose sides. Even though the Tillersons are clearly evil, the Abbotts do not have clean hands. This creates a sort of balance in a way, but I'm sure we have more chaos and insanity afoot in Wyoming. – Rascal F. Kennedy
Rating – 8/10
New episodes of Outer Range premiere Fridays on Amazon Prime!
---
Trending Now