'The Endgame' S1, E3 Recap/Review: "Bury the Lede"
---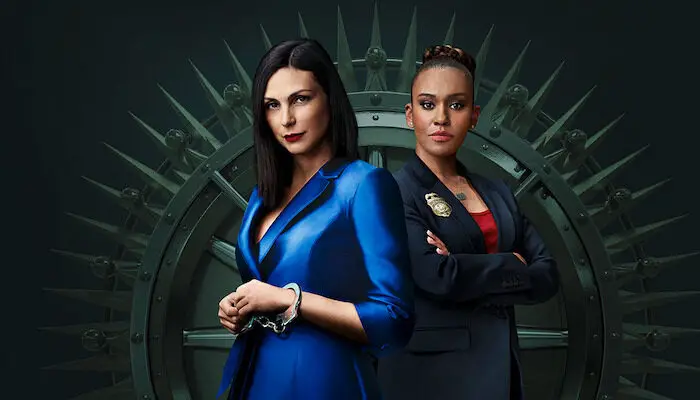 The following is a spoiler review for The Endgame, to view previous coverage on the series, click HERE.
The Endgame starts with an ENN news report with Tyler Erickson showing the heists have been happening for 3 days.  Agents Anthony Flowers (Jordan Johnson-Hinds) and Val Turner (Ryan Michelle Bathé) are trying to track down when Owen (Kamal Angelo Bolden) first met with the Fedorovas. They track it down to Argentina in 2016, when Owen got shot in an undercover operation. We get a flashback, and it showcases the meeting. It is actually in fact when Owen was undercover. Turner goes in to talk to Fedorova (Morena Baccarin), and figures out they met after Owen got shot. In Bank 5, a hostage, Arushi is pulled to her feet and taken from the rest of the hostages. She's placed in an unventilated vault with a four hour timer until she suffocates.
Assistant Director Jonathan Doak (Noah Bean) suggests using arkon on the bank in order to knock everyone out, with the risk of killing everyone. Fedorova hacks the ENN feed, and requests to negotiate with Erickson, promising to release Arushi, as well as the bank if the FBI and Erickson agree.  With less than three hours left, Erickson agrees to negotiate, going in to Bank 5 where he takes a seat in front of a camera. There, he's asked to answer one question about the swan and, if he answers, everyone in the bank can leave.

Turner, Erickson, and the agents in the command center have no clue what the swan is, and Doak loses his mind. Flowers and Turner head out to help SWAT when they see smoke, at a location that translates to swan in Russian. The plan changes. Focusing in on Sergey (Costa Ronin) and Owen, they're eating when they see a man who knows Sergey. Nothing comes of this plot point, in this episode, we're just left with Sergey continually telling Owen not to worry.
At Lebed Storage, Turner and Flowers investigate, finding a freezer containing a dead Asian woman. Turner knows it will lead to Erickson in some way. Returning to 2016, Owen and the Fedorovas continue to negotiate over weapons, and end up in a shooting match of their own when Owen ends up shot. He's saved by the Fedorovas, who knew he was FBI long before they met, but wants his friendship, and help on the Beloks. Back in bank 5, there's an hour and 25 minutes left, and Doak without hard evidence won't connect the dead girl, Ming Lee to Erickson.

Fedorova jumps into the ENN feed again, and requests people to come to the bank. Important to clarify, the vault has been streaming the whole time. These segments of Fedorova on the feed are prerecorded, and just add to the drama. Turner and Flowers talk with Lee's mom, asking for details on what Lee was doing before she died, but get no connection. With 17 minutes left on the clock, Director Réal (Mark D. Espinoza) comes in and confronts Fedorova, saying death she and her crew inflict will be met equally. Fedorova says if anyone dies in the gas attack Doak is planning the same applies.
Doak calls in, saying they have the gas and an expert ready to deploy the right dosage. Réal says to deploy it. Doak gets catty with Turner, commenting on her giving up instead of continuing to follow through, but Turner is unwilling to let the woman die. Doak sets up the SWAT to go in with 7 minutes left, but when they start heading in, the electricity goes out. Surveillance is down, allowing the heist group to escape. No arkon is released.

Turner and Flowers question Arushi, as they find she lived far away from the bank. They discover she was friends with Ming, and Ming had sent her a number, 1164. Turner goes into the vault, pulling safety deposit box 1164 containing Ming's laptop. The laptop contains data saying Erickson was associated with the Beloks, the Ukranian crime family involved with the Fedorovas. The findings state Erickson had received roughly 10 million to help that family when he was a press aide at the White House. Doak says they can't do anything with that data, but Turner goes in and bluffs her way through it.
Erickson falls victim to the bluff, confessing most of what happened to Ming, and that he made a call. He doesn't say it was to the Beloks, but it's enough to arrest him. Turner tries to figure out the connection with Fedorova as the people of New York come to terms with what Fedorova did in Bank 5. Turner asks who the Beloks are. Fedorova replies that it's too complicated, but she gives a hint; the bullet that is still in Owen. Turner once again draws a line, and says they have nothing in common, and Fedorova knows nothing about her.
Fedorova tells Turner everything she knows about her, and that she just wants to be friends. Turner declines, and says she's seeing Fedorova's patterns. Fedorova will slip. Fedorova laughs, and says not yet. They both chuckle, and Turner leaves and gets home. We flashback to after Owen being shot. Turner says she doesn't want to lose Owen, and he says she will never lose him. She stares at the four leaf clover Owen gave her, and puts together a clue with one of the books on her shelf. She opens the book, finding a flash drive.

The Endgame tried to pick up the pace in this episode. Unfortunately, it feels like it's just burying the lead. Baccarin commands every scene she is in, but Bathé this episode seems to fall flat. I understand she's under pressure with her husband being roped into this mess. However, it seems like she should be putting up more of a fight. Yes Doak is her superior, but he's an idiot. Turner seems to turn very submissive, and I don't like that. The only reason this show kept me around after last episode was for Turner and Fedorova. They both have strong presence in scenes, and it needs to continue for The Endgame to have hope.
Owen is starting to draw my attention more as things progress in the prison. I'm curious why he ultimately chooses to help. And why Sergey is "dead". But ultimately, I'm still trying to juggle the new storylines put up in this episode. Yes, it's a thriller mystery, they'll all tie together. But maybe seven banks, Fedorova and Turner's relationship, the prison, and Turner's issues with her boss is just too much to track for one show. –Katie Rentschler
Rating: 6.5/10
New episodes for The Endgame premiere Mondays on NBC.
---
Trending Now