'The Book of Boba Fett' Episode 6 – "From the Desert Comes a Stranger" Review
Posted On February 2, 2022
---
The Book of Boba Fett returns to our screens with a sixth episode that continues on in a direction of fan favorites, but also struggles. This is a spoiler review, so please check out our previous coverage of the series HERE. For our coverage on The Mandalorian, please click HERE.
We see moisture farms. Pykes are selling spice, and we get Marshal Cobb Vanth (Timothy Olyphant) back! He offers them a chance to leave, the Pykes pull blasters, Vanth kills three of them and lets the other one go back to Mos Eisley, leaving the spice, but taking the credits back. He warns them not to return to Mos Pelgo.
We see Din Djarin (Pedro Pascal), flying to a green planet. He's going to see Grogu! R2-D2 helps him land, then escorts him through the forest. They arrive at a clearing, where we see ant droids ferrying rock into a building, what looks like one of the buildings on Ach-To. Luke's first temple! Artoo shuts off, and Djarin has to wait because no one can direct him.

We get a peaceful shot through the landscape, and we see Grogu and Luke Skywalker (Mark Hamill) meditating. A frog jumps through, distracting Grogu, and he tries to eat it before getting caught. Luke shows off by levitating all the frogs around them. Luke and Grogu move from meditating and walk through the forest in an extra cute scene, Luke asks if he'd like to remember home, and Luke uses the force to help, and he remembers order 66 with three Jedi dying in front of him.
We return to Djarin where he's taking a nap when suddenly, a wild Ahsoka (Rosario Dawson) appears. Djarin asks what she's doing here. She remarks she's an old friend of the family, and says Master Luke will train him. She is not. Artoo brought him to Ahsoka for a reason. Ahsoka warns him of his attachment to Grogu. Djarin wants to see him, but Ahsoka manages to convince him to leave the package, armor as we're told, with her and she will deliver it.

Djarin takes off and we see Grogu wave goodbye in a backpack on Luke's back. They do more training, working on force jumps, balance, and reflexes. Training remote appears! It shoots Grogu and Luke tells him to always get back up. The next shot appears and Grogu force jumps! Ahsoka comes into the training montage to see Grogu break the training remote. She gives the gift to Luke. He wonders if Grogu's heart is in it, and Ahsoka tells him to trust his instincts, that he is very much like his father. She leaves with Luke asking if he'll see her again. She says perhaps.
Djarin arrives back on Tatooine, landing at the palace. He heads back into a planning session with the Mods as well as Black Krrrsantan (Carey Jones). Djarin flies out and sees a Jawa transport mounted with a Krayt Skull. He lands at Mos Pelgo/Freetown, where he talks with Cobb Vanth. Djarin makes his pitch, and it doesn't seem like the town will go for it. But Vanth tells him he'll see what he can do. Vanth tells the bartender to round everyone up. When somebody comes in from the west. It's Cad Bane (Corey Burton)! He warns Vanth to keep Freetown out of the conflict between Fett and the Pykes. Vanth tells him to keep the spice runners off Tatooine. Then we get a good old-fashioned western quick draw. The deputy distracts Vanth, and Vanth and the deputy get shot.

We head to Garza's Sanctuary where two Pykes have walked in carrying a package. They walk out, and the droid lets them know they forgot their camtono and then, it blows up.
We return to Luke and Grogu, meditating in the finished building. He presents the beskar chain mail. But he also presents him the offer of Master Yoda's lightsaber. He may only choose one, to be a student, or to return to the Mandalorian. And that's how it ends.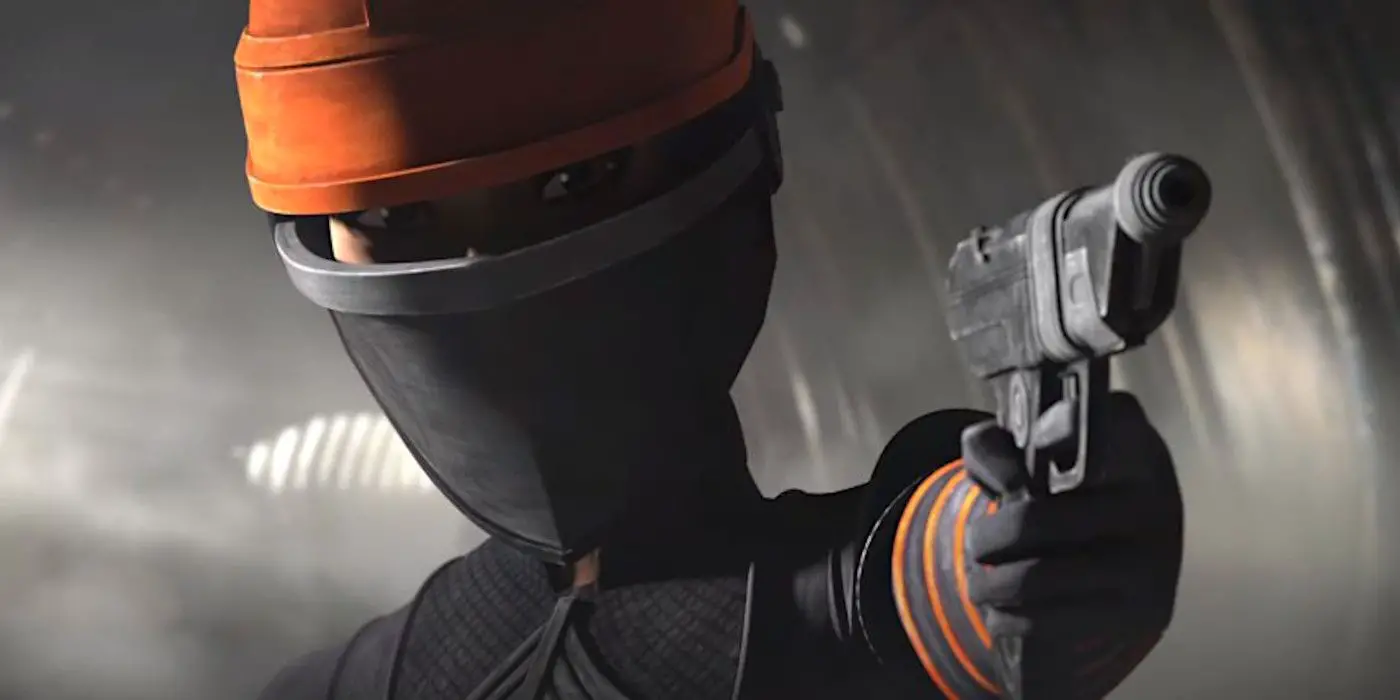 There's a lot to be happy about with this episode of The Book of Boba Fett. For one, we get a much better CGI Luke Skywalker, Ahsoka Tano, Grogu, and Cad Bane. For two, this very much feels like a potential backdoor pilot for a Luke Skywalker Jedi training show. On the other hand, it's the second episode in a row where we see the main characters of our show for less than a minute, and the titular star of the show (Boba Fett) doesn't say a word. While this is good television, Star Wars media has always frustrated me when the titular character isn't given enough time to shine.
Boba Fett (Temuera Morrison) has felt hung out to dry ever since the flashbacks ended. And I can't reiterate this enough, the episodes we have gotten since are some of my favorites of live-action. This is all, in theory, setting up for a season finale that will show Fett's team versus the Pyke Syndicate. But it feels like we need a second season now to really articulate everything Fett and Shand need as main characters to the show. Morrison and Wen are so fantastic together, I just need more of them on screen.

Overall, this is probably director Dave Filoni's best episode of live-action Star Wars to his name. And I loved several things about the episode. Mainly because Jedi have always been some of my favorite characters dating back to the Legends of the Star Wars book universe. And as I stated previously, the creators of The Book of Boba Fett intended it to be a season 2.5 of The Mandalorian. I just wish it didn't feel like we started somewhere with episodes 1-4, and now gone in a completely different direction for 5 and 6.
We did get an answer to a big question a lot of Star Wars fans have asked, which is did Luke and Ahsoka ever meet? It was really cool seeing them together, and Ahsoka sharing tidbits about Anakin with Luke. Despite that, I have to wonder what is Ahsoka doing there? How did they meet? Because she was on a quest to find Thrawn, but now she's here? I guess everyone needs a break. But will be curious to see if we can find out more.
The Book of Boba Fett has been a tough sell to every fan in the Star Wars universe. Most of the two branches are split between episodes 1-4 and now 5-6. I can only hope the season finale next week will bring us back together. – Katie Rentschler
Rating: 7.5/10
The Book of Boba Fett episodes 1-6 are now streaming on Disney+. New episodes air every Wednesday on Disney+.
---
Trending Now