'With Love' Review: "A Joyous Celebration of Latinidad"
Posted On January 9, 2022
---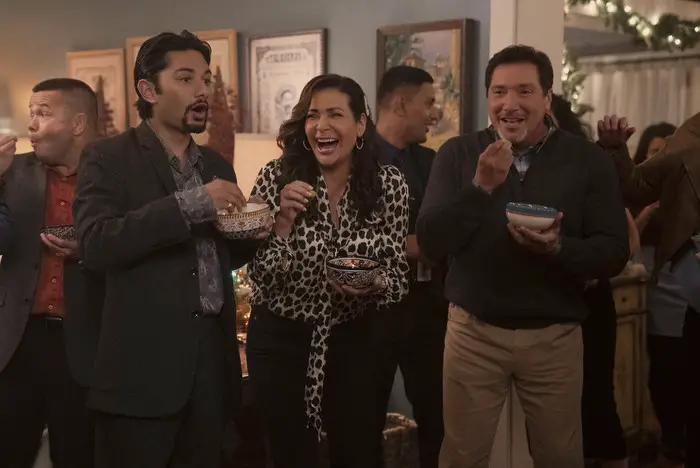 After One Day at a Time was twice canceled to much disappointment, Gloria Calderon Kellet is back with another project full of Latine pride. With Love follows siblings Lily (Emeraude Toubia) and Jorge Diaz (Mark Indelicato) as they try to find love during the holidays. While entertaining, humorous, and oftentimes endearing, the show fails to check all the boxes of what makes a masterful instant classic. 
The Amazon original is a joyous celebration of Latinidad within literal times of celebration. Five episodes make up the first season, each of them following a different holiday from Christmas to Valentine's Day and even Dia de los Muertos. Most importantly, the show's brand is that of a romantic comedy with Latines at the center. With Love explores the cultures of different characters alongside the traditions that follow each specific holiday. This allows the viewer to get an idea of what goes on behind the closed doors of a Latine household during different times of the year. 

While it is an opportunity to diversify and be inclusive, oftentimes scenes felt more like an encyclopedia of Latine knowledge. However, the show eventually finds its footing. Once it gets past the exposition and the establishment of the fact that these characters are in fact Latine, everything else is much more natural. We have our lead characters in the overwhelmingly quirky Lily and the ever self-doubting Jorge. Beyond them, there's their parents, Jorge Diaz Sr. (Benito Martinez) and Beatriz Diaz (Constance Marie). Their marriage suffers due to a romantic disconnect between the pair. Then there's Sol Perez (Isis King) is the maternal cousin of Jorge and Lily. They are also a trans-non-binary oncologist that works up a romance with Miles Murphy (Todd Grinnell), a handsome plastic surgeon. This specifically was the best plotline of the show and what should have been the center storyline to begin with.

Kellet has previously described her signature style as raunchy with a lot of heart. With Love plays right into this with family-friendly sensuality and slice-of-life dilemmas. That being said, the humor feels more in tune with that of a sitcom, which is understandable considering Kellet's background. Oftentimes, this causes the show to leave many jokes up in the air. It's almost as though we wait for a laugh track that never comes. The best part is the chemistry between the actors. The ensemble cast is a delight, breathing life into every scene. Despite the bumps in the road in terms of story, there is truly something real and genuine emanating from it all. 
With Love ends up being a delightfully charming show with great dynamics. It simply falls through in the writing. While many of the stories are sure to bring joy to viewers, others will be craving something more profound. Hopefully, this will inspire and allow for many more Latine Rom-Coms to come. 
Rating: 6/10
With Love is available to stream on Amazon Prime Video.
---
Trending Now