'The Wheel of Time' Episode 3 Recap/Review: "A Place of Safety"
Posted On December 5, 2021
---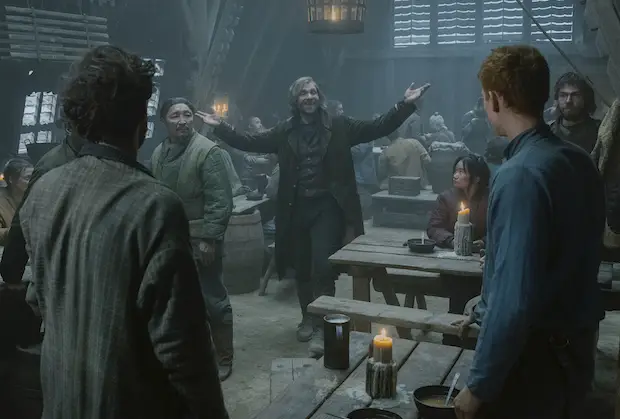 Although I was cautiously optimistic about The Wheel of Time, the second episode proved its mettle tremendously. Episode 3, entitled "A Place of Safety", continues the positive trend in quality. Even with the absorbing universe seen in the first two episodes, The Wheel of Time previously struggled somewhat with making its characters, save for Moraine, very interesting. No more is that an issue.
"A Place of Safety", directed by series newcomer Wayne Yip (Doctor Who, Doom Patrol), separates its characters for the majority of the runtime following their attack by the evil surrounding Shadar Logoth. Last we saw, Moiraine (Rosamund Pike) and Lan (Daniel Henney) were confronted by the still-alive Nynaeve al'Meara (Zoë Robins). Now we actually get to see how she survived. In a visceral enough flashback sequence, Nynaeve outwits the Trolloc that got her. She demands to know the location of the villagers, Lan and her argue back and forth about whether she will heal Moiraine, so on and so forth. Robins gives a fine performance as Nynaeve, but there's not much to her character so far, sadly. Simply the Two Rivers wisdom, nothing more or less.
A far more intriguing storyline deals with Egweine (Madeleine Madden) and Perrin (Marcus Rutherford). Wolves in tow, they are taken in by nomads known as the Tinkers. Perrin, however, cannot stop having nightmares about the wolves and a mysterious figure with fire in its eyes. Is this the elusive Dark One, metaphorical, or something else altogether? Madden lays on the tenderness thick, helping Perrin cope with his foresight. Although one certainly suspects his accidental killing of his wife in the first episode still bears heavily on his mind.

By far, the best part of the episode is the storyline between Mat (Barney Harris) and Rand (Josha Stradoski). These two argue like a married couple about whether to go home or continue on to the White Tower. The bickering doesn't stop when they enter a village. Looking for shelter, they come up empty when they realize a bard, or gleeman, who will certainly be addressed later in this piece has stolen their only money. No other options, they approach the sarcastic, though kind, woman running the establishment and work out a deal giving them lodging for helping out.
On a break from chores, Mat goes finds the gleeman cutting down a hanged creature. The creature is an Aiel, a feared warrior, but the gleeman insists it deserves respect through a proper burial. Of course, the gleeman lets him loot the corpse, then reveals himself as Thom Merrlin (Alexandre Willaume). This interaction is unexpectedly sweet, showcasing what The Wheel of Time has been missing all along.
Moving on to Rand's half of the story, he's sitting down for a drink with the barkeep. She attempts to come onto him, leading him to discern things are amiss. His instincts are right, as she reveals herself to be a Darkfriend, a servant of the Dark One believing the titular Wheel of Time is meant to be broken. She lunges at him, sealing the door, until Rand somehow manages to break open the door that would, to her admittance, would usually take about three men to break open. Before we can ponder if Rand has powers, Thom throws a knife through her neck. Things are getting intriguing indeed.
"A Place of Safety" wraps up by returning to the Moiraine storyline. A partially healed Moiraine rides with Lan and Nynaeve until the group from the first episodes stops them. Clad in red, led by a leader named Liandrin (Kate Fleetwood), they come with a prisoner who claims to be the dragon reborn. And thus ends this week's The Wheel of Time.
There are certainly moments of this episode that have issues with far too much world-building. Such is the problem with a new high-concept fantasy series. Yet, I can see the layers starting to peel back and The Wheel of Time coming into its own as an engaging narrative. By focusing less on the lore and more on the human element, "A Place of Safety" showcases great promise for the series. – James Preston Poole
Rating: 8/10
Season Rating: 7.5/10
The Wheel of Time Episodes 1-5 are now streaming on Amazon Prime.
---
Trending Now