'Clifford the Big Red Dog' Review: "Content First, Entertainment Dead Last"
Posted On November 15, 2021
---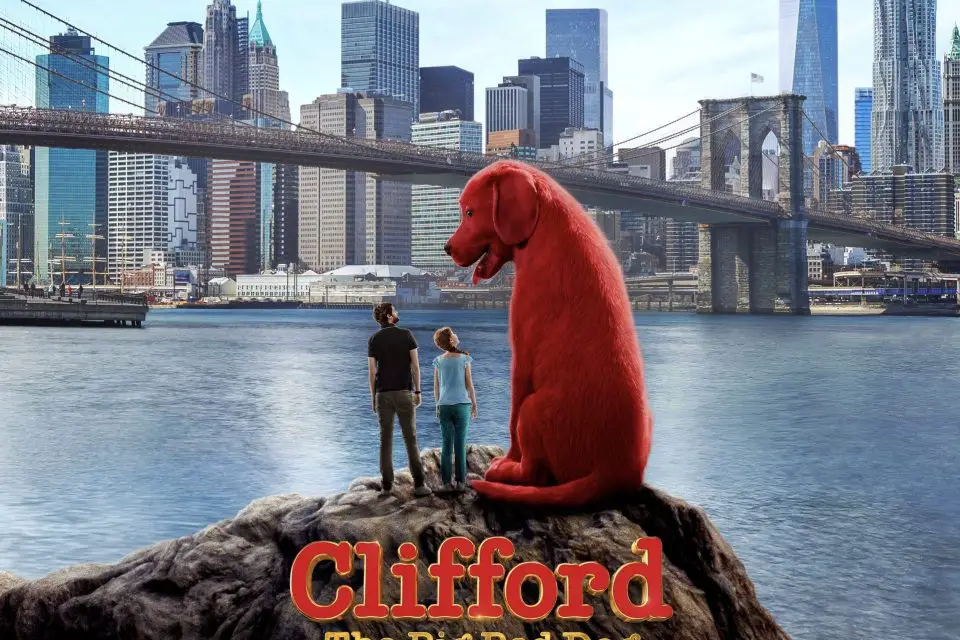 There is no reason why a Clifford the Big Red Dog movie shouldn't be cozy and charming. Whether you look at Norman Bridwell's books or the PBS television series, Clifford is a harbinger of warm fuzzies. As such, all you need for a satisfying Clifford movie is the ability to sustain this charm for an entire feature. Why, then, do the filmmakers of 2021's Clifford the Big Red Dog go out of their way to create such a cold and calculated product? This is not just an adaptation that overcomplicates the source material. It is the platonic ideal of what a mediocre live-action children's movie looks like in the modern era.
It's such an unfiltered example of the formula that the plot has nothing but familiar elements. Despite the title, our actual focus is on a young girl named Emily (Darby Camp) who just can't fit in at school. Thankfully, her loneliness fades away as soon as she discovers a little red puppy. Smitten by his appearance, she soon takes him in and names him Clifford. However, things take a turn when Clifford grows tenfold and catches the interest of a genetics company led by Tieran (Tony Hale). So it's up to Emily, her uncle Casey (Jack Whitehall), her classmate Owen (Izaac Wang), and eventually the rest of New York City to thwart Tieran's plans of experimenting on him.

A more charitable person would view this as the movie's attempt to bow down to classics like E.T. The Extra-Terrestrial. Besides, you got the outcast kid, the outcast creature, the people who want to take the creature for themselves, and those who side with the protagonist. I, meanwhile, believe this is the first place the filmmakers shoot themselves in the foot. By inheriting so many plot beats from E.T., it also inherits that film's need for tension. But since this is Clifford the Big Red Dog we're talking about, it has to generate tension from the ground up. Unfortunately, writers Jay Scherick & David Ronn and Blaise Hemingway do not have the capacity to create anything of the sort.
In fact, Scherick & Ronn's presence prompts me to bring up an interesting fact, though not an especially flattering one. See, prior to writing Clifford the Big Red Dog, they worked on the screenplays for the two live-action Smurfs movies. First of all, the phrase "they did the live-action Smurfs" should be a major red flag on its own. But more crucially, those movies share a common trait with Clifford in that New York City is the primary setting. That means between projects, Scherick & Ronn were so out of ideas they didn't even bother to change locations. And it's not like this film plays around with the urban setting, either.

For a good portion of its 97-minute runtime, the writers care more about populating the narrative with lame gags. As we are in the realm of low-brow family comedies, you bet it spends time on crude humor. Some of these examples are relatively benign, such as Clifford "comedically" peeing on a tree. Others are far more labored, such as the running gag of dogs sniffing butts. In each of these cases, the film stops in its tracks to deliver these jokes. Even with a decent pool of comedians – Kenan Thompson as a veterinarian is a notable highlight – it cannot offset the laziness of the jokes.
All this would perhaps be easier to stomach if Clifford himself came out unscathed. Alas, Clifford has the misfortune of being the latest CG creation to come out of the Uncanny Valley. Despite being big and red, his fur takes on a photoreal appearance. However, he is also attentive enough to not quite act like a real dog. To some extent, this creates an alienating effect that fits in line with those who see Clifford as a threat. But since the script wants to convince the audience of his adorability, this decision feels out of place. And to make things worse, Clifford's puppy form doesn't even have the blessing of correct proportions.

Just about the only time where Clifford's overly animate nature works to its favor is when the film wants to portray fear. Late in the film, Clifford tries to curl up in a ball and cover his eyes. In response, Emily makes the remark that "he's trying to make himself smaller". Heavy-handed as that line might be, it's the single instance where director Walt Becker widens the emotional gamut of the source material. By centering on the Big Red Dog, we get to see how alike Clifford and Emily truly are. Combine that with Camp's tearful line reading and you get a character beat that comes close to resonating.
I suppose the upside of being so rigid to family film conventions is that you guarantee a steady momentum. As much as one can bemoan Clifford the Big Red Dog for its uncreative nature, at least it has the benefit of not being broken. So for those who want functional content and nothing more, you will be happy. But for those who want actual entertainment, this is not it. You are better off binge-watching the PBS television series (or dangling keys in front of a baby, take your pick). – Mark Tan
Rating: 4/10
Clifford the Big Red Dog is available in theaters and on Paramount+.
The film stars Darby Camp, Jack Whitehall, Izaac Wang, John Cleese, Sienna Guillory, and Tony Hale.
---
Trending Now