'Young Justice: Phantoms' Ep. 405 – 'A Tale of Two Sisters' Review: "A Charles Dickens Poem"
Posted On November 4, 2021
---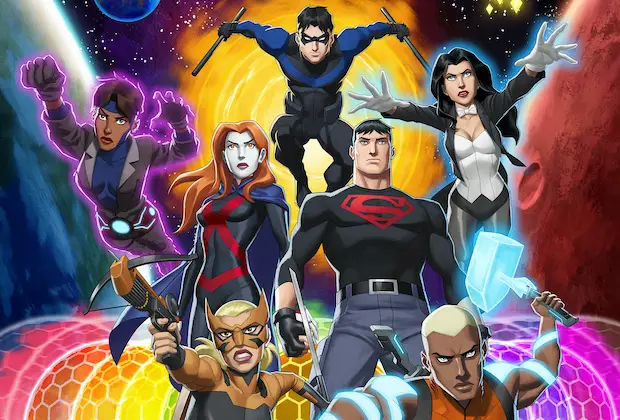 Families are many things, and dysfunctional is high on that list. The families in the DC universe are definitely that for the most part. Well, most of them, and it has continuously shown in Young Justice. Tigress/Artemis (Stephanie Lemelin) and Cheshire Cat/Jade Nguyen (Kelly Hu) have been at the forefront of that. The two sisters would yet again be the main focus of this episode, as the group deals with the devastating loss of Connor Kent.
The episode doesn't spend much time with the fallout from Kent's death. It moves pretty swiftly to Jade and Artemis' story. Doing what Young Justice does, and navigating different character arcs. We see Red Arrow and Arsenal (Crispin Freeman), Artemis, Tara (Tara Strong), and Arrowette (Kelly Stables) as they try to figure out if they are being double-crossed by two former League of Shadows members: Cassandra Savage (Fazal) and Onyx Adams (Logan Browning). The story of the episode is mirrored for Jade and Artemis. How different, yet alike they are. How they both deal with trauma differently. A true tale of two sisters.

Vinton Hueck is the director for this episode of Young Justice: Phantoms, and Brian Hohlfeld is the screenwriter. The duo blends the story together well. They use Connor's death as sort of a backdrop and leave Mars out of it for now. This is intriguing because while we are all curious about Mars, we also want to see how it affects the rest of the team. We follow Kaldur and Dick, as they add Connor to the memorial with Wally. It has a certain sting to this episode.
The choice to make this the episode after Connor's death was interesting. It also feels like when Artemis died, and it happened to be a trick. This also feels like Connor is really dead, it's going to be interesting to see how this plays out throughout the season. Personally, I would much rather know what's happening on Mars, but this was a really intriguing episode. Artemis and Jade's arcs have been a very big part of the story. In addition to that, the recitation of Charles Dickens' A Tale of Two Cities at the end tells the story perfectly.

Young Justice has so many characters that it has to bounce around a bit. Balancing them is a tough feat, and covering different arcs is difficult. Somehow, the team for Young Justice gets it done, much like the team before with Justice League. So as jam-packed as the character list for Young Justice: Phantoms may be, the team continues to create a great story. – Rascal F. Kennedy
Rating: 7/10
Young Justice: Phantoms now streaming on HBO Max!
---
Trending Now