'Spencer' Movie Review: "A Haunting Biopic"
Posted On November 1, 2021
---
Spencer is without a doubt one of the most buzzworthy films of this past year. Many have brought it up due to Kristen Stewart's performance specifically. This has left those who have yet to see it to ask themselves, is it really as good as people say?
Pablo Larraín has crafted a ghost story that is heart-wrenching and enchanting. In this reverse fairytale, we follow Diana during a holiday weekend with the royal family in 1991. The same weekend she decides to leave Prince Charles.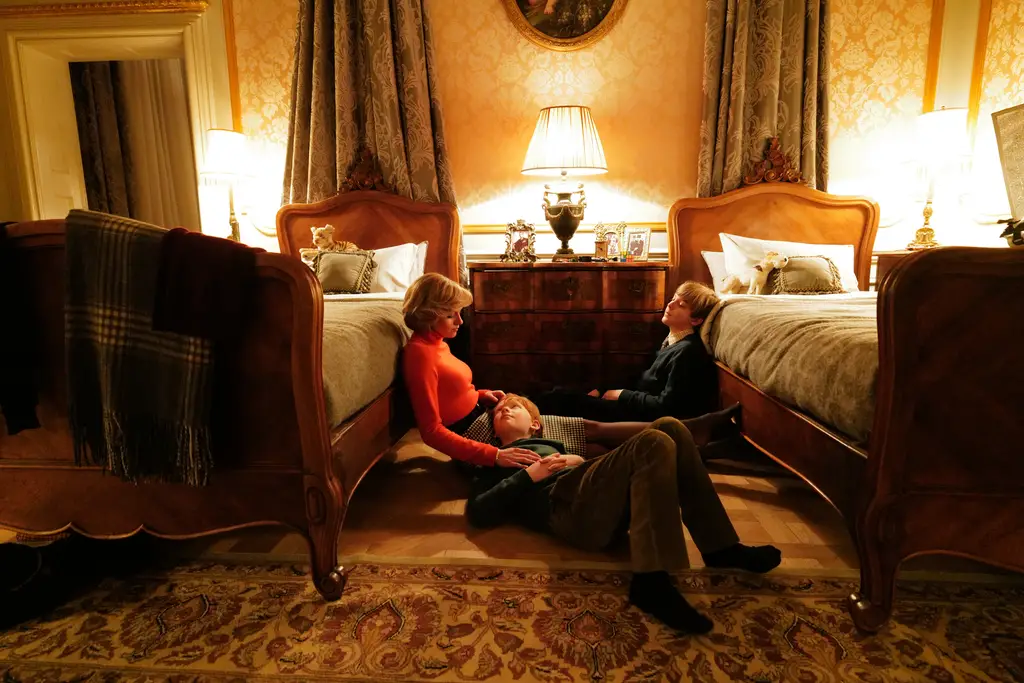 There's a lot to take away from this film. Despite its familiar nature, due to it being the portrayal of such a well-known figure, it remains unique and original all on its own. For those unfamiliar with Diana's story, such as myself, it will be easy to follow the storyline related to her life and position. This is due to the fact that the film places the royal family more as set pieces rather than significant plot points. The entirety of the film tackles and dissects Diana as a character. It all revolves around her external performance as well as her internal presence and mental capacity. 
It is not being artistic for the sake of. There is a purpose to every scene, every artistic note, and every moment. It's an indulgent affair with a focus on gossip, deceit, and food. Many of them take you out of the main story, but it is not without reason. It is ephemeral and spontaneous as much as Diana most likely wanted to be—or what Larraín leads us to believe. Claire Mathon is able to create visual freedom through cinematography. It is the kind of serendipitous visual artistry that this version of Diana would have wanted to experience in her own life instead of being confined within a gilded cage.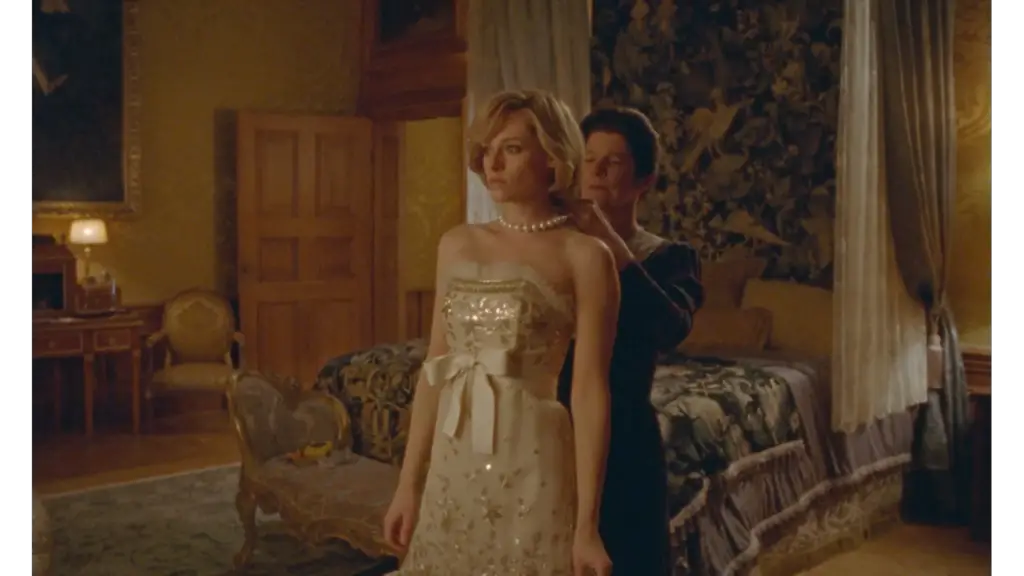 Kristen Stewart is at the center of it all, shining like a neon sign inadvertently going out. That being said, It was difficult at times to feel fully convinced by Kristen Stewart and her performance. Her portrayal nevertheless soon took a vivid shape that allowed the viewer to forget it was in fact a performance. The exact moment is clear to pinpoint: the dinner scene. After Stewart ingests an uncommon meal, it was impossible to believe her commitment to the role would be less than glorious. 
There's also the fact that the camera absolutely loves her, and the version of Diana she portrays. This Diana often comes off as a wounded child, fighting her own nature and making herself smaller than she is. She often is at odds with trying to make her body do stuff she doesn't want to. It leads the audience to constantly wonder when she'll detonate, if she ever will. That is where the tension of the film lies. 
Diana's mental sanity is questioned throughout the entirety of the piece. It slowly forces the audience to join in on the skepticism. Did all of that really happen or was it just a vision? Much of it might ring familiar for fans of Céline Sciamma's Portrait of a Lady on Fire, for which Mathon worked as the cinematographer as well. There are moments plagued with visions of either ecstasy or torment. That being said, it all comes back to bringing awareness to the importance of mental health in a highly stressful situation. By the end of it, Spencer stands as a reminder that it's okay to step away from what doesn't heal you.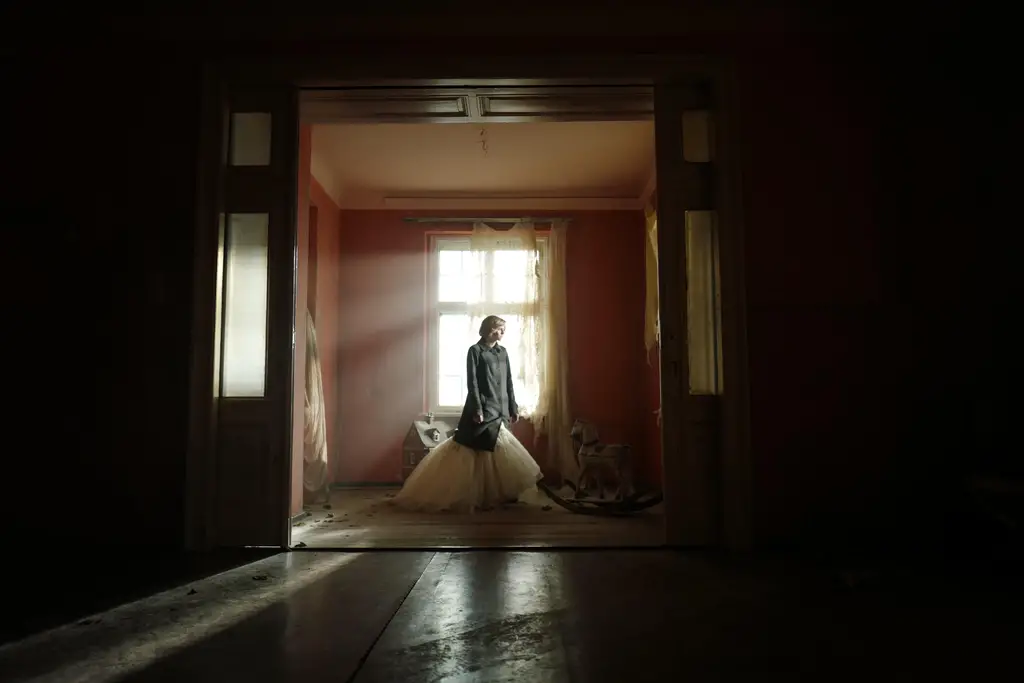 Then there is the aspect of the film's official score. A haunting reminder remains in the background throughout the film on the kitchen wall for the staff. Maybe even for the audience as well. "Keep noise to a minimum. They can hear you." Because of this, when the characters fail to speak up, music takes their place. It is quite eerie, mixing joviality with fear in high crescendos and soft keys. Oftentimes, it lingers like a score for a horror film would. They mix the main theme into different iterations of it for moments of serendipity or simply those bittersweet fleeting moments that follow Diana through her story. Other times, it takes a dark turn with a different track, following the presence of those that don't necessarily wish the best for Diana. 
Despite the dark moments the film ventures through, the ending is uplifting, similar to the likes of a long exhale. One isn't quite sure whether this is a descent into madness or elevation towards enlightenment. However, one thing is certain. This unconventional Christmas movie will soon become a go-to for many fans of the royal family's history. 
Rating: 8/10
Spencer will be available exclusively in theaters on November 5.
It features performances by Kristen Stewart, Jack Farthing, Sally Hawkins, Timothy Spall, Sean Harris, and more.
---
Trending Now