'The Last Duel' Review: "A Misguided Exploration Of Sexual Assault"
Posted On October 18, 2021
---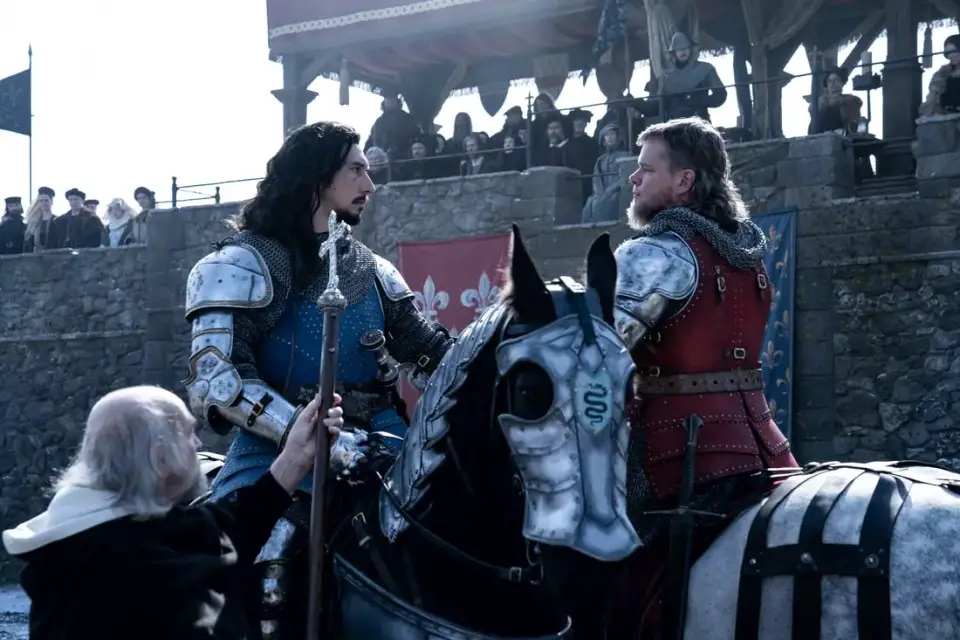 This film and review contain content about sexual assault.
The Last Duel is the retelling of a true story of a woman who stood against her rapist in a time where standing up would have cost her her life. I had high hopes writers Nicole Holofcener & Ben Affleck & Matt Damon would choose to use the title as a metaphor. Signifying a stronger age in the defense of standing with victims of sexual assault. Despite a few strong performances, I'm sad to say I feel disappointed in what the title was speaking to me about.
Directed by Ridley Scott, The Last Duel tells the story from three perspectives that are all slightly different from each other. Entitled "The Truth of…" with distinctive highlights, each part showcases a classic fault of humans that just because you think something happened in a particular way doesn't mean it actually happened that way. In terms of a way to tell a story, it's very unique, and it showcases each of the main actors' strengths. Despite this, the fractured structure often works against the film. Instead of using a woman's trauma to develop a female perspective, this story uses it to teach men a lesson on perspective.

The Last Duel is based on a non-fiction book by Eric Jager, and while I don't know how close the adaptation is, I wish we had seen more of a nuanced female perspective. From the perspective of Jacque Le Gris (Adam Driver), we see women cower from him and Count Pierre d'Alençon (Ben Affleck) in the courts. From the perspective of Jean de Carrouges (Matt Damon), most of the women barely register. None of them came back to the light when we follow Jean's wife Marguerite (Jodie Comer). Because of that, many of the women come off as objects rather than people.
All it would have taken is having one of those women coming to Marguerite and voicing their support. Private or otherwise, sometimes that's all it takes. You can argue all day long about a firm adaptation, and sticking in medieval times. That doesn't negate the story you are telling to the modern-day audience. The film opens with the text, "based on true events", which means they can modify details to fit the timeline of the film.
For a 153-minute film, a lot of time is dedicated to focusing on different male perspectives and isolating the victim. Which, women were isolated in medieval times. But that is not the story Hollywood should be choosing to tell right now. In the modern-day world, where more victims are telling their stories, a choice should be made to focus on the right story to tell. Especially in a film that so blatantly defines Marguerite as a victim of rape. Give Marguerite a female voice of support, instead of her narcissistic husband concerned with his status in court.

In terms of the rape scenes, they were too graphic for the needs of the story. The presentation from both Jacques and Marguerite's perspectives is fairly close, from any interpretation. Marguerite screams "no" in both perspectives. The rape is only slightly more graphic from Marguerite's perspective. The scenes are so close, it's frustrating to focus on Le Gris having an orgasm twice while raping Marguerite. Again, the medieval focus would indicate the man should be the focus, but let's go back and highlight medieval. There's no reason the telling needs to focus on him. This is supposed to be told from Marguerite's perspective.
With my grievances aside, the performances in The Last Duel of Driver and Comer are astounding. I walked out of the film seething with rage at Jacques, and it's because Driver perfectly captures the corruptness of his character. However, it's Comer that stands out the absolute most. To be able to articulate three different characters, the loving wife, the flirtatious one willing to cheat, and the true medieval woman who has secret passions – all in the same film – is extraordinary. She fights to bring Marguerite's voice to light, despite the male voices continuously shouting over her.

In terms of set design and costumes, there's nothing less spectacular than seeing the wonder of 14th-century French design. The film feels like you've stepped back in time, and Scott capitalizes on each moment of grandeur a scene provides. Despite this fact, Damon's mullet, and lack of anything resembling at the very least a non-American accent can and will take you out of the movie.
Overall, The Last Duel is not one for the ages. It takes non-linear storytelling and tries to utilize it in order to tell a compelling story. But in playing with structure, it makes the mistake of pushing its female perspective to the side. Of the scripts I would want Damon and Affleck to reunite for, this is not the one. It'll surely come into the conversation for Oscars and the like. But I hope people realize how much of a change needs to be made when talking about rape on screen. – Katie Rentschler
Rating: 4.5/10
The Last Duel is in theaters now.
---
Trending Now