Screen Screams: 'The Rocky Horror Picture Show'
Posted On October 11, 2021
---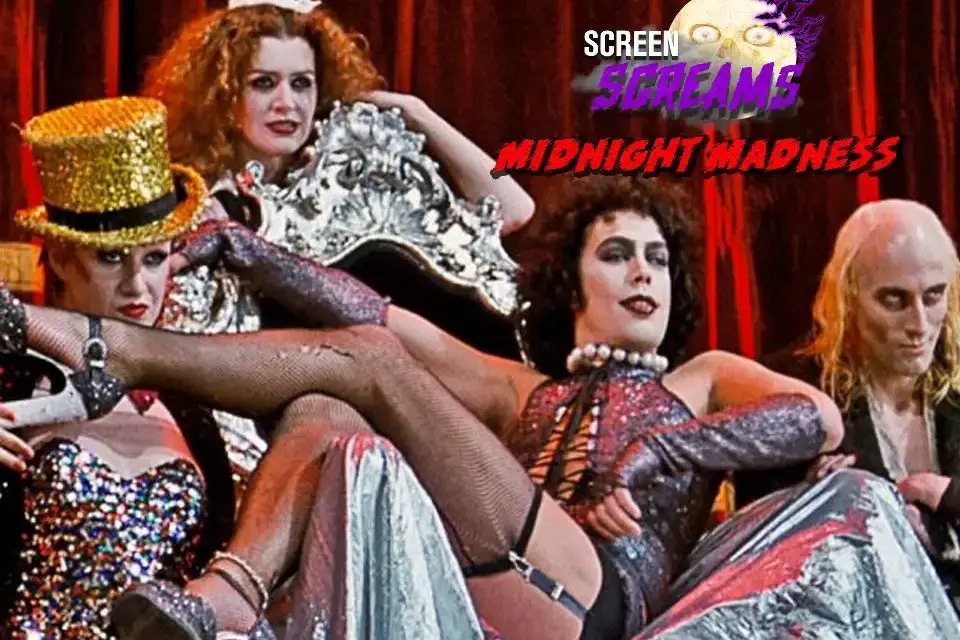 It's that time of the year again. The month of October is upon us. So to celebrate, we at Full Circle Cinema put together another curated, month-long series with Screen Screams. This year, we will be checking our clocks as we wait in anticipation for the forbidden delight we call "the midnight movie". And with midnight movies comes a variety of projects that are perhaps too niche for the masses. Today, it's time to cover one of the most iconic midnight movies in all of cinema, The Rocky Horror Picture Show!
The Rocky Horror Picture Show is perhaps the most quintessential midnight movie of all time. This makes it somewhat difficult to write about— what more is there to say about a film that has been foundational for horror cinema, queer cinema, and musicals all at once? Although this isn't a review of the live performance that typically accompanies midnight screenings of Rocky Horror, it is no less important and remains one of the best ways to experience the film. In safer times, I could confidently tell you to seek out a live screening in your area. However, the film is no less enjoyable if you watch it at home. Just crank up the volume and make sure there's plenty of room to do the Time Warp.

The film's opening song lays out the B-Movie influence, gently crooning about characters and creatures of sci-fi and horror films past. For a film that is devoted to celebrating horror films past, Rocky Horror remains as fresh and relevant as the day it was released. The hunchbacked lab assistant, the naïve couple lost in the rain, and the mad scientist are characters that have taken to the silver screen many times. However, Rocky Horror imbues them with fresh life and a distinctive style that could only come from 70s cinema. 
Visually, the film is a true visual spectacle, as all musicals should be. From the baby pink walls of the lab to the veiled rooms in which Dr. Frank N Furter seduces Brad and Janet, the set combines traditional gothic castle architecture with a sensual touch. The costuming is equally incredible, as evidenced by the fact that cheap knockoffs still dot Spirit Halloween shelves to this day. Frank N Furter's various costumes, from his green lab coat with the pink triangle to his black corset party attire, remain touchstones for queer fashion to this day.

In a genre traditionally eschewed by polite society, upheld only by fringe fanatics, Rocky Horror is a celebration of those genre-devotees, freaks, and outcasts. Dr. Frank N Furter is the pied piper of these outsiders, both in the context of the film and its impact in the real world. Long have creatures of the night flocked to this film and found solace in its celebration of deviancy, pleasure, horror, and unabashed lust for life. So long as the midnight movie exists, so too will Rocky Horror remain a vital fixture of cinema.
Rating: 10/10
The Rocky Horror Picture Show is available to stream on Hulu.
---
Trending Now
You may also like