Screen Screams: 'Creature from The Black Lagoon'
Posted On October 2, 2021
---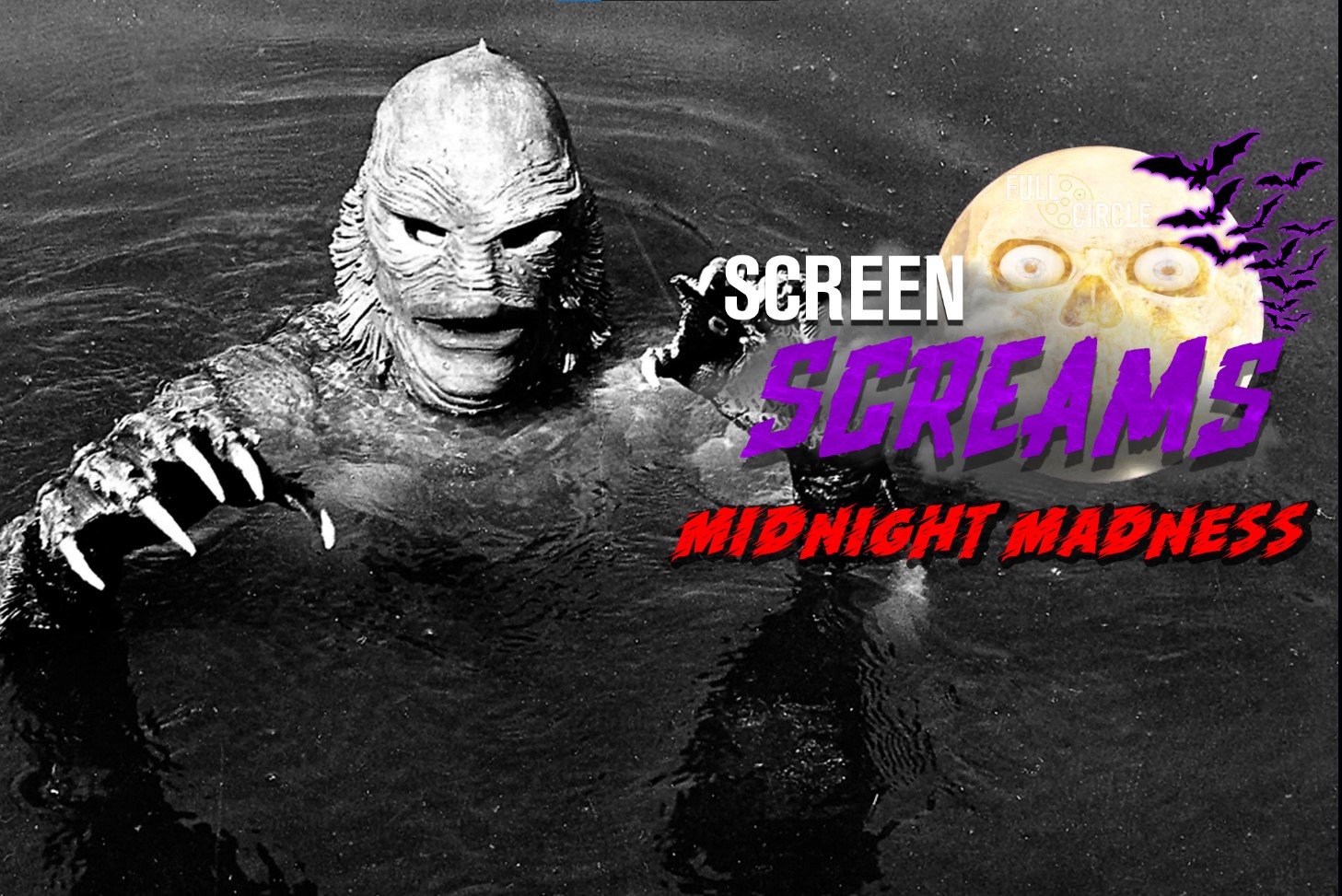 It's that time of the year again. The month of October is upon us. So to celebrate, we at Full Circle Cinema put together another curated, month-long series with Screen Screams. This year, we will be checking our clocks as we wait in anticipation for the forbidden delight we call "the midnight movie". And with midnight movies comes a variety of projects that are perhaps too niche for the masses. Today, it's time to cover the influential Universal monster movie, Creature from the Black Lagoon.

From the 1930's to the 1950's, Universal Pictures released a series of heavily influential monster films. The films were truly one of the first main franchises in Hollywood without being recognized as such at the time. It featured now iconic pop culture characters such as Frankenstein, Dracula, The Wolf-Man, and the Invisible Man. Out of the pantheon of characters mentioned, there is one that ironically lurks beyond the list and is often overlooked. That is none other than Gill-Man, the amphibious creature that is the main monster in 1954's Creature from The Black Lagoon. Not only is he omitted by many, but his film may actually be the most influential out of all the Universal monster films.
Creature from The Black Lagoon is fairly simple with its plot and premise. There is a creature that lurks in the black lagoon and remains of his species are found fossilized nearby.  A group of colleagues then go on an expedition in the Amazon to look for the rest of the remains. What they found was not the remains, but instead a living creature which would later be known as Gill-Man by fans. The film features Richard Carlson, Julie Adams, Richard Denning, Antonio Moreno, and Nestor Paiva. There are two actors who play Gill-Man, Ben Chapman when he is on land and Ricou Browning when he is underwater.
What makes Creature from The Black Lagoon stand the test of time so well is everything from its technical side. From how it was shot to the design and implementation of Gill-Man, its just a masterclass. It had a great impact on other creature features as time went by and you can see why it has lasted for so long. The underwater shots are engaging and make for a great watch. The performance given by Browning in these scenes is fantastic. The range of emotion shown and the fluid movements convey so much of that needed personality. It's what partly makes Gill-Man such a wonderful monster and an even better antagonist.
Another aspect that makes Creature from The Black Lagoon stand out so much is the tension it builds throughout. There are many aspects that make it work so well, but two stand out from the pack. The first one is the score, as for every bit of ominous it is, it also is playful in a sense. It makes the audience feel secure and then suddenly changes that. The constant alteration makes for a wonderful combination that builds tension throughout.
The film has all engines firing at all cylinders. Every aspect of it is sharp with its delivery. Bundle it up together and you have a fantastic end product. It features terrific performances, suspenseful & enthralling moments, and an engaging delivery of its story. It's a workshop of how to execute a horror story properly with a monster in the middle of it. Even with its short run time it feels like a marathon due to the sense of dread it invokes. If that's not a testament to its success, then what is truly?
---
Trending Now