'Titans' Season 3 Episode 8 Review: "You Can't Always Go Home"
Posted On October 1, 2021
---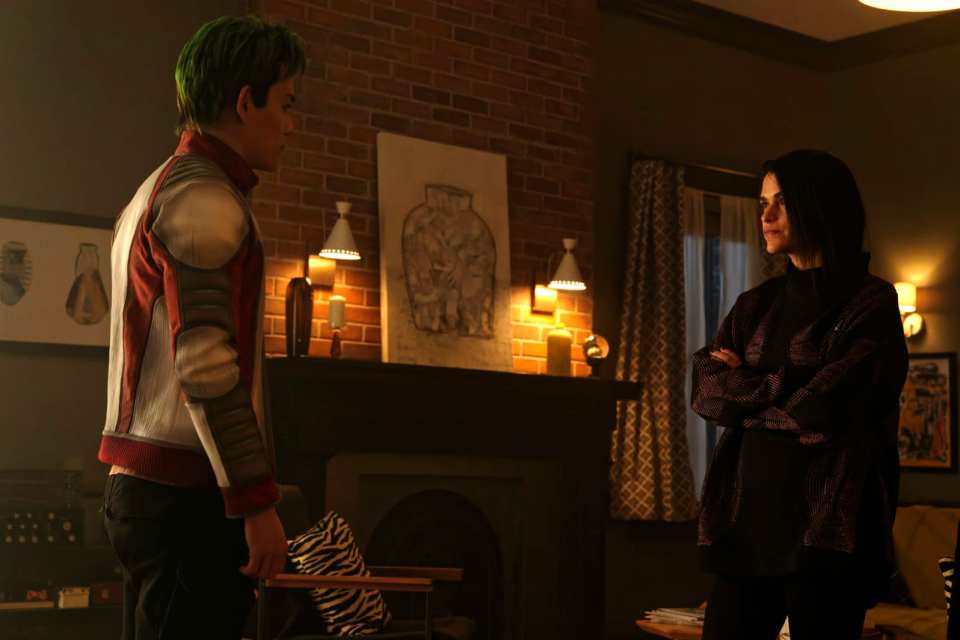 This week's episode of Titans sets up a confrontation between Jason and the Titans. We see an evil villain's plot come to fruition and the Titans at the forefront of it. And we're still trying to figure out what's up with Starfire. The episode juggles its many plotlines to try to stay in the ballpark of average television (which is still much better than previous seasons).
The following review contains SPOILERS for Titans Season 3.
Titans episode 8 doesn't have a lot going for it considering we have less than half the season to go, and still several plot lines to tie up. In this episode, Tim Drake (Jay Lycurgo) gets his first official introduction to the team with Dick (Brendan Thwaites) making a poor attempt at convincing him he's not Nightwing. While it's nice to see Lycurgo finally get some scenes with the rest of the main cast, it's disappointing it took this long for it to happen. It's the downside of juggling this many characters and stories.
While Dick continues to deny to Tim he's Nightwing, Tim does provide a clue about Jason (Curran Walters) that allows Dick and Barbara (Savannah Welch) to track him down using fancy gait identifying technology. Curious as to why that hasn't been thought of before, as that's really useful to have. In the pursuit of Jason, Dick sees him, but is unable to confront him before he's hit by a truck. Before passing out on the ground, Dick sees Jason standing above him. This part of the episode further presses the issue that Jason's having immense doubts about his and Scarecrow's (Vincent Kartheiser) plan, as he walks away looking like he did nothing to Dick.

Circling back to before Dick tracks down Jason, we get a druggy coming back to his dea- I mean Jason goes back to Scarecrow looking for another anti-fear inhaler. Instead, Scarecrow reveals he has a more intense plan, poison the water with the anti-fear toxin. Jason's getting his feet back under him and realizes how insane that is. He knocks Scarecrow out, leaving him on the floor of the pumping station. Where he was attempting to drill through the steel floor with a concrete drill. More on that later.
Jumping back to the randomness that has been Starfire's blackouts, she has another one randomly, walking in on Superboy (Joshua Orpin) and Blackfire (Damaris Lewis) doing the dirty deed. Blackfire manages to knock some sense into her, waking her up, and they head back into the Manor's isolation tank, because this was an incredible idea last time, she ends up sleepwalking to a building, with yet again, more questions than answers. But she does remember walking in on Superboy and Blackfire!
Heading back to where we started, Dick wakes up in the hospital, and Barbara makes him convince her he's fine. While he manages to do it, he's not actually fine, seeing the bat symbol where the eye test chart is. And even when he leaves the hospital, he's still getting them. We return to Crane waking up, and him having two kills back to back. The first, the security guard, who gives him the next step in his plan. The second, Leslie Thompkins, another therapist who he breaks down to before the GCPD shows up. All of this makes him out to be very creepy and really leads him on to an incredible performance.
This leads us all back to Jason, where Walters really shines. He hasn't been given great material to work with this season so far. However, he shines as he has to grapple with what he did drug-free. He visits a peep show with a couple of participants who he asks to roleplay as Hank and Dawn so he can apologize for killing Hank. It's creepy beyond belief, but it leads him to reach out to Dick and ask if he can come home. Dick gathers the team and they head out to meet Jason. I love Gar trying to be the voice of reason for the team and trying to convince the team Jason can be redeemed. While there's always a line in the sand for whether people can redeem themselves, I appreciate his hope.

The team arrives at the pumping station, where they find Tim Drake trying to help; but before he can, Scarecrow shoots him. The team rushes in to stop him, and Starfire releases a fireball that helps Scarecrow's plans along. For you see, the guard told Scarecrow the only way through the steel floor was extreme heat. So the Titans fall yet again into the trap of an enemy. Barbara attempts to send a SWAT team, but not before her ceiling collapses with the leak that we've seen previously. While the Titans figure out the ruse, they mop up Barbara's office from the poisoned water spill, and the Titans' signal in the sky turns red.
Overall, this episode of Titans isn't terrible. But it has the same problem previous episodes have had. It struggles with the number of characters the show maintains at the main cast. Halfway through the season, and one of the main characters is interacting with the rest of the cast for the first time. It's frustrating. Additionally, the team seems to continue to struggle with the same problems from season to season. It's not a mistake if it continues to happen. The same applies to the writing staff. – Katie Rentschler
Rating: 7/10
—–
Did you enjoy this article? If so, consider visiting our YouTube channel, where we discuss the latest and greatest in pop culture news.
---
Trending Now