'The Starling' Review: "Formulaic Grief"
Posted On September 17, 2021
---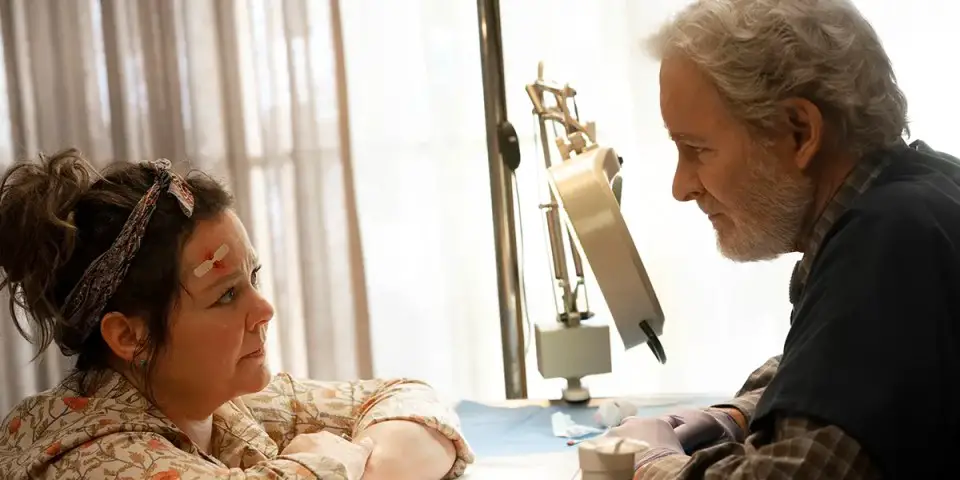 Sometimes I fall under the false pretense that we, as a society, have moved past the need for "inspiration porn" movies that seem made straight out of the early 2010s. Unfortunately, star-studded and shallow genre flicks still resurface.
The Starling feels like a dated drama that surprisingly had strong elements within but was too afraid to dig past the surface. A film about grief, almost obnoxiously, seems to gloss over that process with its protagonists. Rather than a more intimate approach to the emotional hurricane that is losing a loved one, it opts for vaguely comedic sequences instead.

Lilly (Melissa McCarthy) and her husband Jack (Chris O'Dowd) suffer a tremendous loss. This results in Jack's admission to a mental health facility. Lilly ends up alone in their home, working at the grocery and taking up gardening. It's clear Lilly is bearing most of the emotional weight of the couple, juggling between her own state of grief and supporting her husband with visitation. Naturally, this results in her repression of feelings. That denial narratively manifests itself into a Starling, a viciously territorial bird that has made its nest in Lilly's tree. This battle between the grieving wife and the protective ave comprises the majority of the film.
Lilly quite literally fights the symbol of her tragic grief, going as far as poisoning one of the birds and suffering the resulting guilt. The Starling fights back, of course, and continues to injure her face with incessant attacks. In light of Lilly's brutal stubbornness, she is inexplicably recommended a former psychologist turned veterinarian for help. Enter Larry (Kevin Kline), a bitter vet that entertains Lilly with appointed "conversations" rather than outright "sessions". His efforts to accommodate her seeking help with "seeking help" are admirable. But their conversations do not lead to finding out more about the doctor. Do not expect to get much out of his back story because there isn't much of one.
Truth be told, the film begins rather well. McCarthy is charming as ever and her performance carries this film. Her chemistry with the veterinary pseudo psychologist Larry (Kevin Kline) plays off well enough. Their peculiar relationship explores the struggles of seeking help and healing from tragedy. McCarthy's portrayal of a woman burdened with "holding the fort down" almost forgives the maddening tunes of the Lumineers invading half of the scenes.

However, the journey of her healing clumsily ties with that of her husband Jack. His scenes often feel like they undercut Lilly's. In fact, his story continually attempting to seek the audience's empathy. Realistically? Jack's character is actually a bit unlikeable. One would expect there to be a moment of redemption for his behavior towards his wife, but their reconciliation at the end feels relatively unearned.
This is most certainly not one of McCarthy's Academy Award bait roles (though some of the film's promotion tries to hint at it). In the end, it is a quaint film that does hit genre tropes well enough, stumbling where it tries to be different. Netflix's The Starling is bound to be a light, heartwarming flick for its target audience upon release. – Ileana Melendez
Rating: 6/10
The Starling is now streaming on Netflix and stars Melissa McCarthy, Kevin Kline, and Chris O'Dowd.
---
Trending Now