'The Electrical Life of Louis Wain' Review: "A Frantically Whimsical Portrait"
Posted On September 14, 2021
---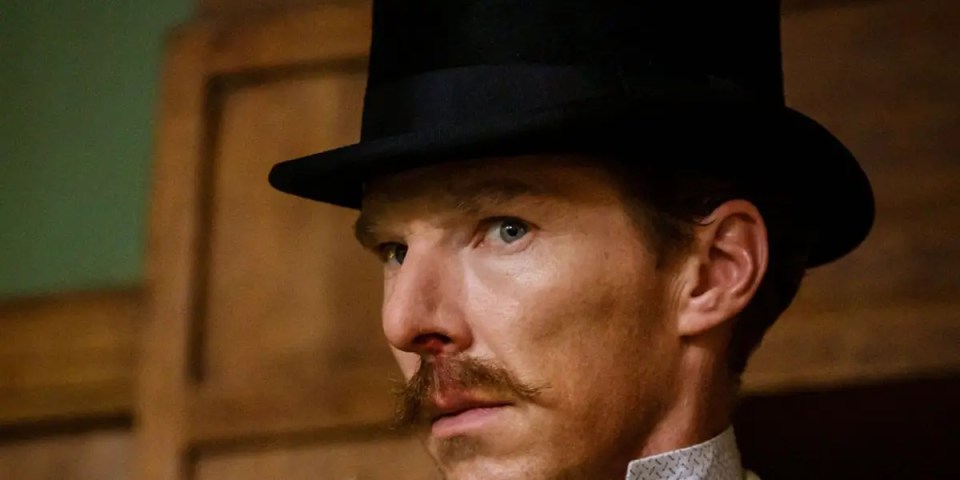 Ever wondered why tortured artists make the most iconic art? People usually pose this question when studying famous artists throughout history. The fantastical Louis Wain is no exception. The Electrical Life of Louis Wain is a frantically whimsical portrait of an artist who changed the view of cats in English society forever. But why cats?
The biopic opens traditionally, Louis Wain (Benedict Cumberbatch) an old man lost in the depths of his own mind. Wain is narrated as a misfit from an early age, embodying a "ridiculous chaos" throughout his life. The story is friendly to viewers unaware of the cat artist's talents, as it quickly displays Wain's remarkable illustration skills. His talents established, the focus shifts toward his family and Claire Foy's Emily Richardson, the new governess of the household. It is apparent they are to share a connection, willfully frowned upon by his status-obsessed sisters.

The first half of the film flows beautifully, director Will Sharpe leaning into visual quirks vaguely reminiscent of Wes Anderson's style. However, Sharpe's style distinguishes itself throughout. Picturesque cinematography that is whimsically chaotic frame an intimate portrait of Wain's restlessness. The romance between him and Emily enchant, accented by snappy dialogue that knows when to slow down. With so many elements at play dealing with Wain's darkness as well as his colorful creations, the film manages a healthy balance. It rarely feels overly quirky for spectacle's sake. Both characters embrace the peculiar and refract it through Wain's art.

Cumberbatch is as sharp as ever, his embodiment of the eccentric painter resonant of his breakout performance as Sherlock Holmes. Wain is thoughtfully portrayed as a man plagued by loss his entire life. His grief is a conduit for the "electricity in the atmosphere" that fuels his work. Not only a man of the arts, but a man fascinated by scientific invention. However, Wain's sorrow "trails him like a violent shadow", no matter how hard he tries to outrun it. His only reprieve: wonderful misfit creatures he looks after and compulsively paints. All life is precious to him, and the disregarded felines were a reflection of his own awkward place in society.
Foy delicately compliments Cumberbatch, easily portraying the wonderfully curious and progressive governess. Her rejection of Wain's "manic pixie dream girl" framing of her person stands out and strikes a needed balance with the male protagonist. Emily is a brilliant counterweight to Wain's story, and her impact lingers in the moments of her absence.

Unfortunately, the latter half of the film suffers from rushed pacing. A flurried third act attempts to reflect the state of Wain's mind in later life, but does not translate as effectively. Wain's career is sped through, the film's nuance weakens and gives into a near trivialization of events. This is a man plagued by trauma and illness, yet this serious matter occasionally feels glossed over. One scene in particular does stand out, haunting the viewer with a glimpse of his turmoil. However, the rest of the story seems oversimplified to cater to a mass audience. As a result, the film feels like it cheats itself from more powerful moments.
Despite its faults, the film holds its own distinct style as it delivers a message of cherishing life and counteracting humanity's negative atmosphere. Sharpe has set himself up to be a director to look out for in the future. Louis Wain's cultural influence will continue to live on. Even when his mind suffered, his art never did.
Rating: 7.5/10
The Electrical Life of Louis Wain is an Amazon Studios Original set to release on October 22nd on Prime Video. The film stars Benedict Cumberbatch, Claire Foy, Andrea Riseborough, Sophia Di Martino, and Taika Waititi. Directed by Will Sharpe.
---
Trending Now