'Animal Kingdom' S5, Ep. 10 – 'Relentless' Review: "A Much Bigger Problem Brewing"
Posted On September 13, 2021
---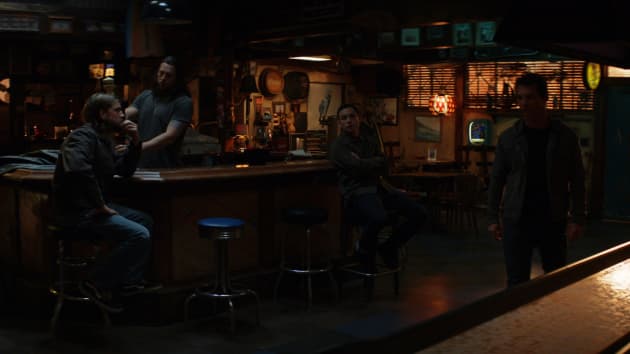 In the King James Version of the very diluted Bible, the Apostle Paul states: "money is the root of all evil." As time has gone on, this may be the truest quote in the Good Book. Money has caused wars, poverty, climate change, and countless other horrible things. It may not be the root of all evil, but it is definitely the root of most. For the Cody family in Animal Kingdom, it may have just brought the biggest threat of all upon them: every single form of police agency in the states.
We've known Agent Dennis Livengood (David DeSantos) of the DEA has had heat reigning down on the Codys for about three seasons. He's specifically been targeting Deran (Jake Weary) over his boyfriend Adrian Dolan. This has strained the Codys' relationship with the Trujillos and is likely about to start a war. Craig (Ben Robson) is still down and out about Renn (Christina Ochoa) taking off with their son Nick. He goes to her mother Candice's (Constance Marie) house, and we see the truth; she hates him because he's an addict. Craig also lashes out and goes on a really hilarious cop chase. J (Finn Cole) helps Pope (Shawn Hatosy) get rid of his truck to avoid extra heat on them. While Deran's bar gets shut down because of Livengood.

Officer Chadwick (Elliot Knight), the cop the Codys are paying off, says he has a plan to help Deran get his bar back, and get Livengood off of his back. Deran after exhausting a lot of avenues in getting the Liquor Board to reinstate his bar takes the chance. Craig reunites with Frankie (Dichen Lachman) after the rest of the family decides on their job. She warns him of the dangers, but the Codys are desperate for cash and willing to do anything. The episode ends in a dramatic fashion as Chadwick does the unthinkable. He sets up a meeting between the Codys, Livengood, and himself, only for the situation to end worst than it started.
In our flashbacks, we see Janine (Leila George), Manny (Rigo Sanchez), and Jake (Jon Beavers) pull off a job to rob a truck for VCRs. They sell them in Irvine instead of Oceanside to avoid Max's (Jamie McShane) tax. This doesn't bode over well as he threatens Andrew (Houston Towe) and Julia (Scarlett Abinante). We also see Billy (Anthony Konechmy) again helping Janine put the VCR together. We know Craig comes before Deran, so will we see baby #3 soon? Janine tells her children Max won't be a problem anymore.

Loren S. Yaconelli returns for her second episode of season 5 as a director, Bradley Paul is the screenwriter for the episode. Paul brings a lot of dramatics and raises the stakes for the Cody family. They now have more problems than originally because of officer Chadwick. Yaconelli is a wonderful director that got a great performance from Weary and Robson. Leila George as always is phenomenal, along with Cole and Hatosy. This definitely should have every Animal Kingdom fan excited for the next episode.
This isn't my favorite episode, but it's definitely in my top five over the course of the five seasons thus far. The stakes are raised, and the Codys are feeling the heat. There is a lot to digest in the week ahead, and I'm hoping it pays off. I knew the season finale would be nuts, but this just confirms it. I also thought this would be the last season, but that is likely not the case. There's a lot more to cover with our Oceanside family, so let's buckle in for the long haul. – Rascal F. Kennedy
Rating: 9/10
Animal Kingdom premieres Sundays at 10pm/9c on TNT.
---
Trending Now