'Heels' S1, Ep5 – 'Swerve' Review: "Going Off Script"
Posted On September 12, 2021
---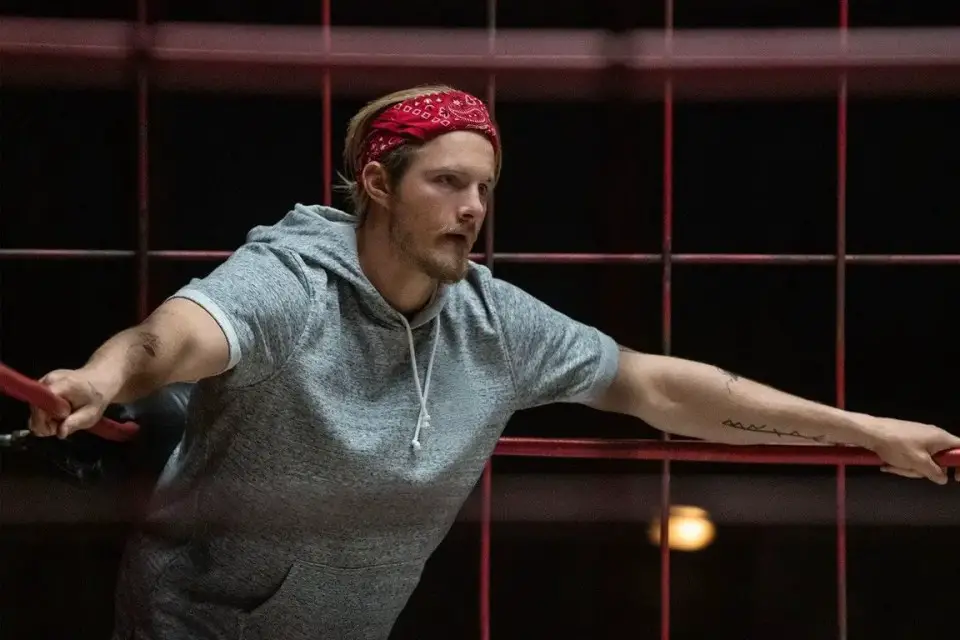 Episode five of Heels, one of the best new shows of the year, is perhaps the best the series has to offer so far. It begins with Crystal proving her love for the pro wrestling business as she cuts a fiery heel promo. While Ace seethes with jealousy, Jack is incredibly impressed. This is a surefire sign that he sees what viewers have been seeing since episode one: Crystal's overflowing potential. As the team comes together to script a steel cage match between Ace and Bobby, tensions begin to flare.
Elsewhere, Chris Bauer continues to deliver some of the best work of his career as Wild Bill Hancock. After his dismissal from the WWE-like billion-dollar corporation, Hancock offers to help Jack and the DWL. However, maybe Jack doesn't need help from anyone. The catalyst of episode 5 is an offer for the DWL to perform during the upcoming Georgia State Fair. A huge opportunity to compete in front of thousands that fires up the group of wrestlers.
So far, Heels has been about a man desperate to keep his passion alive. While some situations threaten to unravel everything Jack's worked for, small moments – like allowing his son Roxton to read the lineup for the night – remind viewers that this is all worth it. Unfortunately, Ace walks the opposite line. As Crystal spends an entire paycheck on a new outfit to serve as Ace's valet, he brings in his bartender girlfriend as his new valet. Jack decides to pair Crystal with Bobby Pin, serving a fresh dish of motivation to Crystal.
Character development is key to any pro wrestler's success. If the young blue-chipper Rocky Maivia hadn't turned heel, joined the Nation of Domination, and changed his name to The Rock, the world might not have the billion-dollar grossing actor Dwayne Johnson. If the regal Hunter Hearst Hemsley hadn't formed a friendship with the foul-mouthed Shawn Michaels, The Game Triple H may not be running the WWE as COO right now. Ace's heel turn and subsequent dismissal of Crystal as his valet opens the door for her character to dial it up to eleven. It's time to show the world what she can really do.
Meanwhile, Allen Maldonado's Rooster Robbins has spent the last few episodes begging for Jack to give him time to shine. With frustration building, Robbins and Crystal both plan a "swerve". A swerve is a sudden change in the direction of a storyline to surprise the fans. However, sometimes a swerve can happen to the script and surprise the wrestlers.
Famously, in 1997, Bret Hart entered the ring as WWE Champion expecting to leave the same way. However, WWE Chairman Vince McMahon had other plans. With Hart planning to leave the WWE for their rivals the WCW (World Championship Wrestling), McMahon could not risk his world title being tarnished. So he swerved the script and called for Shawn Michaels to beat Bret Hart by submission. Unbeknownst to Hart. The Montreal Screwjob is one of the most prolific moments in wrestling history and in this episode, Crystal gets her own iteration of that.
Jack pens the script to have Ace dump Crystal after revealing that she cheated on him with Bobby Pin. However, Crystal has other plans. Moreover, Crystal has the night of her life by swerving everyone involved, going off-script, and reclaiming her power. This, of course, causes Ace to work "stiff" during his cage match main event with Bobby, violently breaking his leg. While Heels is designed to follow the lives of Jack and Ace, Crystal and Bobby Pin have become the unsung heroes of Heels thanks to their continuous character development.
Rating: 10/10
Heels airs every Sunday on Starz!
—–
Did you enjoy this article? If so, consider visiting our YouTube channel, where we discuss the latest and greatest in pop culture news.
---
Trending Now