'Night Raiders' Review: "The Horrors Of Residential Schools"
Posted On September 11, 2021
---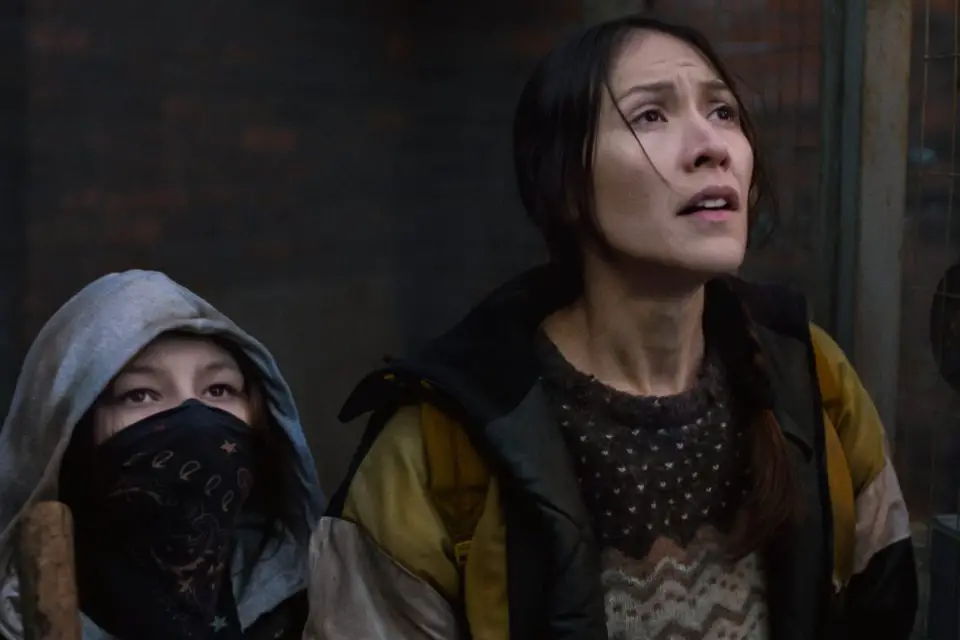 From an outsider's perspective, a residential school seems like a nice olive branch from the government to those in need. But from an insider's perspective, these schools are nowhere close to resembling a helping hand. In Canada, government officials use this system to force Indigenous people to assimilate into a more widespread culture. Quite frankly, the difference between a residential school and a prison is almost non-existent, and it's aggravating that this prime example of systemic racism lasted for over a century. So it's not much of a surprise to see someone take this broken system and make it the backbone for a dystopian piece like Night Raiders.
As with most dystopian pieces, Night Raiders poses a big question: what would the future be like if residential schools never went away? Based on the final results, the answer seems to be "the future would be pretty bleak". In 2043, a woman named Niska (Elle-Máijá Tailfeathers) tries to protect her daughter Waseese (Brooklyn Letexier-Hart) from the clutches of the State. Eventually, they reach a point where they cannot run anymore. So in a last-minute decision, Niska gives up and lets the State capture Waseese. Heartbroken by this decision, Niska does whatever she can to get her back. This includes doing favors for a group of vigilantes and working alongside a man named Leo (Alex Tarrant).

The movie is fortunate enough to center itself around a societal problem that was rampant across a whole country. However, writer/director Danis Goulet makes that concept sing through the drama. One major side effect that residential schools have on children is the loss of their initial personality. What used to be a kind, loving person is now someone who cares about a higher power and no one else. And it's this tragic transformation that fuels the film's best dramatic scenes. There's a moment where Niska's friend Roberta (Amanda Plummer) speaks to her son for the first time in years. But since her son is now a vessel for the government, he can only interact with her as if she was a stranger.
Night Raiders also benefits from its distinct perspective of the world. Although it starts out as a narrative about a mother and daughter, it becomes more about the lives of various Indigenous people. For one thing, the vigilantes that cross paths with Niska happen to be Indigenous. More importantly, they have their own opinions on how to survive the hostile landscape. Instead of keeping a stronghold at their current location, they want to move up north to establish a safe space. They know that the land on which they stand will have some influence from the government. So in order to free themselves, their best option is to go somewhere else.
We also get to see that perspective through the eyes of Waseese. During her time at the children's academy, an authority figure speaks to her about why the system is in place. And the more the authority figure explains it, Waseese sees through the flimsiness of her arguments. Eventually, Waseese exclaims that her people are more capable than the government thinks they are. To some degree, this is a case of the characters crudely stating the film's themes. At the same time, this scene goes to show that a child's transformation into a human-shaped vessel does not happen overnight. As a result, Goulet manages to neatly weave the film's message through the characters themselves.

None of this is by any means revelatory on an aesthetic level. If anything, the sprinkles of futuristic tech on forest areas and dusty streets call back to the Hunger Games movies. Still, the sparse approach fits well with the bleak tone of the story. Cinematographer Daniel Grant populates the film with oppressive grays and unsteady camerawork, and both do a fine job at grounding it in a modified reality. As for the music, composer Moniker gets the absolute most out of droning notes. Although it lacks a strong melody, the mood it establishes is effective enough at creating tension.
It is easy to imagine Night Raiders as nothing but a tedious message movie. But thanks to Goulet, the film works as a science-fiction piece that knows how to develop its characters. Not only that, but it also uses the concept of residential schools as unsettling worldbuilding. Top that off with assured performances from Tailfeathers and Letexier-Hart and you get a movie that jumps over the hurdle of having a low budget. Under no circumstances would I call it a masterwork. But for a first-time feature director, it's the kind of project that sparks nothing but hope for Goulet's future endeavors. – Mark Tan
Rating: 7/10
Night Raiders's release date has yet to be announced.
---
Trending Now