'Come From Away' Review: "A Genuine Depiction of Compassion & Perseverance"
Posted On September 11, 2021
---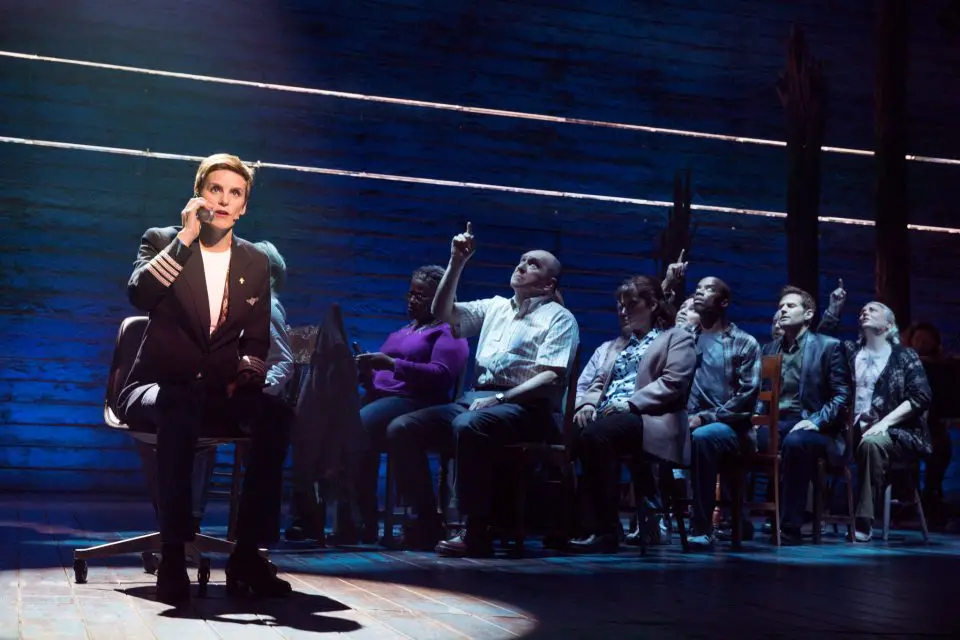 Within seconds of pressing play on Apple TV+'s latest original film, Come From Away, viewers are met with messages that lay out the emotional rollercoaster to come. "Twenty years after 9/11. Fourteen months into the shutdown. The first audience returns to Broadway." If one is familiar with the musical's synopsis, they are well aware of how appropriate the story is for this moment in history. As Americans look back on what took place on that fateful Tuesday morning, they must also remember the tragedies stemming from the COVID-19 pandemic. Come From Away bills itself as a musical displaying a true test of human strength. Within its 105-minute runtime, that notion is proven to be absolutely correct.
On the morning of September 11, 2001, the kind and simple of Gander, Newfoundland describe their day-to-day lives. However, the story takes a turn as they learn of the terrorist attacks taking place in New York City, Washington, D.C., and Shanksville, Pennsylvania. With US airspace closed, 38 international flights are forced to land unexpectedly at the Gander airport. As a result, it doubles the population of the small town. With its book, music, and lyrics penned by Irene Sankoff and David Hein, Come From Away tells a bevy of intertwined and unexpected stories of kindness and perseverance.

At its core, this musical is an honest depiction of compassion. The characters in the show share the real names of real Gander residents. Additionally, some of the 7,000 stranded travelers that they housed and fed are real as well. With performances by original members of the Broadway cast, the transition from stage to screen is fairly smooth. Actors portray multiple characters throughout the story. Moreover, their blocking in combination with a moving set of tables and chairs works well in jumping between the panicked travelers and townsfolk.
From folks piling into buses to seeking people to translate a number of languages to the fear of the unknown, the cast does a wondrous job mixing humor with fear and confusion. However, arguably the most memorable thing about this Broadway show is the music. For the most part, the score underlines the drama. The music allows characters from all corners of the world to connect. And, at the end of the day, it appears human connection is what everyone is looking for. The company performances of songs like "Darkness and Trees," "Phoning Home," and "On the Edge" are moving, eliciting real emotion felt during the fallout of 9/11.

Come From Away is inspiring yet unpretentious. While marketing for the musical may compare it to a Hallmark Channel version of events, it is anything but. An African character fears racist treatment from the largely white community. An Egyptian character is met with suspicion and unjust treatment, like many world citizens of Middle Eastern descent. The overarching theme of human connection is never more prevalent than when folks of all cultures and ways of life come together as one people. This union is even more powerful when in the wake of one of the largest terrorist attacks on American soil.
With many mourning the loss of life twenty years ago while simultaneously dealing with the everlasting effects of the global pandemic, Come From Away offers a reprieve. At their very best, musicals cannot erase fear, racism, and tragedy. However, at their best, musicals offer a semblance of hope. Come From Away sets itself apart as a display of genuine mutual empathy. – Christian Hubbard
Rating: 8/10
Come From Away is streaming now on Apple TV+.
—–
Did you enjoy this article? If so, consider visiting our YouTube channel, where we discuss the latest and greatest in pop culture news.
---
Trending Now