'Cinderella' (2021) Review: "An Insufferable Retelling"
Posted On September 4, 2021
---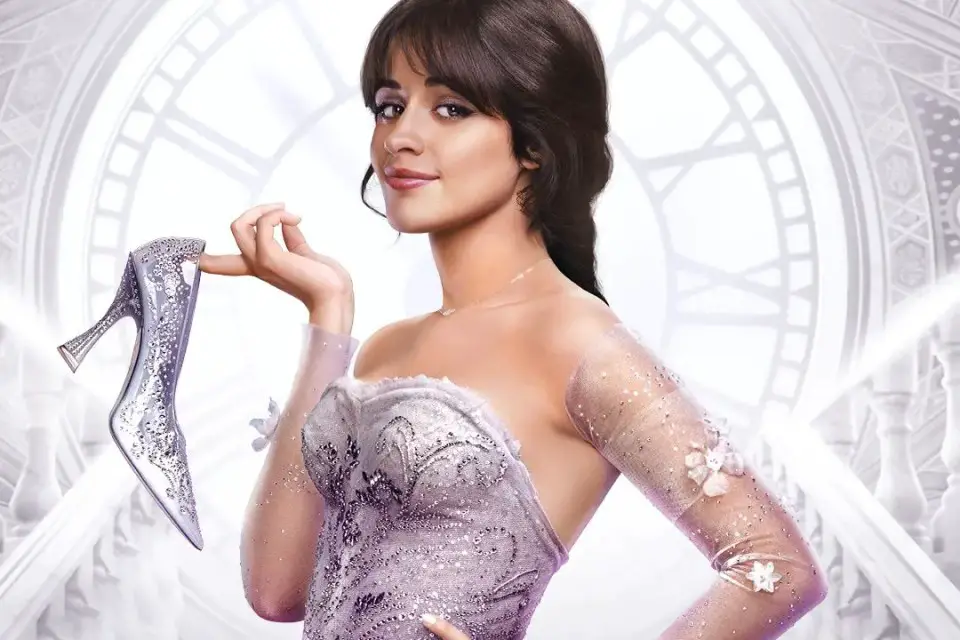 The Cinderella story is not what I would consider as one of my favorite fairy tales. Sure, it centers around a person who wants to break away from the constraints her own stepfamily established. However, I have never found the title character to be all that interesting. Maybe it's because of the versions that I have seen, but rarely does Cinderella herself grow as a character. If anything, it's the stepfamily that learns the big lesson to be more gracious to others. Nevertheless, it's a story that has been passed down between generations, and that alone earns it some respect. Unfortunately, respect is all but absent in the realm that is the 2021 iteration of Cinderella.
This is not a movie that sensibly adjusts the beats of the Charles Perrault story for a modern audience. The movie we have here is a jukebox musical that senselessly uses pop songs and features characters that drop modern slang. On paper, I suppose this isn't the worst way to make a contemporary Cinderella movie. But under the hands of writer/director Kay Cannon, it's the stuff of nightmares. Cannon's approach to the material is all about being cheery to the point of total exhaustion. As a result, we get some of the most dire moments of any movie in 2021. How else does one explain the narrator using oh-so-cool phrases like "she cray" in the opening scene?

It's genuinely impressive how much Cinderella fumbles on the level of music. A lot of this comes from Cannon's eagerness to throw everything at the wall. Since the jukebox musical format permits the storyteller to pick songs at random, this results in some baffling selections. The most notable by far is the mashup of "Whatta Man" and "Seven Nation Army" at the ball, which is about as incompatible as you may think. It's clear that the filmmakers thought of which songs would be good projections for characters in a given scene. And in cases where a song applies to the entire ensemble – such as "Am I Wrong" – it almost succeeds in that regard. Still, none of it matters when every cover is nothing but a sonic sludge.
And we haven't gotten to how the movie falters as a retelling! Although the period costumes and sets remain, there is now a thin corporate-approved sheen of female empowerment. So instead of Ella (Camila Cabello) just wanting to escape the clutches of her stepmother Vivian (Idina Menzel), she is all about starting a business for dressmaking. However, it's not like this iteration devotes itself entirely to her journey as a businessperson. We still have to deal with a prince – this time named Robert (Nicholas Galitzine) – and his journey to find a potential wife and queen. Because of that, the attempts to make Ella a contemporary figure come off as half-hearted.

What makes this gesturing towards capable women even more undercooked is how it does more justice to its supporting characters. In particular, Robert's sister Gwen (Tallulah Greive) is a headstrong individual who has a firm idea of how to rule over the land. Compare this to Robert, who is much more interested in finding a significant other than in being a future king. This imbalance is also apparent in the dynamic between King Rowan (Pierce Brosnan) and Queen Beatrice (Minnie Driver). Rowan is someone who exercises his authority in petty and childish ways. Meanwhile, Beatrice is someone who knows how to sort their priorities. The contrast between the men and women makes for legitimate drama, and it's annoying that Cannon treats this as a secondary plotline.
So far, what I have described is a colossal misfire of a musical and a Cinderella retelling in general. What could possibly make this even more unendurable? The answer lies in the thing that was doomed for failure from the beginning: Cabello herself. To say that I expected a ton out of a first-time actor would be the lie of the century. What I didn't expect, however, was for Cabello to be so reliable at projecting a sort of non-charisma. Virtually none of her line readings are the right ones, and it's all on scene partners like Menzel to make her do mid-tier reactions. And since this is a musical, we are frequently subject to her absolute worst asset: her thin, shrill vocals.

It's a shame to see so many aspects out of place when the effort from the production side is this visible. Although the cheery attitude backfires on the musical numbers, it works well when it comes to the costuming. Costume designer Ellen Mirojnick dives deep into the realm of bright colors and soft fabrics, and all of it works to sell the fantastical nature of the story. Best of all, the boldness crystallizes in the form of the Fabulous Godmother (Billy Porter). Between the lavish gold outfit and unwavering flamboyance, the Fabulous Godmother is the one character that's actively enjoyable to watch. I wish that character appeared in more scenes, but as in most things, it's nice to get any Porter at all.
I will give the 2021 Cinderella this: it is 100% indicative of the filmmaker that made it. Between its adoration of pop songs and female empowerment, the movie feels like a logical next step for the creator of Girlboss and the Pitch Perfect movies. But just because it makes sense from a career trajectory standpoint doesn't mean that it's an automatic recipe for success. And boy, is this an example of a movie failing to live up to its potential at every turn. I am not a Cinderella connoisseur, so I want to hesitate from calling this the worst Cinderella movie ever made. Still, the fact it's even on the cards is a sign that Cannon should have quit while she was ahead. – Mark Tan
Rating: 3/10
Cinderella (2021) is now streaming on Amazon Prime.
The film stars Camila Cabello, Idina Menzel, Nicholas Galitzine, Pierce Brosnan, Minnie Driver, and Billy Porter.
---
Trending Now