'Nine Perfect Strangers' Ep. 3 – 'Earth Day' Review
Posted On August 20, 2021
---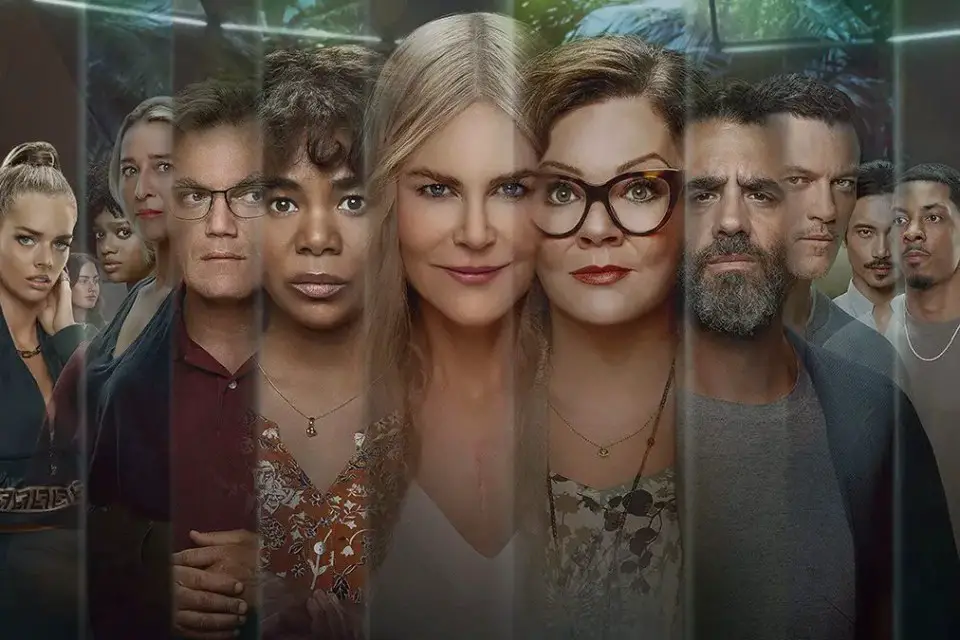 At the beginning of time, men hunted and gathered, and women took care of the home. According to the Bible, Quran, etc. We don't know how accurate any of that information actually is, but it's humans in their natural form. This is Masha's (Nicole Kidman) exercise in the latest episode of Nine Perfect Strangers. It's a genuinely odd episode that ends on a very interesting cliffhanger.
The last episode was getting us ready for this one right here. Masha realizes how chaotic this group is after Delilah (Tiffany Boone) finally gets through to her. Masha decides it's time to ramp up the treatment and try something new. She sends them on a voyage of sorts. The patients must feed off the Earth. Masha splits the men and women into groups of their assigned sex. Men go with the men, and women go with the women.

The women end up at a natural spa and discuss some very interesting things – love life, sex, stress, and just being a woman. The men are sent to gather food that's on the property – fruits, and veggies mainly. While talking we see Heather (Asher Keddie) express her actual feelings and emotions. She talks about how she felt since her son died. Mind you, they are completely naked during this scene for the most part. The men while looking for food discover Tony's (Bobby Cannavale) big secret.
The exercise ends with the women kind of hashing out their differences in a way. Jessica (Samara Weaving) finally understands why Carmel (Regina Hall) always made shady comments towards her. Zoe (Grace Van Patten) kind of understands why her mom is who she has been lately. Frances (Melissa McCarthy) starts to realize that she is disconnected from humanity. The men's exercise ends with Tony and Napoleon (Michael Shannon) finally unleashing the beast when they chase their dinner for the night.

The episode ends with a feast for the successful hunt. The dinner consisted of wine, good food, and for the first time actual meat. Everybody seems to kind of put their differences aside namely Ben (Melvin Gregg) and Lars (Luke Evans). Napoleon says a prayer over the food, and he has an emotional breakdown. In the midst of the emotional breakdown, everything becomes extremely awkward. Napoleon begins talking about hearing God and stating why he did what he did. Then Heather poses an extremely great question that ends the episode.
Johnathan Levine is back directing this episode and continues his streak. Our screenplay is done by Samantha Strauss, and it's an interesting piece. Of course, the dialogue is there, but there is so much going on in this episode. There are also a few callbacks from the previous two as well. Yves Belanger captures some of the most amazing shots on the property so far. They feed into the primary thoughts of the characters and create a relaxing atmosphere. The score is yet again really interesting as it is spa music still in a sense until the scenes like the hunt happen.

Nine Perfect Strangers has delivered heavily in every aspect thus far, but of the three-episode premiere, this reigns supreme. We keep getting info that is easily digested and makes sense of every situation. Is Masha who she seems to be? The mystery and drama surrounding the series are extremely eerie. Every episode makes me wonder if this is all coincidence, or is there a reason behind Tranquillum other than advertised. I hope you guys are as invested as I am, and we will chat next week after the next episode premieres. – Rascal F. Kennedy
Rating: 10/10
Nine Perfect Strangers premieres every Wednesday on Hulu!
---
Trending Now