'Nine Perfect Strangers' Ep 1: 'Random Acts of Mayhem' Review
Posted On August 19, 2021
---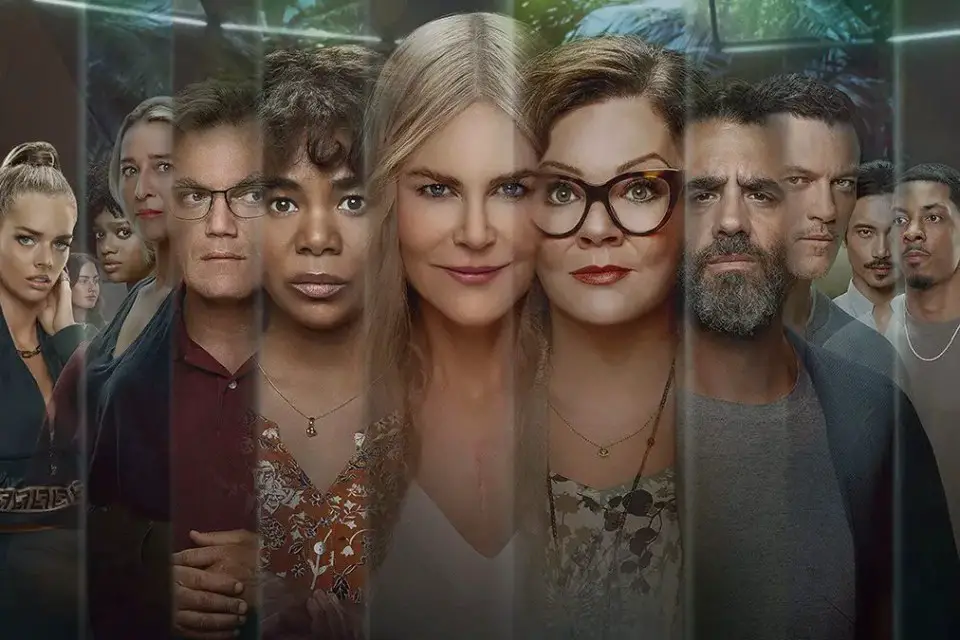 Wellness centers, spas, retreats, etc. have always been a very frequent thing. People travel to other countries, cities, states to visit some of the most world-renowned locations for these. Especially during this health craze that's hit the U.S. recently. Everybody wants to eat right, turn vegan, be fit, etc. The craze is just history repeating itself, we remember the fit craze of the 80s. Stay-at-home moms doing the fitness videos and yoga – yes it was definitely a craze. Hulu's newest addition Nine Perfect Strangers encapsulates this craze perfectly from the first episode.
Nine Perfect Strangers is about a group of people that is in no way perfect. Author Frances Welty (Melissa McCarthy) just went through a traumatic experience and is looking to let off some steam. The Macaroni family – Napoleon (Michael Shannon), Heather (Asher Keddie), and Zoe (Grace Van Patten) – is dealing with some family issues amid a tragic event. Lars Lee (Luke Evans) is a mysterious man that we don't know much about. The Chandlers – Jessica (Samara Weaving) and Ben (Melvin Gregg) – are a married couple that is looking to fix their issues. Divorcee Carmel Schneider (Regina Hall) is looking to transform and transcend herself. Last but not least, Tony Hogburn (Bobby Cannavale) is an addict trying to figure himself out.

These nine people head to the Tranquillum House, a secluded wellness retreat run by a guru named Masha (Nicole Kidman). The first episode is all about our introduction to these characters. Masha promises to transform all of her patients into new people in ten days. The mayhem comes from the fact that these people seem to have been chosen instead of just randomly coming on their own. Is Masha actually who she seems to be or is there something much more sinister afoot?
Johnathan Levine directed this episode of Nine Perfect Strangers. David E. Kelley and John-Henry Butterworth wrote the script. These guys put together a very interesting first episode. There is some confusion, but it's all a part of the show. They confuse the viewer a bit and make you curious. The writing and the dialogue are intriguing, they rope you in and keep your attention. The inclusion of Manny Jacinto (Yao), Tiffany Boone (Delilah), and Zoe Terakes (Glory) help flesh out our characters a bit more.

Cinematographer Yves Belanger captures the beauty of this resort perfectly. The nature, the landscape, and the actual facility. This is definitely a place you want to be on a secluded retreat. It's absolutely beautiful. Marco Beltrami and Miles Hankins' score was very noticeable and soothing, like something they play at a spa when you get a massage. It put me in mind of FX shows like Devs. Very 80s like in a way. It's definitely memorable and worth noting.
This was a great introduction to the show. We got information that was necessary, but not too much information. The writers' room knows what they are doing, and they are doing it well. There is a lot of information to learn and understand so funneling it into one episode would've been a bad idea. The interest and intrigue are there, but can they follow up? – Rascal F. Kennedy
Rating: 7.5/10
Nine Perfect Strangers is currently streaming on Hulu with new episodes every Wednesday!
---
Trending Now