'Animal Kingdom' S5, Ep2 – 'What Remains' Review: "Slow Pace Builds Drama"
---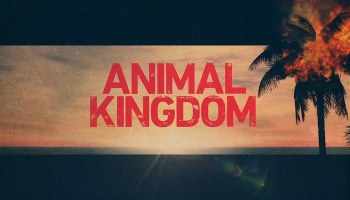 Typically when parents have a will, they leave their children assets and money. The will is usually made to ensure whatever the parent owned stays within the family. This seemingly isn't the case for Janine Cody. As she has left almost all of her assets to Pamela Johnson, a woman her boys outside of Andrew have never met. This is leaving the Cody boys in limbo as they are still finding their footing on how to work their family business without Smurf. This was the main focus of this week's episode of Animal Kingdom.

Pope (Shawn Hatosy) trying to figure out what to do with Smurf's ashes. Deran (Jake Weary) trying to cope with life without Adrian. Craig (Ben Robson) and Renn (Christina Ochoa) making an attempt to mesh their criminal lives with their life as parents. J (Finn Cole) trying to keep the family business afloat. We're still getting our flashbacks of Janine (Leila George) with young Julia (Scarlett Abinante) and Andrew (Houston Towe). This was definitely entertaining, but underwhelming.
As previously mentioned, the boys meet with the lawyer that helped Smurf draft her Will. J tells his uncles that Smurf has properties off the books and explains to them they need them to launder money. Pope is still lost without Smurf and is losing his mind trying to get rid of things that remind him of her. Craig and Deran pull a job, and J finds the boys their next big job. We also see Janine with no plan or idea on what her next step is find Pam (Milauna Jackson). These flashbacks will tie into why she is leaving her all of the assets.
Written by Bill Balas and directed by Mark Strand, this team was a bit on the weaker end. Considering what the first episode gave us, this was a tad bit underwhelming. I have faith in the creative for this show as no season has been a let down yet. It just feels like they are just as lost without Smurf as the characters are. This is only the second episode though, so I still have a ton of faith, I'm sure as the season goes we will get better episodes. This felt like a small setup for bigger things, but the first episode was so intense I didn't expect a down tick like this so fast.

As we continue the season it seems like the stakes will be raised. Pete (Reynaldo Gallegos) has just approached J with a job. J's uncles still have no clue what he was up to before Smurf went crazy, the Feds are back on the Cody's case, and Pope is slowly losing his mind. As underwhelming as this episode was, it gave us plenty to digest leading to next week. While it's on the weaker end of Animal Kingdom episodes, it was still an interesting watch. – Rascal F. Kennedy
Rating 7/10
Animal Kingdom Streams Sundays at 9pm/8 central time on TNT!
---
Trending Now