'The Falcon and the Winter Soldier' Episode 2 Review
---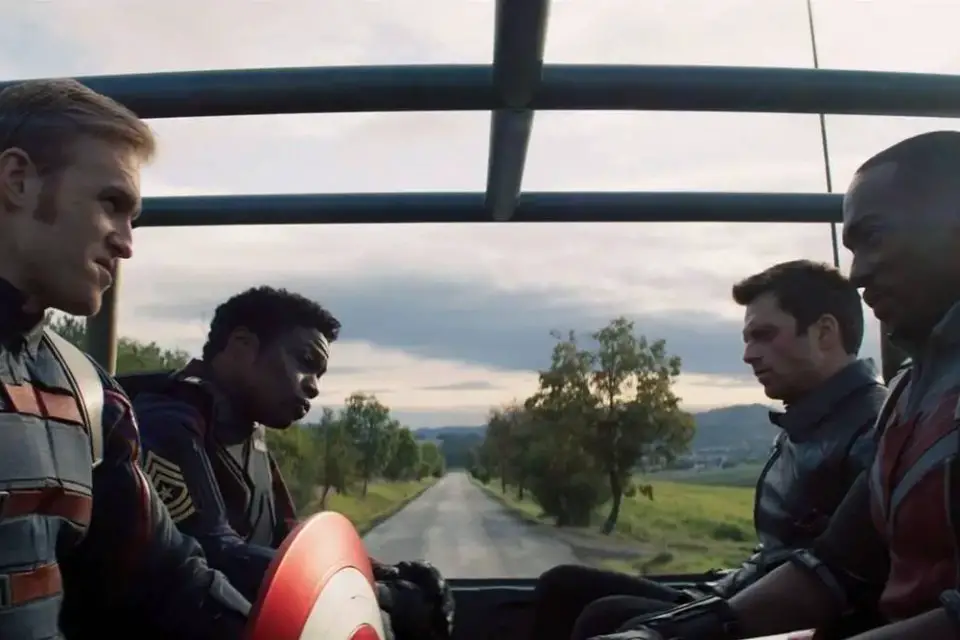 This is a review for Episode Two of The Falcon and the Winter Solider. For last week's review, click here.
Falcon and The Winter Soldier is back with another episode and continues to excel with its sharp visuals and layered story. In episode two, we find Sam and Bucky coming together after the revelation of a new Captain America. John Walker, introduced as Steve's replacement, chosen by the U.S Government. This multi-faceted episode juggles multiple plot lines with ease and interconnects its characters to tell an engaging story.
Whereas WandaVision embraced the episodic format with a more loose thread, the interconnectivity of Falcon and Winter Soldier differs greatly. The episodes weave together to feel more like a feature-length film than a television show. The cinematic feel of these first two episodes has me very excited for the coming episodes. With this episode being the first Sam and Bucky are together, we get more of their dynamic which was explored in Civil War, to a much more intimate degree.
Bucky feels a responsibility towards himself and Sam. Still influenced by the actions and choices of his brother in arms, Steve, Bucky pushes Sam to embrace the mantle passed to him by Steve. Sam, however, sees the situation differently than he does and so the two characters inevitably clash. Sam's feelings of being overwhelmed at the legacy of Steve and feeling the need to make his own mark are understandable.
Bucky also comes from a place of needing to make peace with his demons, and his need to do that through Sam is understandable as well. Overall, both characters are coming from a need to establish their own identities and legacies.

On the other side of the spectrum, their more comedic interactions are just as engaging. In the vein of something like Lethal Weapon, Sam and Bucky work like an odd couple begrudgingly put together by circumstance. One more of a loose cannon (Bucky) and the other the calm and collected (Sam). Their first conflict with the Flag Smashers is enthralling. Moreover, it only gets even more entertaining when Captain America shows up.
John Walker, in full uniform and shield, shows up with his own partner, Battlestar. Showing his own impressive skills with the Shield he assists Sam and Bucky in their fight. The showrunners clearly want you to feel like he's Cap, but something doesn't sit right. Composer Henry Jackman's theme for Cap from Civil War plays when he arrives. He even does neat tricks with the shield. However, this clearly isn't Captain America. Wyatt Russell, who plays John Walker,  gives an excellent performance. A Military Man through and through, John clearly wants to do his best in the role given to him.
Russell gives what otherwise would've been a one-dimensional archetypal anti-hero a more tragic lens. This is clearly a mantle that Walker doesn't understand the full gravity of, but will try to make his own. Walker shows a bit of his dark side by the end of the episode. This layered take on the character is a phenomenal one and I for one can't wait to see what becomes of him in the remaining four episodes.

Sam also gets more development on the more human side of things, too. The investigation of new super-powered individuals leads Bucky to search for answers with Sam. Recalling his past as a weapon, Bucky goes to one of his many old foes. Enter Isaiah Bradley, another super soldier from the Korean War who fought the Winter Soldier. Taking this somewhat obscure comic character and using his history as a metaphor for the erasure of certain cultures and identities is incredibly clever and powerful writing. Sam, rightfully angered at never knowing this with Bucky keeping it a secret, makes for incredible character development.
Hearing of the tragic fate that Bradley befell as a consequence of his powers and race shows that the MCU isn't afraid to use larger-than-life stories and characters as a reflection on the injustices and crimes that occur in the real world. Being able to do this while simultaneously developing Sam and setting up a future interaction between himself and Bradley is very smart writing. Pair this with the cinematic and intimate visuals the cinematography provides and you get some of the more groundbreaking MCU content that we have seen in the past few years.

Moreover, the flag smashers are painted in a more sympathetic light, showing that not everything is black and white. These morally ambiguous situations are the kind of topics Captain America comics and stories have been covering for years. It's a joy seeing this translate onto the screen.
Overall, this week's episode of Falcon and Winter Soldier was fantastic. After the engaging and mostly quiet setup of the first episode, episode two kicks things into high gear with riveting action, new compelling characters, and an intriguing, complex story. Add to that an incredibly enticing cliffhanger that reintroduces one of the MCU's best villains, you have a solid episode in an already fantastic series. – Ernesto Valenzuela
Grade – 9/10
New The Falcon and the Winter Soldier episodes premiere every Friday on Disney+
---
Trending Now