SXSW 2021: 'Clerk' Review: "A Poignant Love Letter"
---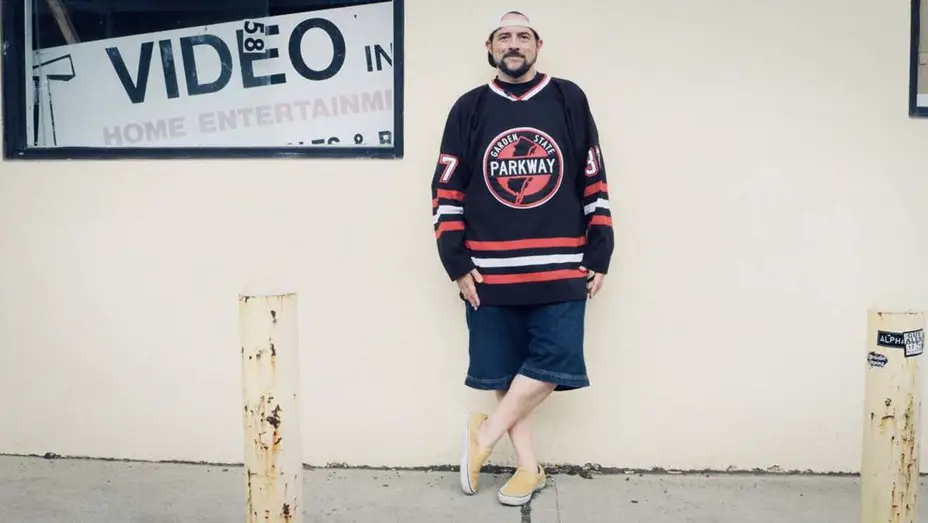 A young man sits in front of a camera. He's about to go off to Vancouver Film School. On the eve of his departure, he talks about what's ahead to his parents. He knows he's destined for great things, but he can't even imagine the extent of what's ahead of him. This man is Kevin Smith. For better or worse, an icon in film, and Clerk charts his life in a near-perfect manner.
Kevin Smith was one of the first filmmakers I ever became a fan of. His "View Askewniverse" movies – from Clerks to Jay & Silent Bob Strike Back – struck a chord with me at an early age. They were something of a forbidden fruit; profane, inventive, yet earnest & deeply heartfelt flicks. But what had always hooked me, more than anything else, was the man behind it all. Smith is a cult of personality, whose story on the page has always been an inspiration. Directed by Malcolm Ingram, Clerk successfully captures the full scope of his legacy.
Smith's story is the story of a fan. A kid who wanted nothing more than to make movies. After seeing Richard Linklater's film Slacker, he decided to go for it. Raising a small amount, gathering a rough-and-tumble crew of collaborators, he set out to make a movie that he assumed no one would see. That film became Clerks, a film that arguably pushed forward the entire idea of independent film.
When it focuses on the making of Clerks, Clerk is a phenomenal story unto itself. Reminiscent of The Disaster Artist and Ed Wood, it's a classic story with a revolving cast of characters more interesting than the last. Smith's budding friendship with producer Scott Mosier and initially antagonist working relationship with Jason Mewes are entertaining highlights that could spark 30 minute-long tangents of their own. Clerk, however, is more concerned with the full scope of Smith's career.

Clerk shows the ins and outs of being an independent filmmaker thrust out into the mainstream. With independent filmmakers like Josh Trank and Colin Trevorrow, we've seen the transition from indies to Hollywood go disastrously. They weren't Kevin Smith. Going movie by movie, Clerk charts an artist learning and growing. By continuing to try new things, through strength of spirit, willingness to change, Smith goes from a kid making a movie to an artist valued by Hollywood. It's nothing less than touching to see films like Chasing Amy and the negatively-received Jersey Girl coming from such a personal place.
Just as it celebrates the successes, Clerk doesn't shy away from the negatives. Kevin's health issues, dissolving relationships, and former association with Harvey Weinstein are all fair game. These subjects are handled with brutal honesty, as is Smith's waning relevance in the mid-2000s. This is not a documentary all about how Kevin Smith is an untouchable God of filmmaking. It's about a human. A human whose life has ups and downs.
Clerk has a great topic to center its third act around: Smith's status as a pop-culture figure. While the films he makes now may not be as acclaimed as they once were, he's making things on his own terms. More importantly, he has a great relationship with the fans and continues to inspire others while being a family man and living every day like it's his last.
Speaking of fans, Clerk has the opportunity to make new ones. While it may not be the most focused film, it nails a complete sense of who Kevin Smith is. Moreso, it reveals exactly why so many love him. It's not just because of his movies, but because he's a good person. And it's nice to see that propel someone to the impact he's had. – James Preston Poole
Rating: 9/10
---
Trending Now