'Servant' Season 2 Episode 8 Recap/Review: "Loveshack"
---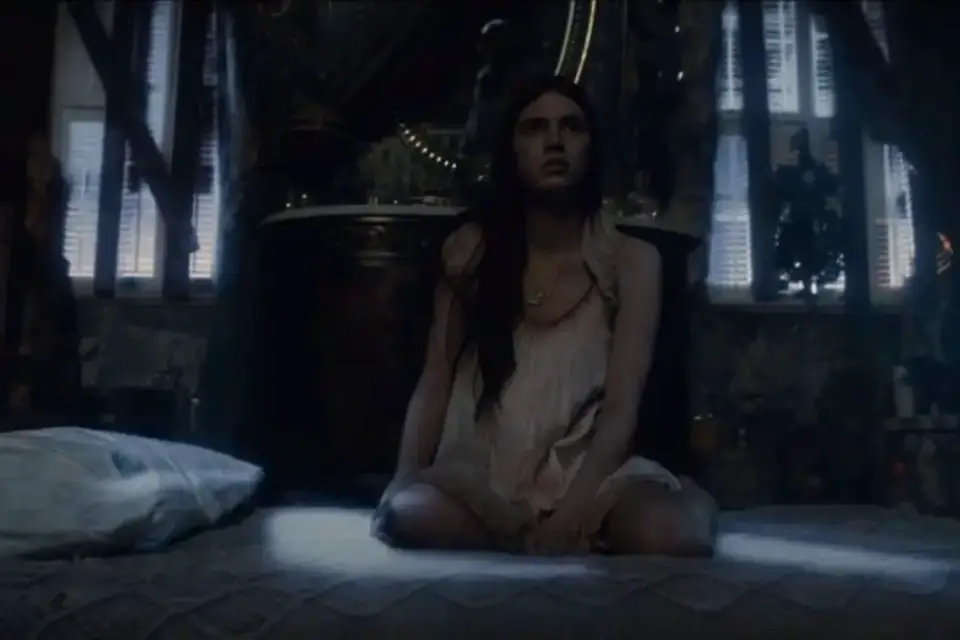 This article will contain full spoilers for Servant Season 2, Episode 8. Click here for our coverage of the previous episode.
We're in the endgame now. After the necessary connective tissue of the most recent episode, Servant returns with a doozy of a chapter of the Turner family saga that easily reaches the heights of this season's fifth and sixth episode. Yes, this is once again a perfect episode of the best show currently running on television. But why is that?
For starters, we have returning director Isabella Eklöf, who handled the myriad of revelations in "Espresso". She's given just as much to chew on here, the drama starting early and heavy. In her snowy room, Leanne (Nell Tiger Free) rewatches the tape of Dorothy (Lauren Ambrose) interviewing her at a pageant. Her momentary distraction fades when she fast-forwards the tape. In the background, she notices her mother handling her roughly. Her Uncle George (Boris McGiver), meanwhile, takes some of the orange liquid from one of the vials he received in the wooden box last week and begins to draw arcane symbols with it on the wall.
Julian (Rupert Grint) is on his own mission. He does research on Leanne's background, finding news articles as well as an old picture of Leanne's mother holding her. Seems innocent enough, but the devil's in the details. Leanne's mother spreads her fingers across the child's mouth, forcing her to smile. Julian prints out the photo and takes them to Leanne's doorway, letting her know if she ever wants to talk, Julian is there to listen. Servant loves to explore capital-T Trauma in a plethora of ways, yet the slow kindling of Leanne's abusive backstory has been handled with surprising care. For all the weirdness going on, it knows when to get serious.

Back to the wackier bits. George sharpens the blade from the wooden box, weeping as he does so, until Dorothy interrupts with breakfast. Being the character we know and love, Dorothy has an ulterior motive, flashing the note that says "Reunite Them By Christmas Eve". George recognizes that she apparently knows what this means, and says that "it's time". Naturally, Dorothy believes that he's going to somehow resurrect his son, and clears a path for him. To the chagrin of Sean (Toby Kebbell), he goes right for the grill for… some reason?
As if the situation couldn't get more strange, Roscoe (Phillip James Brannon) shows up. After revealing to Dorothy who he is, he claims he "can't let [them] leave" the backyard. Inside, George is doing various things to prepare for whatever reunion must happen by the stroke of midnight. This includes building a huge pyre of wooden objects in the hole in the cellar. In a bizarre scene, George puts on "Loveshack" by the B-52s  and repeatedly slams his head into the wall. Is he psyching himself up for something? Why is he so upset?
Enough with the cryptic teases. Let's get some truth. True humanity comes out in a series of scenes featuring Julian and Leanne, who invite him up to the attic to talk. She has shed her typical white garmets for a tight black dress. This is ingenious visual storytelling at the behest of Eklöf, signaling the change of Leanne from an angelic character into someone who is straying from the traditional path. Julian asks about Leanne's grudge towards Leanne. Leanne reveals that she looked up to Dorothy, wanted a mother like her. However, she could not forgive what Dorothy had "done" to Jericho.
Julian doesn't argue this. Instead, he simply shows Leanne a voicemail. This voicemail was prior to Jericho's death, where a sobbing Dorothy asks Julian for help taking care of him. Julian reveals that he was on drugs during that time period and that maybe he could've done something to prevent what had happened. Conversely, Leanne reveals that she wanted her mother to notice her, to treat her like her child rather than property. So, she burned her mom's favorite dress, which accidentally catches fire and burns their house, along with the whole family down. Furthermore, she recalls being brought up from the ashes by George and May Markham, who christened themselves her aunt and uncle.
These two are bound together by guilt. Therefore, it shouldn't be a surprise when they start to kiss and eventually have sex. However, I can't say I saw it coming. Even still, the act is an act of rebellion for both Leanne and Julian. Julian, who fights through tears, is trying to let go of not doing anything to help Dorothy until it was too late. Leanne is becoming her own person, throwing away the mantle of "servant". It's a scene as titillating as it is cathartic, and one of the most important scenes in the series simply because of what it means for both characters.

Downstairs, Roscoe finally relents, letting Sean walk him out of the door. Roscoe reveals that he had been ordered to get them out of George's way by the cult, the Church of the Lesser Saints. Surprisingly, Roscoe doesn't seem to have any problem with what has happened to him, feeling a burst of energy and purpose. Their conversations distract the fact that George is on the move, holding the blade in his hands. He confronts Leanne and a sleeping Julian, with the intent to kill Leanne. Leanne is having none of it. She stands up, knocking over a lamp that ignites a wall of flame. George cowers in fear, as Leanne proclaims she's not afraid of anything. George runs out of the house, and as Leanne looks on, he is struck by a car.
And that's where we leave off on "Loveshack". Whereas episodes 5 and 6 got the perfect score out of the power of their revelations, this one gets the score based on the grand scope of the show. Servant is bringing all of its disparate parts together, coming to a head and continuing to reveal that this is Leanne's story. A story of making your own destiny; the narrative applies just as well to the Turners. As we have only two episodes left in the season, the fight rages on and I'm firmly Team Leanne. – James Preston Poole
Rating: 10/10
Season Rating (So Far): 9.1/10
Servant is available to stream on Apple TV+.
---
Trending Now