'WandaVision' Episode 8 Recap/Review
Posted On February 26, 2021
---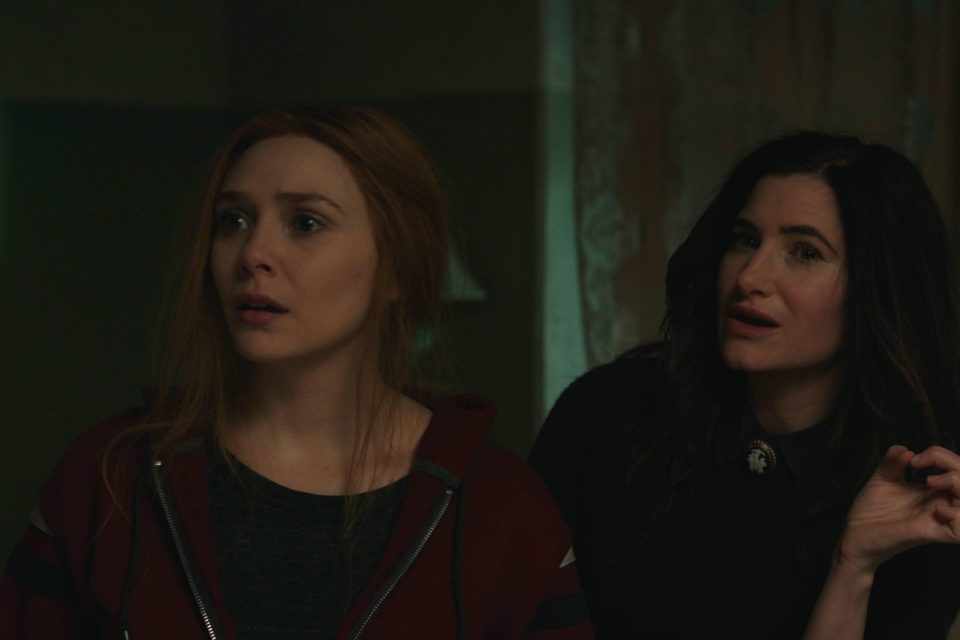 Warning: The following article contains spoilers for episode 8 of WandaVision. For a catch-up on all that's happened previously, click here.
The experience in this week's episode results in something unlike anything we have seen from WandaVision yet. At the end of last week's episode we finally got something to chew on. Agatha revealed herself as a force against Wanda's utopia or errors. The post-credits scene from last week revealed that the Pietro we knew was being played like a puppet. Now we have Wanda in the palm of Agatha's hands.
Starting the episode, we get more insight into Agatha. Taking us to 1693 Salem, Massachusetts, Agatha was being taken away by hooded figures. Considering this is based on real historical events, it was fair to assume initially that she was to be burned at the stake. Only once she was at the stake do we see that she has been turned by her own coven. Agatha stood accused of practicing dark magic and her punishment was to have her powers drained from her.
This is where we step into a major theme for this episode, trauma. Agatha became on trial in Salem, her fellow witches being the jurors. The Judge: her mother. She begged, pleaded, and nearly cried. Once presumed guilty, her fellow witches drain her of her powers. All seemed lost for Agatha, but she used her powers to reverse what the other witches believed they were doing to her. She drained her fellow witches of their powers, and her mother stepped in and attempted to steal her powers. Agatha, against her better wishes proceeds to drain and kill her own mother.

Fast-forward to present day, we are now back with Wanda and Agatha. Wanda is in Agatha's basement and we begin to learn more of Agatha's intentions. Agatha digs to discover what lead to Wanda's creation of this world that we have been subjugated to for seven weeks now. Instead of forcing words out of Wanda's mouth, Agatha decides to walk through it. Agatha turns a door in her basement into a portal to Wanda's psyche and trauma. From there we experience, first-hand, the events of trauma that shaped Wanda as a person. From the childhood loss of her parents, to her experiences with Hydra and Loki's scepter, and her reeling from the loss of her brother.
At this point, Wanda's trauma is at center stage. We see her face what escalated her to create her own personal Westview. What makes these events so impactful is that we are fully aware that these events happened. Countless times through prior movies as well as throughout WandaVision we hear about these traumatic events. Now seeing them, after having developed a connection with Wanda, gives these moments weight. Yes, we had seen the death of Pietro in Age of Ultron. However, the films runtime did not give opportunity to feel the weight of that loss. We had not connected with her as an individual.

Prior episodes touched on her trauma here and there but never to this extent. I understand that there was a plethora of criticism for not giving the viewer more to chew on. To be completely honest, if Agatha hadn't revealed herself last episode I would have felt fatigued with WandaVision. With that said, this episode gave us an entire platter for our eyes and heart strings to consume. As the series slowly rolled in a mysterious direction we are now given a vision (pun intended) as to what Marvel is doing.
We still don't know anything about "Fietro", Agatha's overall intent, what happened to Monica, or whether Darcy got past that intersection. But that doesn't matter. WandaVision foundation comes from Wanda's pain and loss. This episode is equal parts heartbreaking and cathartic. Now that we have insight into Wanda's pain, Marvel is setting the stage for an explosive finale that is capable of being on the same caliber as Avengers: Infinity War or Endgame.
We had moments with Hayward that were significant to the direction of the finale. But I'd rather not speculate on what he'll do, and I eagerly wait to see how his decisions pan out. After Wanda goes to the SWORD compound to see Vision's body, she leaves for New Jersey in a fit of sorrow. Vision left Wanda a lot of property for their future home in Westview, New Jersey. Wanda falls to her news in the middle of her land and proceeds to break down emotionally.
In this moment, we see the creation of WandaVision. Wanda explodes and releases a field of magic that has now enveloped the inhabitants of this town into her own world of pain, sorrow, and sadness. Using her past trauma as a foundation, Westview becomes a reflection of her past experiences and pain. In the midst of this, Vision is reborn as a her loving husband and they can now live as they once intended.
After we finish a tour of Wanda's inner demons, we are now back in Westview where Wanda hears her children cry for help. Wanda sprints outside to see both of her children leashed by Agatha's magic. We can assume that the stakes is to save her children, but I personally don't think that's the case. With Vision known to be created from the hex, it's fair to assume that Tommy and Billy are the byproducts of it as well.

Having to save them means she has to face her own trauma that she has repressed for so long. Tommy and Billy having the exact same powers as Wanda and Pietro it's not some coincidence, it's by design. They reflect the original Maximoff twins, Pietro and Wanda. Episode 6's end showed Vision attempting leave the hex which made him tear apart. Ending the hex, means no more Vision, no more Westview, and no more Tommy and Billy. Facing and dealing with her trauma means losing everything all over again.
WandaVision has just been Marvel characters following sitcom tropes from the era that the respective episode is set in, until this week. What we saw today is what turns WandaVision from a skirt steak to a filet mignon. There is a lot to unravel in just this episode alone, and we only have one more episode in this ugly wonderful world. Although WandaVision isn't without its fair share of issues holistically, what we get through this experience is unparalleled to anything Marvel has done prior. – Jacob Mauceri
---
Trending Now