Sundance 2021: 'Mayday' Review
Posted On February 3, 2021
---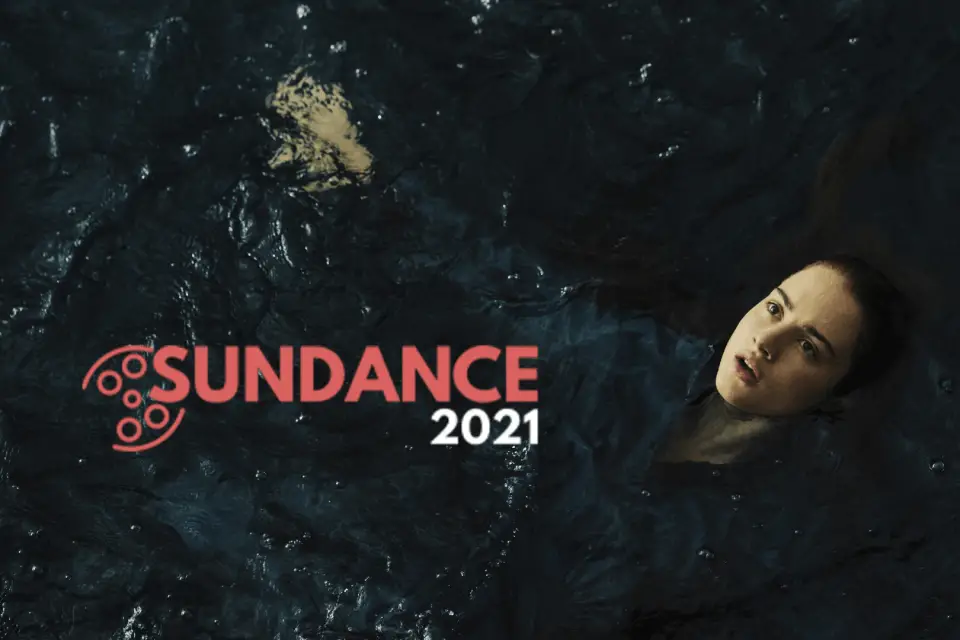 Writer-director Karen Cirrone has compared her debut feature, Mayday, to Wizard of Oz. The similarities are definitely there. In the midst of a storm, a young woman is swept into an exotic new world, experiencing a newfound sense of independence, soon longing for home. In this iteration, however, gone is the universality of Oz, replaced by an admittedly gorgeous yet muddled vision.
On a technical level, Mayday has the right stuff. Cirrone, cinematographer Sam Levy, editor Nicolas Ramirez, and the whole crew succeed in making everything atmospheric. This even extends to the film's opening section, where Ana (Grace Van Patten) works as a server at a wedding venue. Her world is one of oppressive greys and blues, where much of the staff treats her harshly. Ana's situation, or lack thereof, outside of her job isn't much better. She lives in her car, with a coworker (Theodore Pellerin) as her only friend.
When a storm hits the establishment, she's swept away into a strange world between life and death. It resembles something on a tropical island, only a little rougher. Here, she has no memory of her prior life and soon crosses paths with a ragtag group of female soldiers. This motley crew includes the headstrong Gert (Soko), optimistic Bea (Havana Rose Liu), and their eccentric leader Marsha (Mia Goth). Soko and Liu play their respective archetypes and do it well. It's really Goth, though, that commands the screen. She's a magnetic presence, whose playfulness doesn't detract from her firm leadership. Goth is a performer who brings her all to every role she plays, so she's a beyond welcome presence here.
Mayday is at its best when it's focusing on this company of outcasts. Their frolicking and fighting against the "enemy" men who wind up ashore compels. It almost works as a slice-of-life set in something of an afterlife. It's whenever Goth's character gets more screen time that the picture starts to lose its way. Obviously, very little of this is due to Goth. As her performance reveals a more sadistic layer to Marsha, the talent present in Suspiria and A Cure for Wellness shines bright as day. It's more so that the conflict between Marsha and Ana never quite feels as defined as it's meant to.

This feeling extends to much of the rest of Mayday. We never really know why Marsha is the way she is or must murder every man she sees. A simple interpretation places this as in her past life she was tormented by men. But Gert and Bea don't have any hints towards their backstories. Yet Marsha lives in anger. Disappointingly, despite being the protagonist, Ana has little to no character other than her trauma inflicted upon her by men in her life. Or the men that were nice to her in her life who show up in varying ways throughout this fantasy world.  Really, the only definition these two seem to have is their relationship to men. At least Goth fights against this by sheer force of personality.
Let's address the elephant in the room: I am a man and there could be something here I'm just not getting. This movie could very well mean more to an audience of women. It's just that for me every time a message starts to come in the film, it's drowned out by several scenes with a languid pace that loses that message. Mayday is content to just hang out, and that might be more enjoyable if I knew much about the world of the film. But Cirrone doesn't know whether to give this mysterious island lore and keep it abstract. We never quite get the rules of how this place works, and it doesn't play in a way that that's intentional.
What we're left with is a bit of a mess with a message that's either a little too obvious or not obvious enough. The film itself struggles with clarity of its vision beyond the aesthetic nature, and that's a shame. There will be many retellings of Wizard of Oz, possibly until the end of time. For the time being, this isn't one of the better ones. –James Preston Poole
Rating: 5/10
Mayday is still pending a wide release date. For continued Sundance 2021 Coverage keep an eye on our Twitter page and this site!
---
Trending Now