Sundance 2021: 'Prime Time' Movie Review
Posted On February 1, 2021
---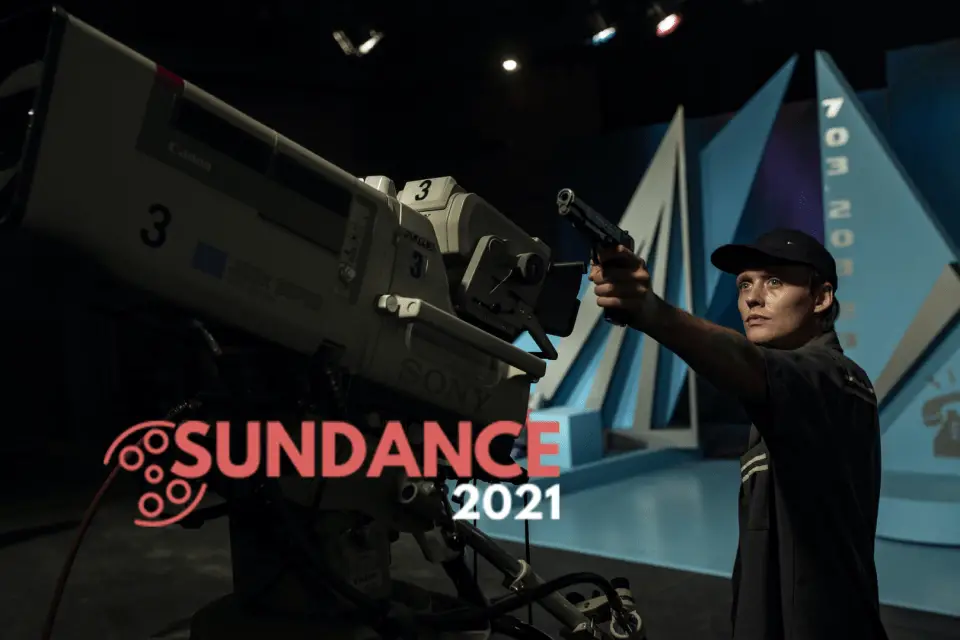 New Years Eve, 1999. A 22 year old named Sebastian hijacks a TV studio, taking a tv presenter and a security guard hostage. Armed with only a gun, Sebastian attempts to go on live television. His intentions? No one knows. The only thing we do know is that he is desperate to get on live television and deliver a message. Throughout the night, he constantly is thwarted by the police force, and those involved with the network.
Films taking place entirely in one location always somehow leave their mark. 12 Angry Men. Reservoir Dogs. Rear Window. It is practically a genre unto itself. These films carry out like a stage play, with the characters and their dialogue taking precedent over everything else. These are the types of movies that got me into film, and watching one is always a treat for me. Prime Time is no exception. The film thrives under these circumstances, and that is thanks to the direction of newcomer Jakub Piątek. This being Jakub's directorial debut, a lot could have gone wrong. Thankfully, it isn't the case. Piątek handles all the characters in a delicate balancing act, making everyone have a purpose. The performances are also incredible.
The best without a doubt is Bartosz Bielenia as Sebastian. Bielenia brings so much raw and powerful emotions into his performance. The spotlight is on him constantly in the tv studio and Bielenia more than rises to the occasion. To support him are his hostages, TV Presenter Mira (Magdalena Popławska) and security guard Ochroniarz (Andrzej Klak). Mira and Ochroniarz are two supporting characters that, as the film goes on, evolve in unexpected ways. Although under duress and fear for their lives, the connection that the hostages establish with Sebastian is twisted and inspired.

READ: Sundance 2021: 'In the Earth' Movie Review
Prime Time seeks to make an interesting character study and it does so in the development of the talented cast. For instance, Sebastian responds to one hostage negotiator differently than another. There are relationships formed in this small portion of time on this New Years Eve in 1999 that would end the moment the crisis ends. It's a small moment in time that leads to all different sorts of realizations and self reflection. Prime Time addresses this in interesting  ways. The way the hostage team responds to Sebastian in different ways to illicit so many emotions from him makes the film so interesting to watch. For instance, at one point one of the negotiators brings in Sebastians father, bringing out such a powerful response from him that makes it one of the best parts of the film.
On top of the great character work is the messages that Prime Time manages to convey. The age old 'The Medium is the Message' phrase is flipped on its head with Prime Time. There are so many levels of meaningless bureaucracy at a time where lives are at stake. In a different time period, before social media and live streaming, watching one young man attempting to reach an audience was fascinating. The violent way he goes about it is shocking and tense. However, watching each of the producers, camera workers, and even the chairman of the studio himself to stall and prevent any sort of broadcast is ridiculous to see as a response to this violent altercation.

Prime Time also features some awesome production work. The editing has a fast and ultra-tense pace to it. The guerrilla style camera work makes feel everything more raw and intense. The occasional change to the 1990's television aspect ratio helped with the immersion. It is a visually pleasing aesthetic that helps to work with the story. The edits and dramatic pauses of showing everything else that is happening on this fateful new years is nice for occasional reprieve and reflection. The TV studio set is aesthetically pleasing as well.
Unfortunately, there are some pacing issues towards the end and an odd conclusion that doesn't really build up to anything. Things begin to lease steam as the process of the hostage situation becomes a bit repetitive as well. The actors do their best with the small awkward breaks the situation is given, but it still drags at the end. Overall, despite some of the narrative issues and some repetitiveness, Prime Time is another compelling one-location film that is thrilling with some great character work and themes. Even if, like Sebastian, doesn't really have much to say by the end of it. – Ernesto Valenzuela
Grade – 8/10
Prime Time is still pending a wide release date. For continued Sundance 2021 Coverage keep an eye on our Twitter page and this site!
---
Trending Now