'Monster Hunter' Review: "An Unapologetically Badass Monster Mash"
Posted On December 22, 2020
---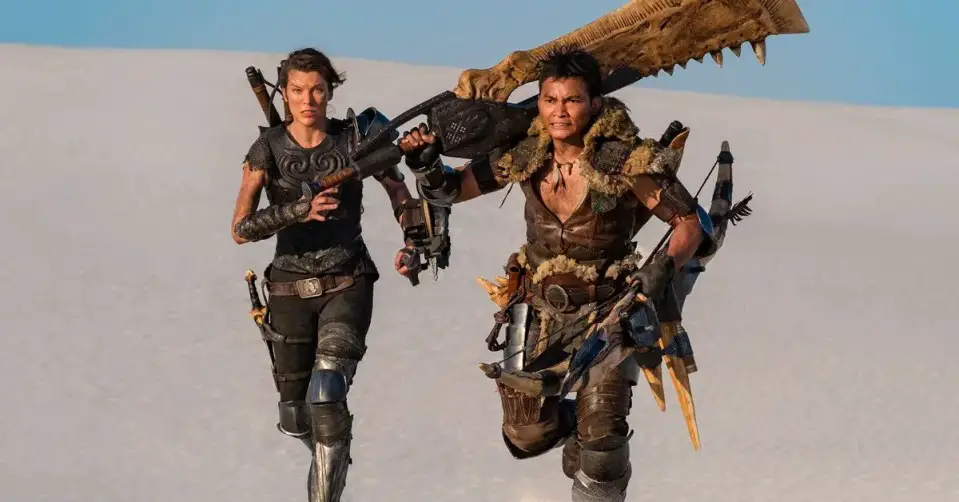 Chances are you already know how you feel about Monster Hunter. Filmmaker Paul W.S. Anderson has made a career out of flashy adaptations of well-known IP that split audiences right down the middle. There are those who decry his often loose adaptations of source material as surface level, bland action vehicles. I am not one of them.
What makes a Paul W.S. Anderson movie sing is that it simply goes further than most action films. A picture with more prestige to it has the fear of looking too silly. Therefore, it grounds itself on some form of "reality". So many modern action films are embarrassed to be part of the genre that they try to bury its familiar hallmarks. Not so with Paul W.S. Anderson. His films play by their own internal rules, not bound by notions of trying to seem plausible within anything else but the film at hand. As a teenager, his Resident Evil flicks were something of a hidden gem for me. Where else could you see Milla Jovovich doing impossibly badass things, logic, and any other pretense be damned? Monster Hunter, that's where.

I'm not going to pretend to know much about the Monster Hunter franchise beyond its aesthetics, a few hallmarks, etc. I'm reviewing Monster Hunter purely as an action-adventure piece. And on that front, it's got the goods. Jovovich stars as US Army Ranger Captain Artemis, who is leading a small force into the desert. Which desert is of no consequence, because she and her squadron stumble through a portal and are transported into a "New World" marked by bizarre terrain and, oh yeah, giant monsters!
The first act of Monster Hunter plays like old fashioned schlock. Artemis tries to keep her unit together as beasts prey upon them. It's the kind of movie Anderson could write and direct in his sleep, though no less fun to experience, with a cavalcade of well-rendered creature designs that plow their way through well-constructed scares. A moment involving rapper T.I.'s character (quite literally) gets under the skin. However, the "turn off your brain" madness gives way to something more interesting once Jovovich becomes the film's primary lead.
Jovovich is a personal favorite action star of mine. She can deliver one-liners like no other while also carrying a solid amount of humanity to her. Monster Hunter employs her talents in an incredibly effective manner. Stranded in this new world, Jovovich befriends a mysterious Hunter (Tony Jaa). The two do not speak the same language, but they share skills that can help each other. Jovovich and Jaa have long been underrated assets to action cinema, so them sharing the screen is enough already, but their chemistry goes the extra mile. Seeing these two warriors from vastly different worlds forming a bond just works on a base story level, much like this month's own Wolfwalkers.

Their bond breeds innovation in new ways to take out the monsters. This leads to the film's biggest resemblance to the games: people in exaggerated armor clashing with gnarly beasts in strategic ways. When the monster throwdowns happen, they're dynamite. It's not just because of the inherent spectacle or Glen MacPhearson's slo-mo friendly cinematography backed by a surprisingly catchy Paul Haslinger score. It's because their fights depend on the weaponry they use and their plan for attack. Fights in Monster Hunter are a primal struggle, having the audience claw into their armrests hoping the outcome is in our heroes' favor.
That is the core of a great action film. And that's what Monster Hunter is. These conflicts make up the bulk of the film and get more and more ambitious as it goes on. Anderson ratches up the complexity of the monsters and the mythology surrounding them that it seemingly has no choice to end on a cliffhanger that teases that this is only the start of a franchise. Bring it on.
For a genre that only really comes to life whenever a martial arts import or a new John Wick film comes out, Monster Hunter is a welcome respite from the grey sameness of much of the genre. While it may not be safe to see it on the big screen right now, you'd be remiss not to watch it when it comes out on VOD. Preferably with a group of friends and a few adult beverages. Who knows, you might just clamor for a sequel as much as I am. – James Preston Poole
Rating: 9/10
Monster Hunter is now playing in theaters.
---
Trending Now
You may also like