'Sound of Metal' Review: "Emotional Crescendo"
Posted On December 13, 2020
---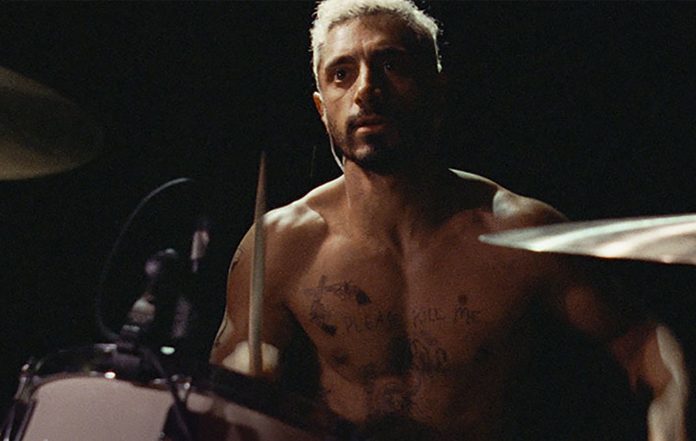 Music and metal hold a special place in my heart. Before I become obsessed with movies, my first love was music. Music accomplishes something mystical that words can never describe. Going into Sound of Metal, I knew I would be able to hold a great level of empathy. After viewing it, nothing prepared me for the sense of humanity this movie had. For this review, I want to limit as much information about this movie as possible as it's best to watch it blind.
Sound of Metal centers around Ruben (Riz Ahmed), a drummer of sound-metal duo, Black Gammon. Consisting of Ruben and his girlfriend Lou (Olivia Cooke), Black Gammon is on tour and in the process of recording and releasing their first album. As this happens, Ruben begins to lose his hearing at an exponential rate. One moment he experiences blaring ringing then unintelligible sounds in another. The remainder of the movie deals with Ruben learning to become deaf through the help of a deaf community lead by Vietnam vet Joe (Paul Raci).

As a musician, Ruben losing his hearing is devastating. How does one create a new focus in life as your previous profession is essentially over? Traumatized and distant, Ruben slowly and resiliently learns to live his new life. The amount of complexity that Ahmed displays is what drives this movie and makes it so enthralling. Ahmed's eyes and body language convey Ruben's shifting emotions so effectively. Never were there moments where Ahmed went over the top, everything was subtle. A restless and fueled individual turn calm and tranquil shouldn't work as well as it does, but Ahmed pulls it off.
One thing that has been talked up and down about is this movie's use of sound design. The way it depicts Ruben's perspective through sound is that much more impactful. Sound of Metal's moments of silence hold more weight than most movies' loudest moments. Truly it would be a disservice to the movie for you to watch it with any distractions. To experience this in any other way would mean to miss some of the best acting in the last year.

Leading into the end of the movie, Ruben's last-ditch effort to save his hearing meant losing the community in which he had enveloped himself. To add, he lost the Lou he knew. I have never seen a movie where the final scene unloads an emotional ton of bricks that both stuns and leaves the viewer in awe. Devastating, joy, isolation, and community aren't words that I would describe any scene I had seen before but that is how I would describe the end of Sound of Metal. Ruben is no longer the Ruben we saw before, he is reborn.
How do we adapt to situations outside of our control? This movie doesn't seek to answer that question. Rather, the movie shows us the resistance to change that we as humans all have. As we further brave through the COVID-19 pandemic, the timing of its release is kind of uncanny. I don't believe this movie had any intent to be as timely as it was. Regardless of its timeliness, the message within is timeless. – Jacob Mauceri
Rating: 9/10
Sound of Metal is now streaming on Amazon Prime.
---
Trending Now