'Hillbilly Elegy' Review: "A Dull Feature-Length Awards Campaign"
Posted On November 27, 2020
---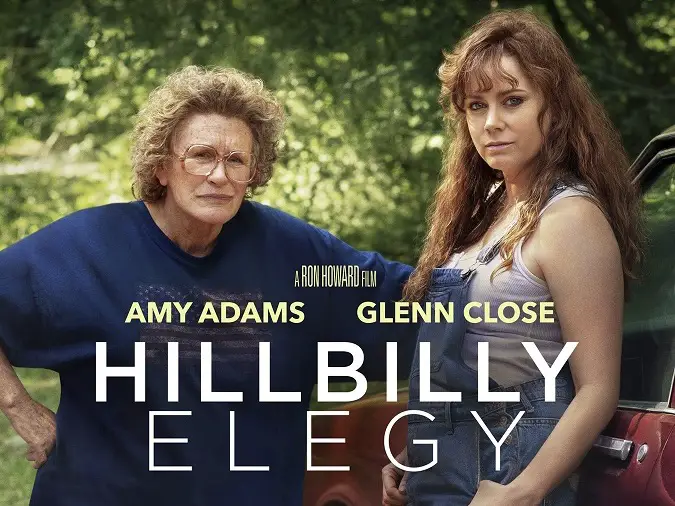 I don't like dabbling into the question of "what is cinema?". Looking at its definition, one can see that it encompasses everything that involves a visual medium. So as long as you can describe a piece of art as a moving picture, it should count as cinema. But there is a point to those who argue that unproductive cinema should not count in that definition. If a movie doesn't provide a concrete feeling or message through its images or its words, then it's more of a shell than anything else. And of all the films in 2020, none of them fulfill that shell status quite like Hillbilly Elegy.
You would think that a film based on J.D. Vance's memoir of the same name would have something of interest in mind. After all, the book dives into his journey to stray away from the backward ideals of his Ohio hometown. Not to mention, his status as a Yale Law student represents an accomplishment that contrasts from his rural past. But instead of presenting this in a clean manner, Vanessa Taylor's screenplay frames this intriguing story as the B-plot. This leaves us with the A-plot that involves J.D. (Gabriel Basso) returning to Ohio to deal with his self-destructive mother Beverly (Amy Adams) and the past he left behind. Because of that, what made the book hit home with audiences only appears in short bursts.

But this only begins to describe how badly Hillbilly Elegy's script fumbles at creating resonating drama. It's not enough that the memoir's strongest material only takes up half of its sluggish 117-minute runtime. It has to go the extra mile and have a main plot that has its priorities out of whack. The closest this story gets to being fascinating is when J.D. questions the various utensils at a professional gathering and asks his girlfriend Usha (Frieda Pinto) how to use them. Which is unfortunate, because this scene has little significance with anything surrounding it. And therein lies the problem: the small moments manage to stand out much more than the big ones.
It does not help that the structure calls attention to itself on a regular basis. The film regularly uses flashbacks to highlight a point brought up in the present. But quite often, the flashbacks last so long that they start to function as standalone pieces. Nowhere is this more apparent in its attempts to develop Beverly. Although the early scenes show her toxic interactions with her son, they go on for so long that it begins to show her in scenes without him. This is not to say those moments are useless, as most of them show her going into a downward spiral while in public. Still, those are scenes where she is the sole focus and not J.D. And given that J.D. is supposed to be the central focus, this detour is the last thing that should happen here.

Oddly enough, these standalone pieces are where Hillbilly Elegy starts to form an identity of its own. With the help of director Ron Howard, the film gets to function as one specific thing: an actor's showcase. Specifically, it is a showcase for Adams to reach levels of melodrama that resemble capital-A acting. Every five to ten minutes, the film gives her opportunities to yell and gesticulate as if her life depended on it. But like most actor's showcases, these bits work solely as acting exercises and not as natural extensions of the character. As a result, Adams delivers a performance that feels inhuman despite the efforts to make it otherwise. By the tenth time we see Beverly lash out as J.D., it's just as straining to watch as it is for Adams to remain energetic.
If there's a character that gives this a human element, it would be J.D.'s grandmother Mamaw (Glenn Close). Although most of the characters are one-dimensional, that label does not apply to Mamaw. In fact, she is the only one who has a handful of attitudes that shift whenever the situation calls for it. When J.D. needs someone to look over him, she does it with genuine compassion. And when J.D. needs someone to be an imposing force, she has an aggressiveness that feels earned. True, the script forces her to say baffling things, including an "inspiring" speech that demonstrates her – and by extension, Vance's – inability to understand the Terminator movies. But Close's performance is superb enough that those moments feel somewhat authentic.

This brings us to the most annoying thing about Hillbilly Elegy: it's not entirely worthless. Given its Appalachian setting, it has the blessing of some striking tree landscapes. On top of that, cinematographer Maryse Alberti provides a clear visual distinction between the two timelines. The past scenes burst with warm and vibrant colors while the present scenes restrain colors to a bare minimum. Considering that Beverly's hair change from red to gray over time and that she is a major character, it makes sense that the overall palette follows suit. And while Howard does not do miracles with the script, at least he knows that handheld camerawork can create a rough aesthetic that fits well with the drama.
At the same time, knowing that some people put effort into this stings more than knowing that no one tried. Under a more assured hand, this could have been a terrific film about not letting your upbringing define who you are. But since Howard is more determined to make a feature-length "For Your Consideration" campaign, it never gets to shine on its own terms. To be sure, there have been worse movies that follow the "awards bait first, cinema second" strategy. But I'm not going to act like an empty trash can is a big upgrade over a full one, and this is empty trash if I ever saw it. – Mark Tan
Rating: 4/10
Hillbilly Elegy is now streaming on Netflix.
The film stars Amy Adams, Glenn Close, Gabriel Basso, Haley Bennett, Freida Pinto, Bo Hopkins, and Owen Asztalos.
---
Trending Now