'Enola Holmes' Review: "Pure And Delightful"
Posted On October 1, 2020
---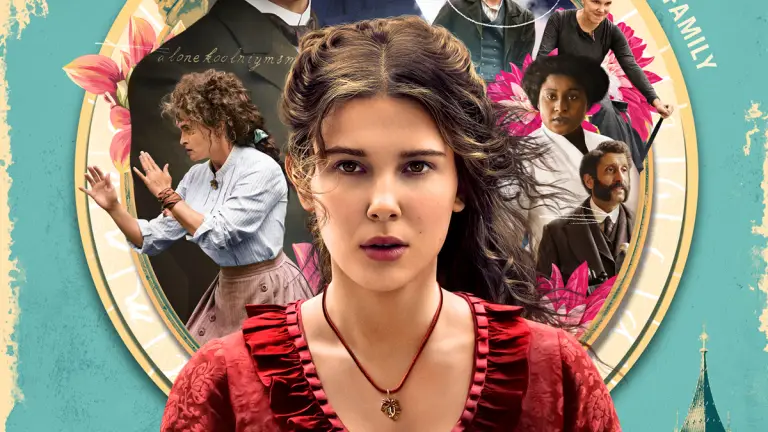 Enola Holmes is a film that sets people off on an idea at first glance. Because of Enola's more famous sibling Sherlock Holmes, the impression most people get when they hear the name "Holmes" is of a sociopathic detective. It can leave a distinct feeling when one broaches a piece of media with that name on it. Thankfully, sociopathic is the last thing I think of after finishing Enola Holmes. A film directed by Harry Bradbeer, this is a delightful film that just never lets up. In fact, it is well-deserving of the future sequel already in development.
Millie Bobby Brown shines as Enola Holmes. She's quirky, but she manages to fit into the period piece incredibly well. The intermix of fourth-wall-breaking from Enola is of neat contrast to previous Sherlock Holmes incarnations. It serves as her thought processing, similar to Robert Downey Jr.'s time slow down in his Sherlock movies and Benedict Cumberbatch's writing in the air in the Sherlock series. It works well to differentiate her from the rest of the pack of Holmes, but also fits well within the storytelling.

The plot of the film feels simple. At the same time, it also does well as a mystery, and just encompasses a little bit of all genres. There's always a twist to keep you intrigued. The subtle romance between Tewksbury (Louis Partridge) and Enola is fun. But ultimately the highlight is Enola making it work in the period. In addition, it highlights the plight of women trying to start their own legacy. I enjoyed seeing the themes so played forward, bright and honest, just like Enola. Seeing Enola grow up with her mother builds a further emotional connection to both characters in Enola's search for her mother. Ultimately, she sees the truth to her mother's work in this coming of age story but allows herself to feel free to make her own choices. This includes interacting with Viscount Tewksbury, and Partridge accents Brown quite nicely.
The change in Sherlock (Henry Cavill) is nice. While there's currently a lawsuit against the film for portraying Sherlock with emotions, it's quite necessary to provide something Enola isn't expecting. As her brother has been away for years, she needs a parental figure, not just a brusk detective. Cavill is one I would have never expected to play Sherlock, but I really enjoyed the scenes he was in. Sam Claflin plays a perfect Mycroft, one that would have scared me to death if I was Enola.

Enola Holmes is a highlight of 2020 for me. It was so much fun, I wanted to watch it again within 48 hours. With so much being built in terms of franchises, it's rare for me to look at a singular film and say I want a sequel, and not just because I need more context. Enola Holmes can stand on its own as a coming of age mystery on finding your own path. I, for one, truly can't wait for the sequel. – Katie Gilstrap
Rating: 10/10
Enola Holmes is now available on Netflix.
---
Trending Now