'Train to Busan Presents: Peninsula' Review: "Mad Max Meets The Undead"
Posted On August 27, 2020
---
Train to Busan is a tough act to follow. Though not groundbreaking in its ideas, many hold the 2016 South Korean zombie film in high regard for writer-director Yeon Sang-ho's energetic film making and memorable characters, becoming a go-to for fans of the genre. Train to Busan set the bar, but in his follow-up, Train to Busan Presents: Peninsula, Yeon isn't concerned with clearing that bar. Alternately, he opts to make something completely different but no less slickly constructed.
Those expecting another high-octane, confined zombie thriller will be disappointed. Peninsula, rather, is just another story in that film's universe, meant to be taken on its own merits. The film follows former soldier Jung-seok (Gang Don-Won), who is still racked with guilt after losing his sister four years earlier. Living in a Hong Kong that has the virus mostly under control, he has an uneasy relationship with brother-in-law Chul-min (Kim Do-yoon).

Opportunity knocks for the two of them when they're recruited to be part of a squadron deployed into the quarantined peninsula of Incheon to recover a large sum of money. After getting separated, Jung-seok and Chul-min discover a society in complete disarray. One that they only have three days to escape from. And that's even without mentioning the zombies! Peninsula has a more traditional script than Train to Busan, filling the film full of archetypes to construct its post-apocalyptic city. That isn't particularly a bad thing, as the environment of Peninsula and its characters are as strong as ever.
Gang does a bang-up job as Jung-Seok. He convincingly kicks ass while letting his heart of gold shine through. His interactions with a scavenger family take us through a traditional protector narrative. Again, it doesn't hurt that Yeon has a great feel for character work. Sisters Joon (Lee Re) and Yu-Jin (Lee Ye-won) are delightfully scrappy kiddos who open the doorway for a lot of fun sequences. Yu-Jin's ingenious ways of distracting hordes of the undead are a blast to watch. Moreover, Joon's driving prowess leads to some pulse-pounding sequences that would make Fast & Furious blush.
The bulk of what makes this particular storyline work, however, is the soulful interactions between Jung-Seok and the girls' mother Min-Jung (Lee Jung-hyun). Despite their losses, they remain resilient. Strong to take care of themselves and their loved ones. Familiar territory for zombie films, but that strength of the human spirit is the core of the genre. It feels very Mad Max in its themes of survival and kinship in a harsh world.
No matter how many times we've seen post-apocalyptic societies like this in film, Peninsula makes it new. Its leader is a wanna-be smooth pretty boy by the name of Captain Seo (Koo Kyo-hwan). His (very entertaining) personality is a mere front for the cowardice that lies behind it. His power struggle against the warlord Hwang (Kim Min-Jae) makes for rife dramatic tension throughout.

That's not to say I don't like Jung-seok's storyline. After all, I said many kind words about it. And when the two storylines finally converge, it leads to a mostly great third act. Fans of the action of Train to Busan will not feel disappointed here. Peninsula nearly outdoes that film in the sheer amount of things happening. Fist fights. Gun fights. Re-directing zombie hordes. Car chases. It's all shot with the swift, clear eye of DP Lee Hyung-deok; editing by Yang Jin-mo keeps the cohesion. You're not gonna get much better when it comes to zombie action.
Shame, then, that Peninsula ends in such a whimper. After the bombastic action subsides, Peninsula has the opportunity to end on a bold note. Yet, it refuses the bait. Through a series of deus ex machinas and lazy choices, the film wraps up in a way that is not at all consistent with what came before. It leaves a sour taste, but not even to ruin what came before.
Train to Busan Presents: Peninsula is a sharp movie altogether. By not trying to emulate the first movie, it weaves its own tale that comes across like a zombie Mad Max. It leans a little too heavy on cliche, but its world, action, and characters make me optimistic for whatever direction this series wants to go in next. – James Preston Poole
Rating: 8/10
Train to Busan Presents: Peninsula is now in theaters.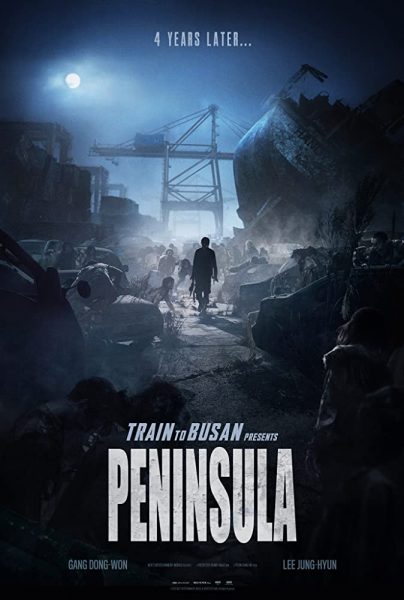 ---
Trending Now