'Random Acts of Violence' Review: "Ending The Killer's Glory"
Posted On August 23, 2020
---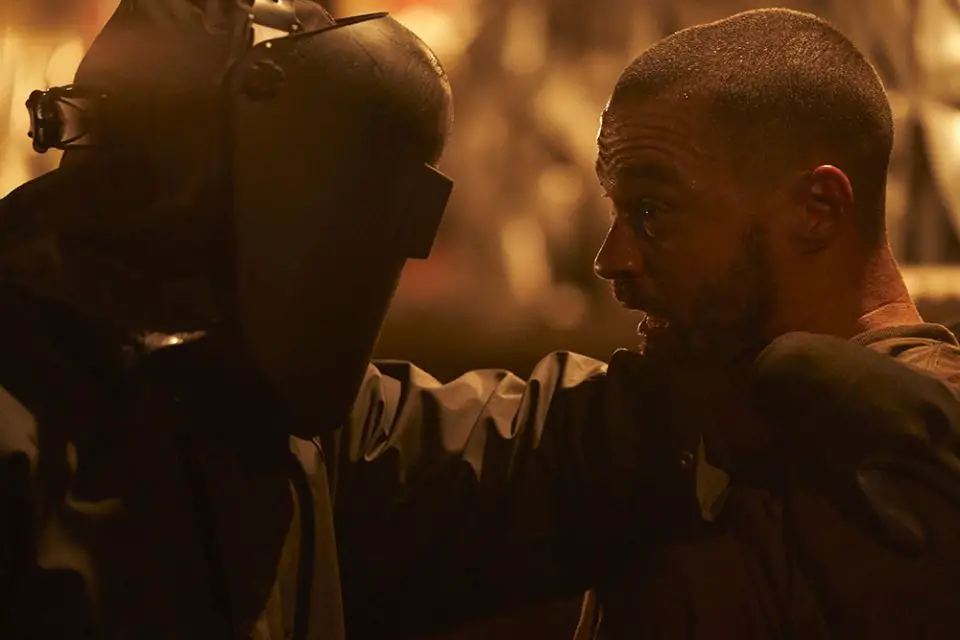 The conversation of violence and entertainment is endless. Sometimes silly. But also necessary. The rise of true crime particularly has steered the conversation into how much the horrific actions of murderers are being mined for entertainment at the expense of the victims. Shudder, known for promoting all kinds of horror, explores this contentious territory with their fascinating new film Random Acts of Violence.
Based off of the one-shot comic of the same name, Random Acts of Violence comes from an unlikely source. Comedic actor Jay Baruchel directs in his sophomore effort. However, don't expect much comedy here. Random Acts of Violence is concerned with the internal conflict of comic book writer Todd Walkley (Jesse Williams). Coming up on the final issue of the popular comic "Slasherman", Todd is all out of inspiration. On a press tour with his girlfriend (Jordana Brewster), assistant (Niamh Wilson), and publisher (Baruchel himself), he stops off at the town on which the murders in his comic are based. His arrival draws in a series of murders that closely resemble moments in his comic.

No one would accuse Random Acts of Violence of being a feel-good movie. Baruchel and Jesse Chabot's script takes its concept dead serious, which, for a slasher, is a gambit. Whether you want to wallow in the deep unsettlement Baruchel colors his film with is a personal choice, but it's certainly with merit. Jesse Williams makes the struggle within Todd a compelling watch at least. His tight composure hints at a tornado of thoughts going on in his head. The character himself hides behind his ethos that with his "Slasherman" comics, he's just trying to tell an entertaining story for horror fans. But there's a sense he doesn't believe that.
READ: 'Sputnik' Review: "Horrors Behind the Iron Curtain"
The road trip lays bare the real impact of Todd's work. In a tense early scene, a radio station DJ confronts Todd with the cold hard fact that his childhood friend was murdered by the monster that Todd so idolizes. He does nothing other than brush off the comment. It's a thesis for the film- that those whose violence we find fascination with are the realities of others. And reality is not far behind Todd. After all, this is a slasher movie.
In that department, Random Acts of Violence has the goods. Despite never having directed horror, Baruchel can stage a slasher scene effectively and confidently. He does not resort to an overabundance of gore; exploitation nowhere abound. The Slasherman attacks quickly and brutally- the aftermath of his actions is the important part. Slasherman crashes through the film, sowing chaos into the lives of the protagonists.

More than anything, Slasherman is a blunt force object to hammer home the message of the movie. He's unsubtle, yet he gets the point across. Jordana Brewster gives previously unseen depth as Kathy, Todd's girlfriend. Challenged by her husband's work, as she works on a corresponding project about the victims, and the growing danger to her and everyone else due to Todd's work draws her further away from him. Niamh Wilson's Aurora and Jay Baruchel's Ezra are likewise changed by the violence Todd wrought.
But it's really Todd himself who faces the most when Slasherman once again becomes a reality. Confronted with the character he so lovingly drew, he must contend with the horror of what he's done in a very real way. The climax of the film, focusing on a showdown between Todd and Slasherman, offers visceral thrills with a rich layer of meaning on top of it. Coupled with a reveal that complicates the film's meaning (in a really remarkable way), Random Acts of Violence makes its point and it makes it well.
Random Acts of Violence isn't subtle. It might even be a bit didactic for some. And that's alright. Many films have struggled to assess the place of violence in entertainment. Few make their point as strongly and as clearly as Random Acts of Violence. You may not like the dour tone, or fully agree with its message, but Jay Baruchel is here to start a conversation, and it's one I'm interested in having. – James Preston Poole
Rating: 7/10
Random Acts of Violence is now streaming on Shudder.
---
Trending Now