Snyder Cuts: 'Batman v Superman: Dawn of Justice' Sharply Divides Two Critics
---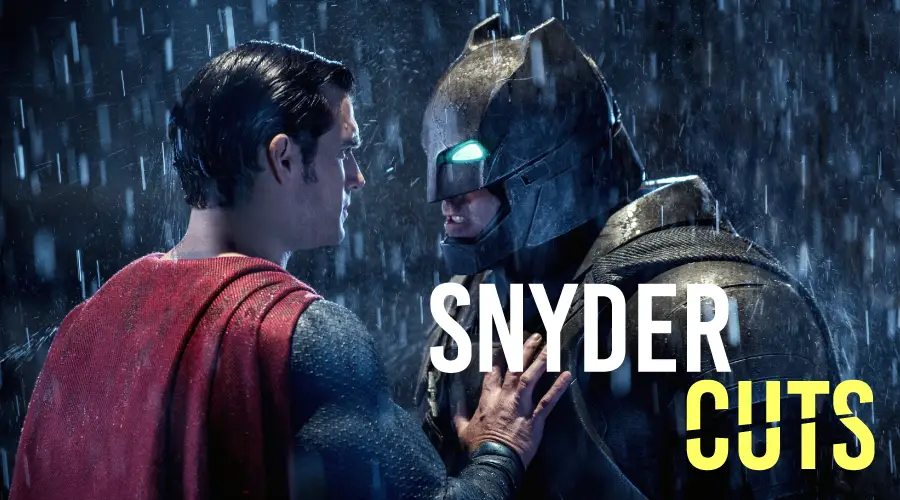 In honor of the release announcement of Zack Snyder's Justice League, we here at Full Circle decided it was time to do a retrospective of the polarizing director's films. So began the idea of "Snyder Cuts", a weekly series of reviews looking at all of his directorial efforts. We finish our journey in style with Snyder's most controversial film to date, the would-be superhero epic Batman v Superman: Dawn of Justice. As always, we use the director's cut when available, so we'll be reviewing the "Ultimate Edition" of the film.
Is there a film in recent history that has inspired as much vigorous debate as Batman v Superman: Dawn of Justice? Okay, well maybe The Last Jedi, but that's neither here nor there. Batman v Superman has remained a topic of intense debate not only among fandom and general audiences, but also among the Full Circle team. It only seemed fair, then, to represent that debate as accurately as possible.
That's right, it's time for a Full Circle Showdown. On this installment of "Snyder Cuts", the same duo who went head-to-head on the similarly polarizing Joker are at it again. Black vs blue. Day vs. night. Fight night. Prepare yourself for yet another explosive battle of opinions from critics James Preston Poole and Ernesto Valenzuela.

Review #1: James Preston Poole (Lead Critic)
Batman v Superman: Dawn of Justice is a film designed to inspire debate. Rather than follow on from Man of Steel and give us the logical next chapter of the story, Zack Snyder instead takes a huge step back and begs us to consider the reprecussions of the destruction Superman caused in the battle for Metropolis. On top of that, he reimagines the Batman as a past-his-prime symbol of indignant violence. On top of that, he wants to set the stage for the future assembly of the Justice League. All the elements are there for a mess of a movie, an unmitigated disaster of a comic book flick.
To most people, the movie is exactly that. That complain about the dreary tone, the "Martha" scene, the perceived plot holes. But taken on its own terms, engaged with to its fullest extent (preferably in the "Ultimate Edition"), Batman v Superman: Dawn of Justice is a superhero film of unparalleled ambition. A film that strives to deconstruct its heroes to tell a story that honors, and even expands, their very nature.

Batman v Superman is really the story of three men. The first is Bruce Wayne/Batman, played by Ben Affleck. In the film's opening, Bruce witnesses the destruction of Gotham and Metropolis by Superman and Zod from the perspective of the civilian. The sequence is haunting, furthering the 9/11-adjacent imagery from Man of Steel. The ashes turn Wayne cruel- making him a murderous, vengeful symbol of fear for the citizens of Gotham. Ben Affleck turns in one of his greatest performances as a man who is so desperate to make sense of the world that he goes after what he perceives as mankind's perceived destroyer- Superman.
Clark Kent/Superman (Clark Kent) has the weight of the world on his shoulders. The unfathomable responsibility of trying to defend the Earth has made him strive at all times to be the best man he can be. This, however, racks him with considerable guilt, but he still has a morality to him that makes him look into the cruel actions of the "Bat" vigilante.
These two hurl ever towards each other as the third party sits in the background: Lex Luthor (Jesse Eisenberg). Eisenberg gives a downright bizarre performance, overflowing with tics and random outburst. Yet he represents an important angle to the story: the fragility of mankind's ability to empathize with something they don't understand. He's so intimidated by the presence of Superman that he organizes an entire plan just to get him taken out by Batman, all while trying to create a being more powerful than Superman that he has control over.

These three parties converge in an epic, multi-faceted narrative conveyed through a script by David S. Goyer and Chris Terrio. While obvious, gaudy even, the script manages to convey such themes as pride, control, how much power is too much power, and furthers the idea of what it would be like if superheroes existed in the modern day. Every moment, every scene exists in some way to interrogate the idea of a superbeing somehow. The narrative can often seem messy. It might be, but it's so purposeful, so engaging that I hang on every word the characters say.
Batman v Superman: Dawn of Justice is directed with a painterly quality by Zack Snyder. With typically great cinematography from Larry Fong, Snyder captures his images with a sharp eye that's as purposeful as the screenplay. Images such as Superman captured in slow-motion engulfed in the flames of the Capitol, the desert skies swarming with a platoon of bug-like aliens in Batman's "Knightmare": these are images you don't ever forget.
Snyder shows restraint in his action for the first two thirds of the film, letting the tension between Batman and Superman build and build until a show-stopping fight between the two that takes advantage of their powers in brutal, gleefully fun-to-watch fashion. Then, something happens. The "Martha" scene. This scene has gained considerable controversy, more often than not being the biggest complaint and the moment that "ruined the film".

In my opinion, it is Batman v Superman's single most important scene. No, Batman and Superman don't stop fighting because their mothers have the same name. Batman realizes that Superman has a mother. That he's not just some cold destroyer. That the two of them are at the end of the day human, and that they want what's best for humanity. This scene defines what makes the two of them heroes, and ends the deconstruction that pervades Batman v Superman: Dawn of Justice to instead construct these heroes as we've always known them.
Now, we get the best action sequences ever put into a comic book film. Batman taking down all the henchman at a warehouse represents the tactical brawler we've always known Batman as but have never seen. A team-up between Batman, Superman, and Wonder Woman to fight off Doomsday still sends the kind of shivers down my spine I've been chasing in a superhero film since. It's like a DC comics come to life, and that's no hyperbole. It's anything and everything you want to see in these films, leading to an ending that solidifies the thesis of the movie and cements Batman v Superman: Dawn of Justice as a kind of ultimate, loving adaptation of these characters.

Okay, there is one issue with the movie: its insistence on setting up Justice League. While Diana Prince/Wonder Woman (Gal Gadot) is an excellent addition to the film who lights up the screen with her presence, the storyline of the rise of the metahumans doesn't quite coalesce in the way it should. It feels like a piece of a larger story that, gratefully, we will see completed soon, but unsatisfying on its own. We didn't need to see all the DC heroes before their Justice League debut. Instead, the character of Diana Prince should've been expanded with her being Wonder Woman as a bit more of a reveal that would confirm to Bruce the wider world of superheroes that's about to unfold.
But I digress. Batman v Superman: Dawn of Justice is a swing for the freaking fences, a film that is so confident in its vision that it only gets better on every rewatch. By taking apart Batman and Superman piece-by-piece, and giving us some jaw-dropping, fist-pumping action sequences to boot, Zack Snyder reaffirms why these heroes work so well. I am thrilled to see his story continue with the release of the "Snyder Cut" next year, because we need his voice in superhero cinema.
Rating: 9/10

Critic #2: Ernesto Valenzuela
Batman v Superman is a wildly divisive film. As with 2013's Man of Steel, the release of the film was met with mixed responses. However, it's still discussed to this day. Four years after its release, and you're still reading reviews like this one. While that is in and of itself a testament to its significance, the quality of the film itself is debatable.
Because the team behind this film is of the highest caliber. With an A-List cast of Ben Affleck, Henry Cavill, Jesse Eisenberg, Amy Adams, and more. Moreover, Hans Zimmer and Junkie XL composing what would end up being one of the best scores for a comic book movie. The film also features superb production design and some of the best superhero costumes in recent years. That being said, that is as far as my praise goes for the film.
With Man of Steel, the missteps I perceived in that film could be forgiven when taking into account Snyder's ambition, and his wish for a Superman for modern times. With Batman v.
Superman, that isn't the case. Although containing a powerful opening sequence and high caliber performances, the film still manages to fall short. Muddled directing from Zack Snyder leads to a film with conflicting visions. While his ambition in Man of Steel is admirable, his ambitions for Batman v Superman are too far reaching.

On one hand there is the story of Bruce Wayne, one of the more intriguing parts of the film. Wayne, a jaded vigilante who has already given up on humanity, is hell bent on killing
Superman. Believing that leaving Superman's power unchecked could lead to disastrous consequences, Bruce decides that he must be stopped. The lethal force using and nihilistic Bruce is a welcome new take on the caped crusader. Ben Affleck gives his all and is a highlight of the film. When the movie focuses on the main conflict between Clark and Bruce, it thrives. The first half of the film is some of the better comic book movie storytelling. However, when it comes to things such as Jesse Eisenberg's Lex Luthor, the film loses its footing.
Instead of focusing on and developing the characters he already has, Snyder chooses world building as opposed to character growth. Moreover, this is done through an awkward yet entrancing performance from Eisenberg. In this Ultimate Cut of the film, released on home video and providing 30 minutes of new footage, the plot becomes even more convoluted. Snyder has strong concepts and ideas, but much like with Man of Steel, he doesn't successfully convey them.
What could have been in depth commentary and reflection on a Post 9/11 America turns into an awkward Justice League prequel by the time the second half of this film rolls around. Superman as a representation of the American dream and a stark contrast to the realities of a corrupt American government could have made for a powerful metaphor. Instead, all of the interesting questions and philosophical musings in Man of Steel are hardly addressed in Batman v.
Superman.

Bruce and Clark barely get any closure in their conflict, and Wonder Woman is hastily shoehorned in. This comes late in the third act for an entertaining yet wholly unnecessary CGI slugfest. Moreover, add all the terrible Justice League set up throughout and you get a wholly mediocre film. There are a series of different scenes that are incoherent yet entertaining such as the "Knightmare" sequence, coming awkwardly halfway through the film. The infamous Justice
League e-mail sequence is among these as well. All this set up and foreshadowing put in place instead of character development is disappointing. Like a series of misplaced scenes from other films that serve no real purpose to the characters. Rather, it serves future films. The only thing that feels organic is the buildup to Bruce and Clarks showdown.
It's one of the most emotional and intense parts of the film. For good reason. The film built up to that one aspect in an interesting way, unlike the real final battle of the third act, which is against a Lex Luthor created Doomsday. Eventually, these disjointed scenes lead to the death of Superman, at the hands of Doomsday. The death doesn't feel earned. It feels like a check on a box for the Justice League to-do list. The funeral ends on one last set up note from Ben Affleck's Bruce Wayne. A disappointing final note that summarizes how the entire film is.
Batman v Superman had so much potential, but is brought down by poor direction, writing and focus on set up of future films. This film focuses too much on uniting the league instead of focusing its time on developing its two main characters, Clark and Bruce. The thought that this film is anything else but that is a beautiful lie.
Rating: 4.5/10
Conclusion
Once again, a film based off of DC Comics characters divides James and Ernesto. While both cite the strong ideas for the film and admiration for key sequences, James is fully enraptured by its left of center take on these heroes while Ernesto finds a great deal of fault with its storytelling. At a standstill, their opinions combine to make a characteristically mixed grade.
Final Rating: 6.75/10
–Ernesto Valenzuela & James Preston Poole
Batman v Superman: Dawn of Justice is now on home video and Digital HD.
Thank you for tuning into "Snyder Cuts". We here at Full Circle Cinema had a blast navigating the filmography of one of the more singular figures in the movie business, and we hope that you enjoyed embarking upon this retrospective of sorts with us. Be sure to check back with us in 2021 as we cover Zack Snyder's version of the infamous Justice League. Until then, expect more director's retrospectives from us in the future!
---
Trending Now