Full Circle Flashback: 'La Collectionneuse' Review – "Among The Dandies and Daisies"
---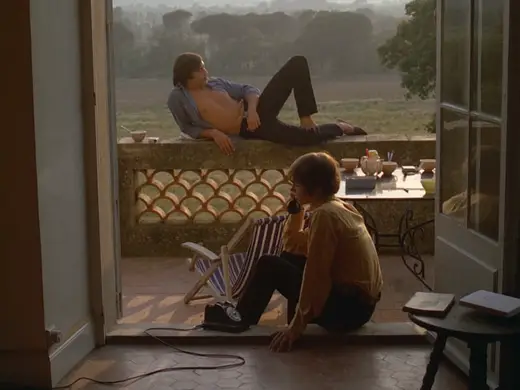 What might it look like to do nothing? It sounds easy in principle, but if you were to do nothing on a beach, what then? The sunbeams drench you in the salt of many faraway waters. Couples and families come and go, leaving behind abandoned traces of memory in the sand. This dilemma is even more apparent now that it has become harder to be active in the world. How do we muster leisure during a pandemic? After all, the bars are closed and the theaters remain empty. While we are most in tune with ourselves in this state, what sense of relaxation can come without work or doing? Idleness may be the hardest job in the world, or at least our protagonist, Adrien, thinks so in Éric Rohmer's La Collectionneuse.
A few weeks of nothing but peace and quiet await him in the French countryside of his friend's villa. And the only expectation he has for his vacation is the company of one friend named Daniel. But other than that, he has a monastic lifestyle in mind for his stay. He will not exert himself to anything remotely stimulating beyond floating in the sea. He will not think for himself when other books can do the thinking for him. However, we soon discover that the renter did not inform Adrien and Daniel of all the details of their vacation. Enter Haydée, a young woman among the dandies and daisies of the lazy summer months.

Haydée will be staying with Adrien and Daniel too. This circumstance would not change much for the two if it was not for all the rumors. For some boys, Haydée has a bit of a reputation as a collector of men. And she has many colorful names among them too. I won't bother to divulge them here, but I imagine that men would reach their own conclusions about a woman that leaves a villa at night and only comes back to sleep during the day. In all honesty, men cannot stay out of Haydée's business, and we soon come to find that our Adrien cannot either. He convinces himself with all of the self-important flairs that Haydée wants to claim him in her collection too. So much for a few weeks of lounging about underneath the shade of trees. What we have instead is a sensual mystery on our hands.
Haydée is a mystery, even though it seems as if she has revealed every facet of her character. And we do see every facet of her from the start. In the prologue, Rohmer introduces us to Daniel and Adrien in the middle of philosophical discussions about art and beauty. But for Haydée, it is different. She is alone on the beach. The camera does not so much show Haydée as it does caress her. Although the technique resembles that of Jean- Luc Godard's treatment of Brigitte Bardot in Contempt, Rohmer has different intentions. Instead of simply objectifying Haydée, he persistently reminds us of her humanity with shots of her profile as she gazes off-screen. The camera may tilt down or up her body, but it ultimately does nothing more to capture her for what she represents.

We are only left with some thought that Haydée leaves nothing to the imagination, and yet she remains untouched by our assumptions, unlike the two men. With Daniel and Adrien, Rohmer reveals everything we need to know about them in the prologue. Nothing in the rest of the film reveals anything different about these characters. But with Haydée, it is not so simple. She is not one idea or theme. Haydée is not a simple femme fatale. She rejects, she defies and shakes every reductive assumption and belief that we throw on her. Haydée Politoff, the actress of Haydée, wrote the script with Rohmer, and I can only imagine her influence. The fact that they both share the same name suggests a blurring between fiction and reality as if the complexity of a real woman has not been lost to celluloid and a runtime.
Time and time again, I have seen fiction fail to portray reality. If there is one thing that failed fiction achieves, then it must be an overt rationalization of character actions. It wants viewers to assume that emotions can be explained with easy answers, that the color of this particular flower symbolizes happiness or sadness, that logic governs all. However, you won't find such definable moral solutions with Rohmer. And you won't find much of a plot either. But none of these things make La Collectionneuse a bore, even though Adrien embarks on a quest in search of boredom, quite the contrary.

The dynamic of two self-important men and one beautiful woman leaves room for all sorts of drama and games. As much as Adrien and Daniel like to flaunt their morality, they cannot compete with Haydée. They both want to sleep with her, but only when it benefits their arguments against her and all the other men she brings over. And no matter how many philosophies or non-conformist ideals Adrien and Daniel hide behind, they are no different from anyone else. This is a comedy, and it makes for a few laughs to see these dandies cut down to size. But that is not what makes La Collectionneuse so special to me.
It is the stillness of summer captured for less than an hour and thirty, all awash in that color of light just before the sun sets. It is about our anxiety of leisure, and our inability to enjoy it. The melancholy of a woman in search of something that she cannot find. And her conversations with men that fail to understand what she wants from life, so they consequently dictate her life for her. All of these little moments make up something beautiful and real. In truth, I really cannot help but wax poetic to this movie because it does the same with a quiet, understated style. Rohmer understands that all summers have expectations that begin with hope and end in sadness. La Collectionneuse is no different and does nothing to suggest otherwise. But at least it feels truthful, it does not spare our feelings with lies.

This summer may not be a summer at all. But at least with this film, we have some right to feel the temperature on our skin, the sound of the waves lapping up the shore, and a little taste of romance too. I am still not sure what to do with all of this nothingness on my hands, but then again, who really does? – Daniel Hrncir
Rating: 10/10
La Collectionneuse is available on Blu-ray and Digital HD.
The film stars Patrick Bauchau, Haydée Politoff, Daniel Pommereulle, and Alain Jouffroy.
---
Trending Now