'Scare Package' Review: "A Bloody Blast"
---
Scare Package is a brand new horror anthology film that recently debuted on the streaming service Shudder. The film features several unique terrifying sequences that pay tribute to classic horror tropes, genres, and icons. The "hub" for all of these spooktacular tales is Rad Chad's Horror Emporium, a quirky video rental store run by eclectic shop owner Chad Buckley (Jeremy King). Throughout the overall narrative, Chad trains new employee Hawn in the art of working at a video store. The anthology segments are introduced in variety of different ways, ranging from the playing of mysterious VHS tapes to over-exaggerated retellings from customers.
The mini-films featured in Scare Package include Cold Open directed by Emily Hagins, One Time in the Woods directed by Chris McInroy, M.I.S.T.E.R directed by Noah Segan, Girls' Night Out Of Body directed by Courtney and Hillary Andujar, The Night He Came Back Again! Part IV: The Final Kill directed by Anthony Cousins, So Much To Do directed by Baron Vaughn, Horror Hypothesis and Rad Chad's Horror Emporium directed by Aaron B. Koontz.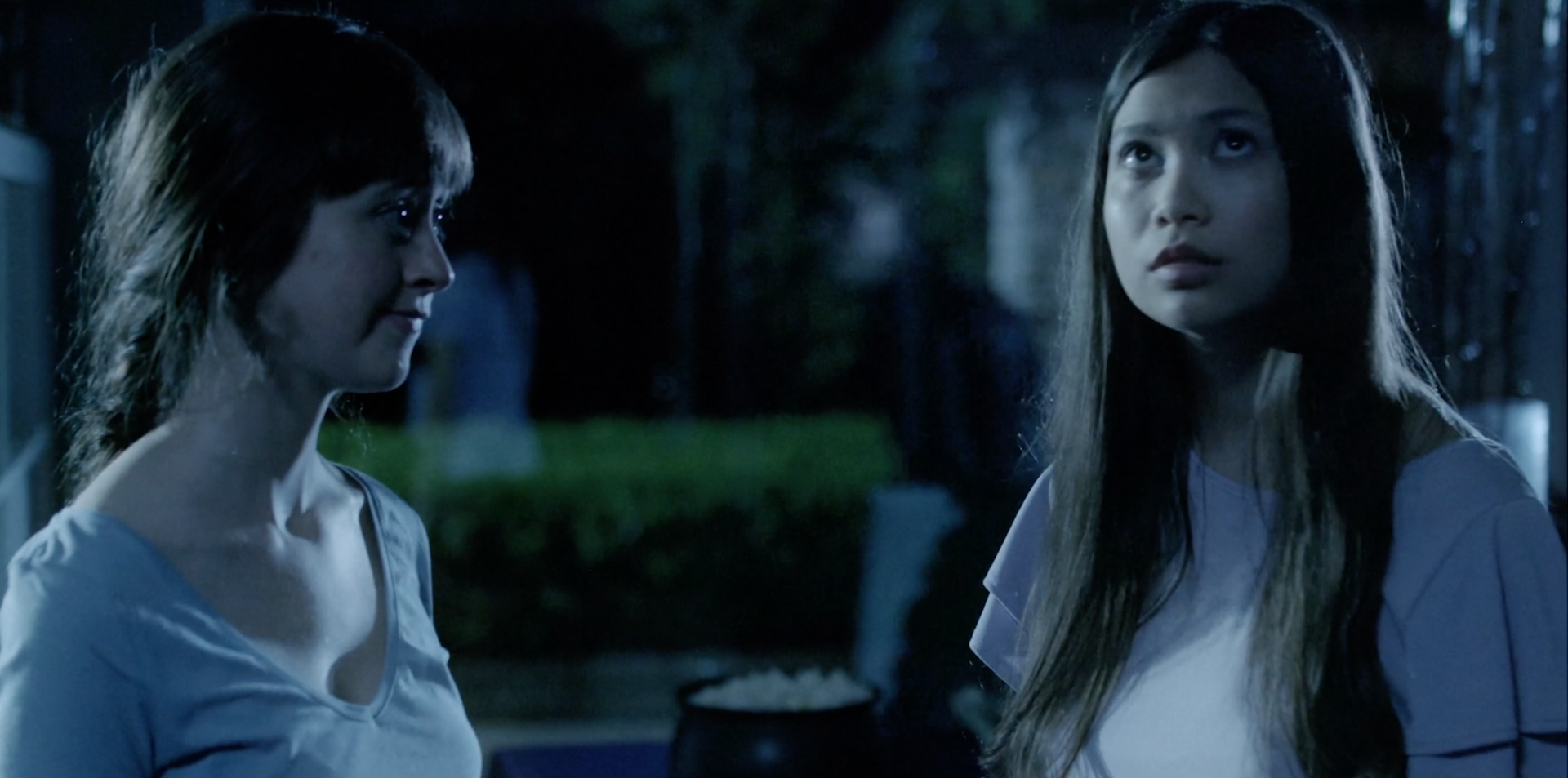 COLD OPEN
The first segment starts off the film as, very fittingly, a cold open. Emily Hagins' Cold Open follows Mike Myers while on his meta horror movie job. Mr. Myers operates behind the scenes of horror films. His daily tasks include things such as ensuring teenagers take a wrong turn towards an abandoned insane asylum. Jon Michael Simpson is extremely like-able in the role, offering clumsy charm to the character. His quest to be something more than just a small part of horror narratives is an endlessly entertaining arc, resulting in Mike accidentally assuming the role of the slasher.
The visual choices featured in this segment really drive home the comedic juxtaposition. The opening scene features a more high definition type of cinematography while Mike sets up the trajectory of a horror story. When Mike steps to the side and the camera turns its attention toward the teenage victims, the crystal clear cinematography becomes invaded with grainy and yellow color grading. The visuals cut back and forth between these "classic" horror filters throughout, taking audiences in and out of the flick Mike is playing around in. It's a very visually interesting technique to convey the meta aspects of the story.
The second half of the short pays obvious homage to John Carpenter's slasher classic Halloween. A babysitting duo is visited by resident "neighbor" Mike Myers on Halloween night as he tries to force himself into the horror narrative. What ensues is an accidental massacre at the hands of Mike, sporting a blue jumpsuit. The teenage victims in this installment are wonderfully over acted, contrasting comedically with Mike's genuine desire to help them out. Things end up culminating in a bloody shower of fantastic practical effects.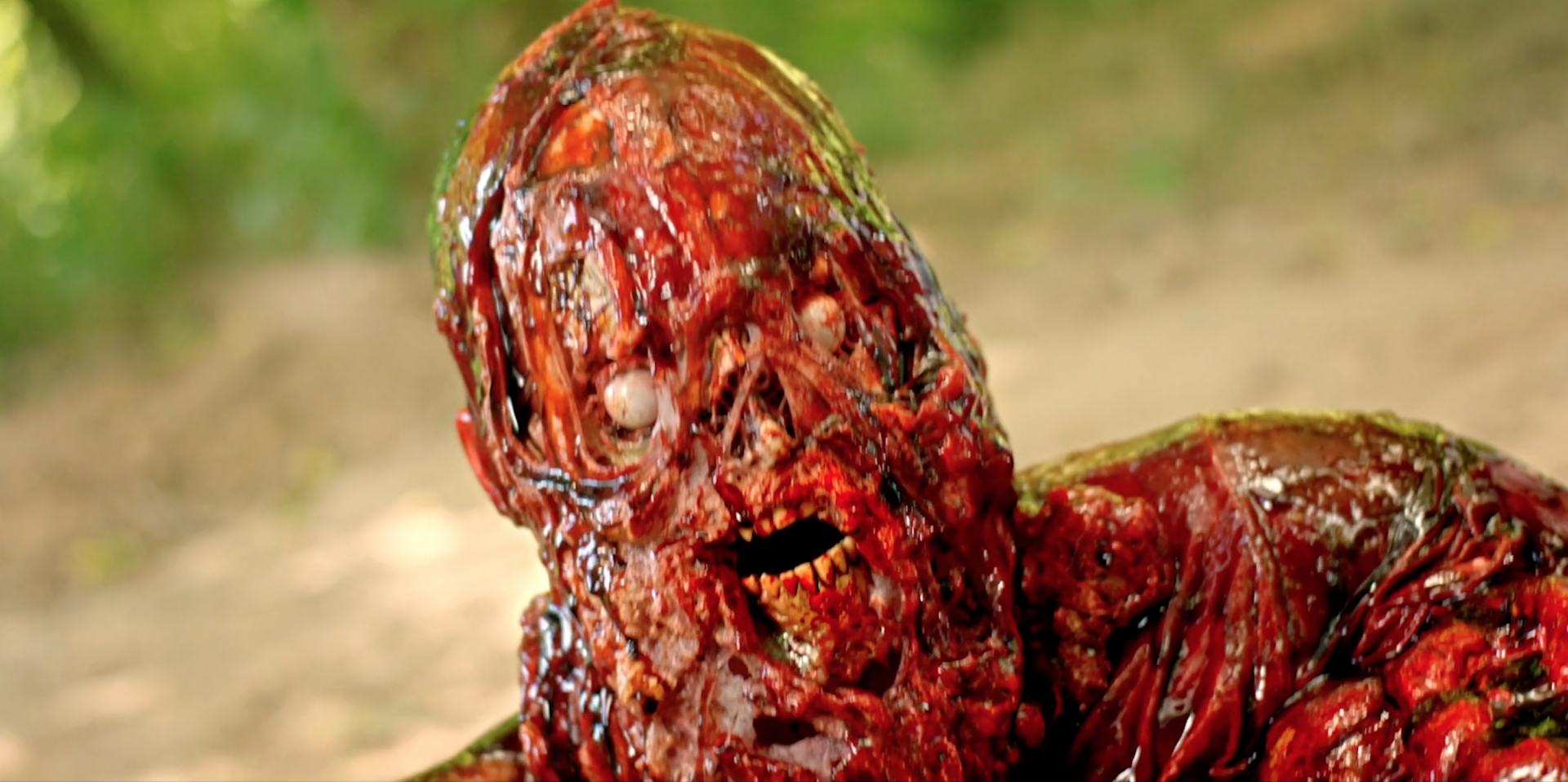 ONE TIME IN THE WOODS
This installment follows a small group of adults who are camping in the woods. Things quickly turn upside down when a paranoid man shows up to the camp site and warns them that his "change" is coming. This short features the coolest practical effects out of Scare Package, with an extremely impressive body-melting transformation. The mysterious man deteriorates into a vomit-inducing blob of flesh and bone on the floor. It's absolutely disgusting and certainly one of the coolest horror visuals of the year.
As if body horror wasn't enough, One Time in the Woods throws in a surprise slasher element. This completely spirals the narrative into a new sub-genre, resulting in some classic slasher-in-the-woods style slaying. There's an especially gnarly kill featuring a tree branch.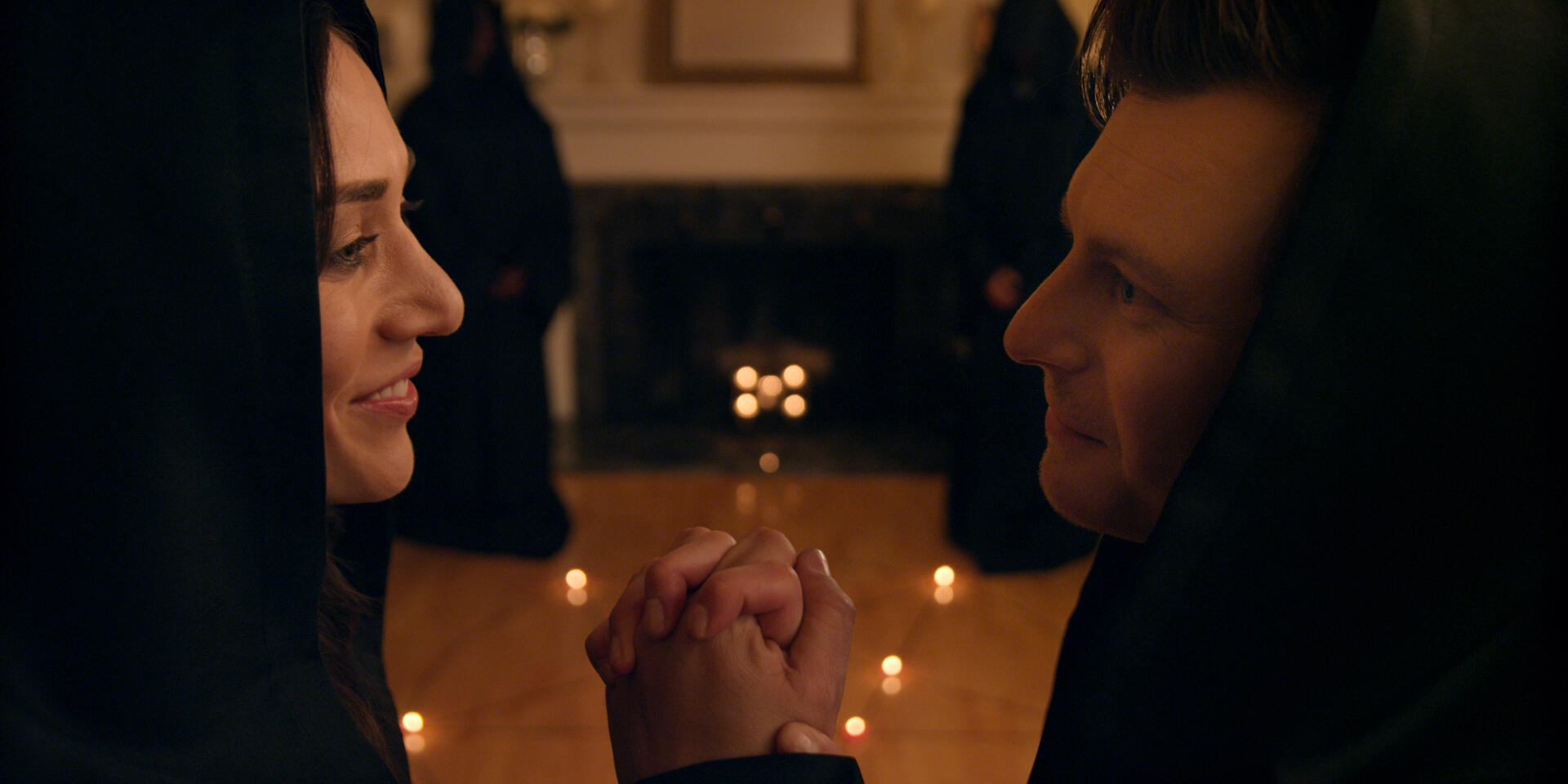 M.I.S.T.E.R. 
Noah Segan (Knives Out) stars and directs the intense M.I.S.T.E.R. installment. Segan plays a down on his luck married man who attends a meeting for men frustrated with their lives. The installment is ripe with comedy mostly expressed through the cringe-worthy desire of the men to embrace their masculinity. There's a few great shots that capture the mood, including an ominous dolly-in at a bar, and a silhouetted shot of Segan's character approaching a football field.
Without getting into spoilers, the installment has a few tricks up its sleeve. Two sub-genres are once again mashed in this segment. It's an interesting combination of horror elements involving killer makeup effects that will have surely have horror fans howling.
Segan's a joy to watch, and his performance spearheads the bizarre short film.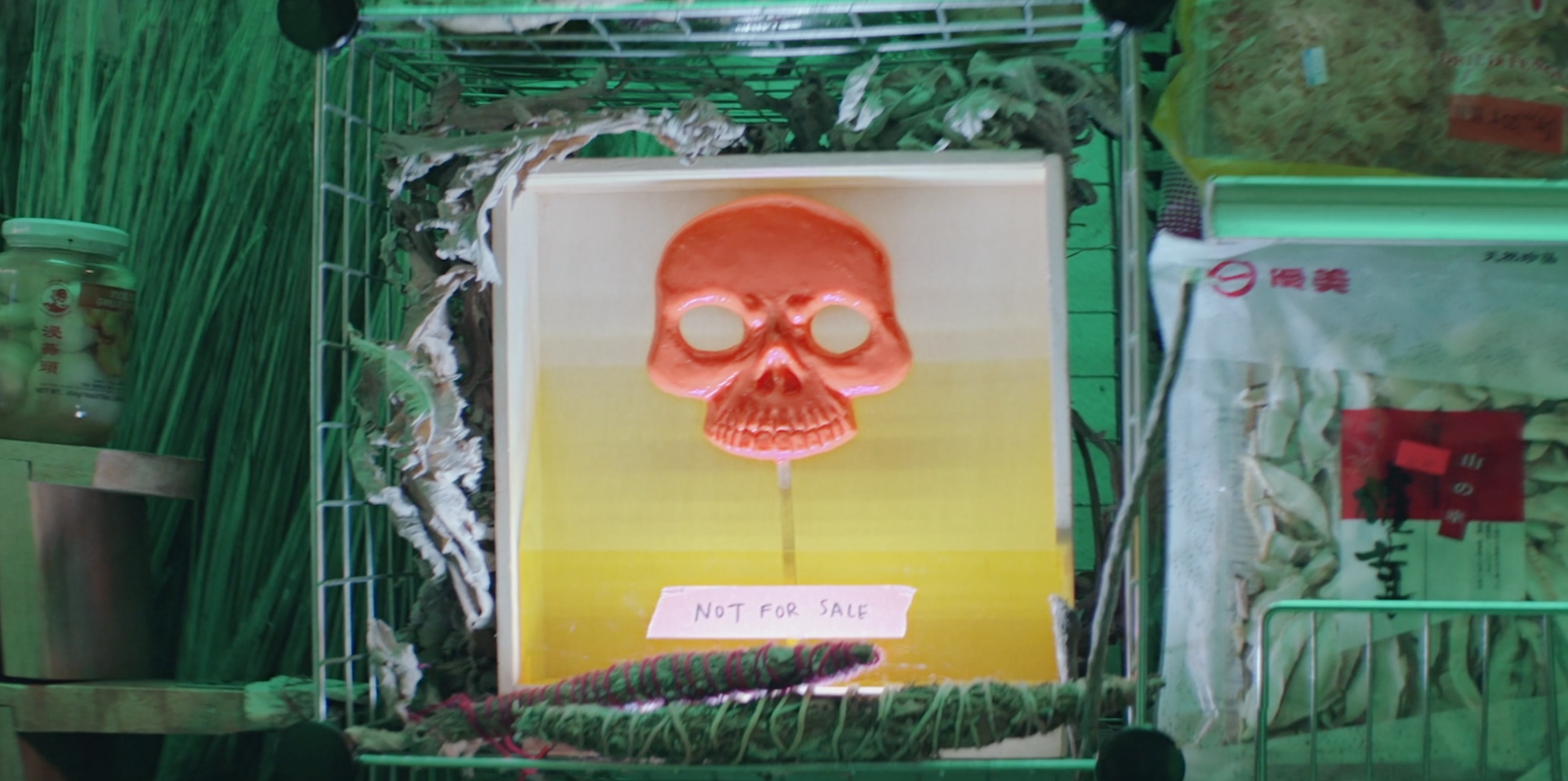 GIRLS' NIGHT OUT OF BODY
The most stylistic film within Scare Package is Andujar sisters' Girls' Night Out of Body. This segment is coated in beautiful neon greens, purples, and reds. The mesmerizing techno score elevates the visuals, emulating a sort-of giallo horror vibe. This flick follows a group of three girls who steal a mysterious skull lollipop from a small shop. The trio undergo a twisted transformation after licking the candy, all while being stalked by a leather-gloved killer. It feels a bit repetitive to feature another slasher/body horror hybrid segment in the same film as another.
The cinematography is absolutely beautiful in this segment. Every shot is pure eye candy, no pun intended. Additionally, a slight unfocused filter creates an uncanny visual style. The sets are elegantly designed and are a fitting backdrop for the strange tale. The youthful and joyful performances of the 3 leads lend itself perfectly to the dream-like tone. A beautifully twisted, slow motion, pillow fight sequence elegantly caps off this segment.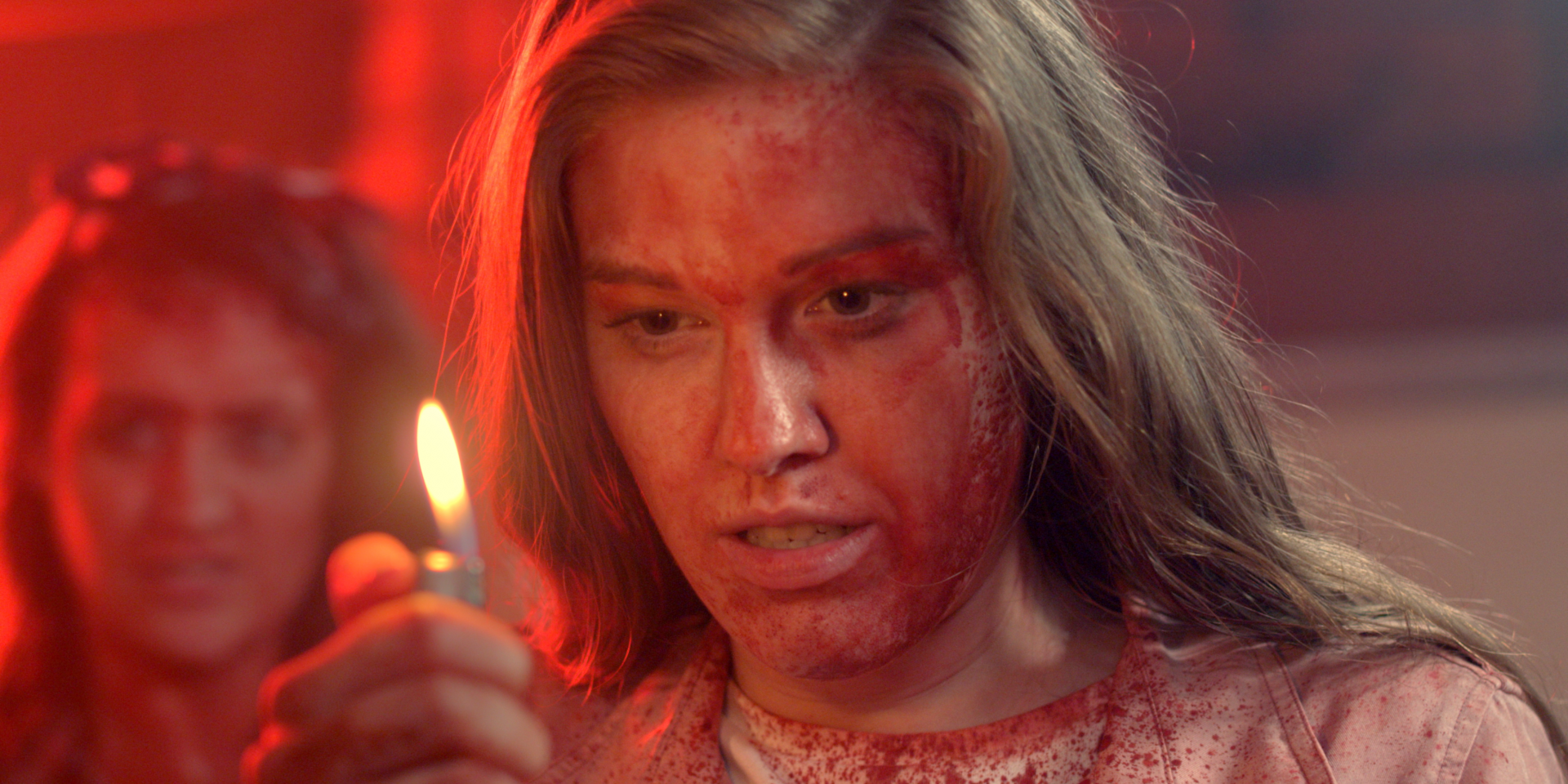 The Night He Came Back Again! Part IV: The Final Kill
In an obvious homage to the slasher genre, this segment features a group of teens who tie up a masked killer. After years of occurring slaughter, the "final girl" is dying to get her revenge. The slasher's design is genuinely unsettling, featuring a mask with a moveable jaw. With every evil cackle the bottom half of the mask lurches up and down.
This installment is pretty much a ridiculous practical effects showcase. The gang of surviving teens test out several methods in an attempt to defeat the slasher once and for all. Some standouts include an explosive electrocution and lower-half limb amputation. Amongst all the slaughter, a small narrative plays out amongst the teenage friends.
This segment is a great example of a fun concept being executed nearly perfectly.

SO MUCH TO DO
Unfortunately So Much To Do is the weakest entry in Scare Package. The story is not explored enough, resulting in more questions than answers.
Despite its narrative shortcomings, So Much To Do has some wonderful redeeming qualities. An excellent moving fog effect is brilliantly floats throughout the segment. One of the opening shots, involving a menacing silhouette of 2 hat wearing kidnappers, is extremely foreboding. The performances in this segment are also quite fun, and the final fight sequence is really well done.

HORROR HYPOTHESIS
Taking an obvious page from Cabin in the Woods, Horror Hypothesis follows a group of horror stereotypes (including Rad Chad himself!) as they navigate through a deadly slasher experiment in an underground lab. There's a lot going on in this installment, as the world of Rad Chad's video store becomes apart of a horror film in itself.
This segment features the most tropes and cliches, as Rad Chad tries to explain to a group of survivors the rules and fundamentals of a horror film. In addition to the science fiction element of the underground lab, this installment also includes a slasher character. It would've been nice to see a bit more variety in terms of the sub-genres used throughout the anthology film. Nonetheless, this sequence is still a blast.
A surprise horror icon makes an appearance during Horror Hypothesis, and without spoiling much his role is more than just a one-liner.
The gore in this installment is over the top spawning from a slew of ridiculous killing sequences. Fists punch through heads, treadmills slice through limbs, and fingers break.
Rad Chad carries this segment while offering his signature comedic quips whenever he feels necessary. The rest of the cast is entertaining as well, with each of them slowly fulfilling their destined horror cliches. The killer has a wonderful design, sporting human flesh as a face mask.
This segment is probably the most comedic out of the bunch, with a fantastic Tommy Jarvis gag towards the end. It's a fitting finale to the bizarre film that is Scare Package.

Scare Package is a bloody blast for all fans of the genre. Despite some weak comedic jokes, reliance on the slasher genre, and several abrupt transitions, the film is still a solid entry into the horror anthology library. – Noah Levine
Grade: 8.5/10
Scare Package is now streaming on Shudder.
---
Trending Now