'Shirley' Review: "Stunning But Mediocre"
---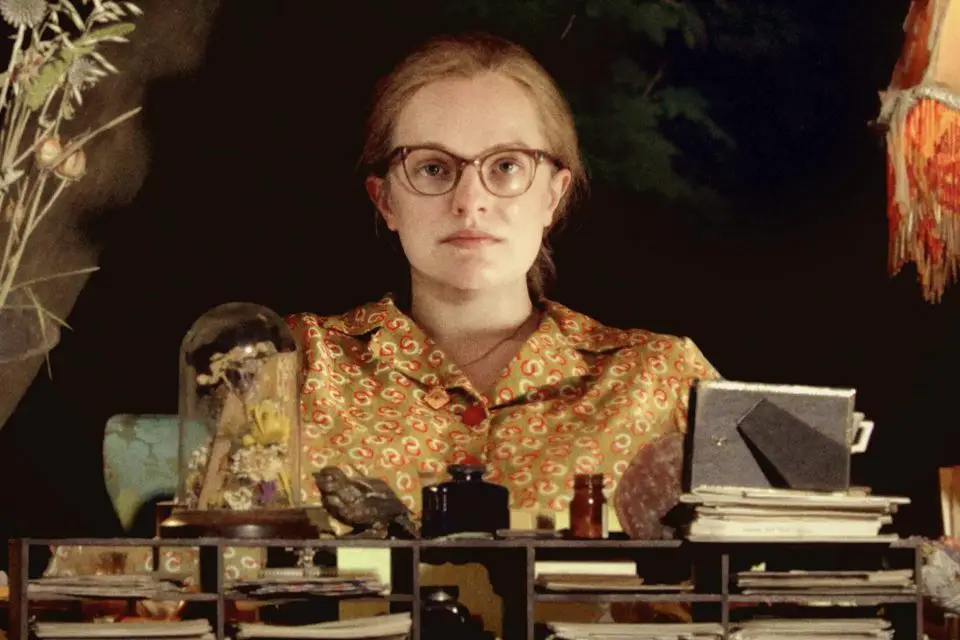 I've recently concluded that if you're about to watch a film with the NEON logo, you are in for a trip. Portrait of a Lady on Fire, Parasite, I, Tonya, and The Lodge have all drastically changed my perspective on film. So when I saw that NEON was releasing a biopic about the horror author Shirley Jackson, I could not help but gain excitement. Also, the names attached to this project were everything I could have wanted in a film. Not only does it have Elisabeth Moss in the title role, but it also features Martin Scorsese as an executive producer. But now that I have seen it, it pains me to say that Shirley falls short even with Moss and Scorsese involved.
What makes this perplexing is how much it sets up a solid premise. The film begins with Shirley in a rut as she seeks inspiration to write her next piece. After gaining inspiration from a newspaper clipping about a missing college student, Shirley decides to write her masterpiece "Hangsaman". As this is happening, she and her husband Stanley Hyman (Michael Stuhlbarg) take in a young English professor Fred (Logan Lerman) and his wife Rose (Odessa Young). On a visual level, the movie starts off on a good note. Cinematographer Sturla Brandth Grøvlen pairs darkness with warm tones to illustrate Shirley's hermit lifestyle, which creates a haunting and unwelcoming feeling. The production value is spectacular, the film looks and feels great overall.

That said, the most impressive aspect of Shirley is Moss's performance as Shirley Jackson. Anytime she's on-screen you cannot stop watching her. With the help of director Josephine Decker, Moss creates a demanding, aggressive, and inappropriate character in the best way. The delivery of her lines, the body language, and her overall presence are all masterful. If you weren't a fan of Moss before Shirley, I can guarantee you will walk out more of a fan than you could have ever thought you were.
As much as I can continue raving about Shirley herself, she is not the only character worth noting. Even though Stanley has limited screentime, his disgusting character is something you can't turn away from. To put it in a few words, Stanley is abusive, intrusive, manipulative, and simply vile. When you see Shirley in action, she's always inappropriate and drunk. On every occasion, you can contribute that to her hatred for her husband. Top that off with Stuhlbarg giving it his all and you have quite an engaging character despite his unlikability.

Meanwhile, we have Fred, who is perhaps the least interesting character of the bunch. Throughout the film, Stanley assists Fred as he is moving up in teaching. Yet for all that, the movie does not explore this dynamic to a satisfying degree. And given that Fred is already a secondary player, it makes the lack of screentime more noticeable. It certainly does not help that Lerman does not give a riveting performance to balance out the lack of character depth.
Lastly, we have Rose, a young and innocent woman that befriends Shirley. With Fred and Stanley cheating on their wives, Rose and Shirley begin to find solace in each other. As Rose and Shirley spend more time together, Rose picks up on Shirley's behavior and shared anger. We see this transition from Shirley being mad and Rose being innocent, to Rose being mad and Shirley being more normal. This contrasting transition between both characters was extremely interesting and something I don't see often in film.

Where the movie falls down the most is in its direction and editing. It establishes several key plot points, but it often ignores them when it reaches the pinnacle of said points. More egregiously, the stylistic approaches are not consistent between scenes. Although Decker seems to emulate The Shining and The Texas Chainsaw Massacre in its environment, she goes for something completely different soon after. To make matters worse, this problem also appears in the soundtrack. While it mixes heavy strings and plucking in the same eerie vein as The Shining, it eventually moves to a generic film soundtrack.
If I were to show you the two halves separately, you wouldn't think you were watching the same film. After the first 40 minutes, the movie seems lost in its own world without any means to find itself. I really wanted more. This film could have benefited from having an additional 40 minutes of plot. It could even have been a magnificent limited series. But since that is not what happened, we have a final product that feels incomplete. I firmly believe there's a longer cut of this movie and I really hope so. Given the solid cast and top-tier production, it's sad that I walked away with the thought of "it's fine, I guess".
Rating: 6/10
Shirley is now available on various VOD platforms.
The film stars Elisabeth Moss, Michael Stuhlbarg, Logan Lerman, Odessa Young, and Steve Vinovich.
---
Trending Now