Full Circle Pride: 'Bound' Is A Queer Genre Masterpiece
---
The Wachowski Sisters are nothing less than absolute treasures for Hollywood. Revolutionizing action and science-fiction filmmaking with The Matrix is a mere footnote on an admirable resume. As the most prominent trans filmmakers, Lana and Lilly Wachowski always make space for LGBTQ+ characters in their work. Cloud Atlas and sense8 are only two examples of Wachowski productions that give prominent roles to queer actors and characters. However, they were doing this from the beginning with their flawless debut Bound.
Bound is the story of two women of different backgrounds who come together for the score of the century. Once Corky (Gina Gershon) finishes her prison sentence, she takes a job as a plumber in a run-down apartment building. A chance meeting in an elevator introduces her to the sultry Violet (Jennifer Tilly) and her mafioso boyfriend Caesar (Joe Pantoliano). Immediately sparks fly between Corky and Violet and they begin an affair. Whenever the two catch wind of a nearly $2 million mob deal of which Caesar is the center, they plan an elaborate heist. If they succeed, they'll have all they need to start a new life. If they fail, they'll incur the full wrath of the criminal underworld.

What makes Bound so special is how it wonderfully plays around with classic archetypes. For example, Corky fits a noir archetype typically reserved for straight male characters. Hard-drinking, hard-working, and always in control of the situation, she's the type of character you want to be. It also helps that Gershon just oozes cool in every frame. At first glance, Violet appears to be nothing more than the fragile femme fatale archetype, defined by Corky wanting to save her from her boring life. But as the script and Jennifer Tilly's layered performance reveal, she is strong and complex on her own, much smarter than the people around her and the audience initially give her credit for.
READ- Full Circle Pride: The Ballroom Golden Age In 'Paris Is Burning'
These are two fully three-dimensional lesbian characters (in 1996 no less). Around that time – and even to this day – media often defines LGBTQ+ characters exclusively through their struggle with discrimination. While Corky and Violet do face a degree of discrimination, it is nowhere near the center of their arc. We know them as characters first and foremost, and why shouldn't we? It's incredibly rare to see queer characters get to have the kind of agency or even be included in the kind of balls-to-the-wall, tense thriller that Bound is.
Moreover, the Wachowskis do not play their romance as merely something for the male viewers to leer at. The romance between Corky and Violet is palpable, joyful even. Better still, choreographer and sex educator Susie Bright stages tasteful romantic scenes to avoid falling into the trap of exploitation that such films as Blue is the Warmest Color often fall into. These women's infatuation with each other is what's important, not the audience's infatuation with them.

Beyond the fantastically realized romance between Corky and Violet, they're at the center of a hell of an action thriller. The Wachowskis came out of the gate with all their filmmaking trips on full display. Their freewheeling camera wrings ever moment of the deadly heist as Don Davis's epic score creates an urgent mood. Gershon and Tilly navigate their fierce and physically demanding roles with grace as they head towards a face-off with Pantoliano's fragile patriarchal shell of a villain. Blood, bullets, and many close-calls later, Bound closes on a triumphant note that cements it as a perfect thriller.
Bound isn't just a great piece of queer cinema, it's a great piece of cinema in general. If there is one failing of the film, it's that it doesn't make much space for people of color in the story, which is something that the Wachowskis would later tackle in future projects. Nonetheless, Bound is the rare film that gives LGBTQ+ a voice outside of their struggles with discrimination, and it's a damn shame there isn't more. I'm paraphrasing here, but during one of her speeches Lana Wachowski jokingly asked, "Why doesn't anyone talk about Bound?". Well, we should. – James Preston Poole
Bound is now available for purchase on Blu ray and digital platforms and currently streaming on HBO Max.
Help LGBTQ+ youth this Pride season with The Trevor Project's crisis and suicide intervention work here.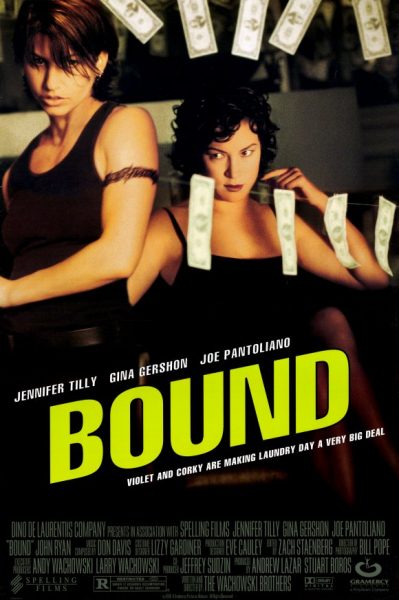 ---
Trending Now