Full Circle Flashback: 'Roll Bounce' – "The Groove Is Here To Stay"
---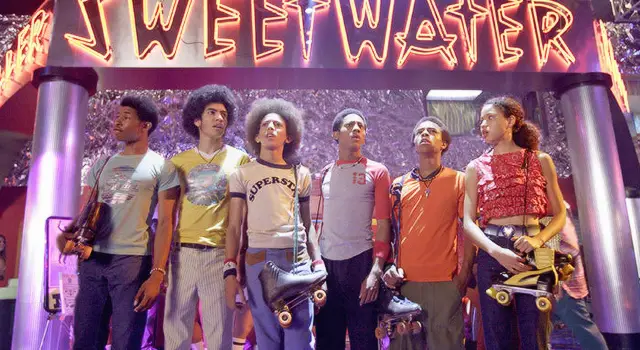 I owe my music passion to the black artists that soundtrack Roll Bounce. Prior to my experience with this movie, I had zero interest in music. At most, I got excited for Maroon 5 or Coldplay on the radio. But then I heard Bill Wither's voice for the first time. After that, I heard the richest harmonies from The Intruders, the attitude of Ohio Players, and the too-cool-for-school melodies of A Taste of Honey. I even managed to receive an early sex education lesson with the help of Donna Summer's "Love to Love You Baby". These artists changed my life. If it was not for these life-changing artists, I would never have fallen for techno, house, jazz, and funk. In fact, I probably would be listening to Imagine Dragons right now had I not gained such an appreciation for music.
Of course, my life would be different for other reasons as well. As a child, I used to feel uncomfortable with the way other people called me "Mexican". The sneer and suggestive tone of others would sap the word of all its value to me. Every syllable of that word felt like an attack, and I would feel ashamed of myself. Ultimately, I started to believe in my own inadequacy. It almost felt derogatory until this movie helped me find pride within myself to defend my own identity. With Roll Bounce introducing me to racial tensions, it gave me back my sense of self. Over the course of its 112-minute runtime, it showed me that I could reappropriate everything intended to hurt me with pride.

Set in the summer of 1978, Roll Bounce follows Xavier and his friends as they set out to make a name for themselves at a skating contest on the north side of Chicago. However, for them, it is not so much about skating. As it turns out, it means so much more to Xavier to prove his own self-worth. He does not need an outfit bedazzled with rhinestones and glitter down the pants to do it. Instead, he has the spirit of his own upbringing to make a fool out of privileged pretty boys. Not only does Roll Bounce focus on this class conflict, but it also intimately reveals the hardships within the classes. However, it does all of these things effectively with a light touch of comedy.
I understand that comedy can belittle and trivialize the enormity of big issues. And at first glance, Roll Bounce seems to do just that when our characters are met with laughter at a club named Sweetwater. However, the whole dynamic changes once the Garden boys board the bus back home. It hits Xavier, and he can see right through the jokes made at the expense of him and his friends. If it was not apparent before, then it is now. The skaters of Sweetwater were not laughing with Xavier and his friends but at them. These jokes do not necessarily carry the weight of classism when they are lightened with humor. It is only after the laughing track stops that we can confront classism in silence.

Make no mistake about it: Roll Bounce is funny. It takes its time to develop its characters, and you can feel the friendship between each of them. You can find some sense of the community in Chicago, with the two garbage men and the mischievous neighborhood children. All of these people give you an impression of what the south side is all about. And when Xavier performs his final skating routine at the climax, the stakes feel high. He does not represent himself, but his neighbors too. It is touching.
Although I do not have any personal investment in choreography or roller-skating, Roll Bounce makes it seem like the coolest thing on earth. Director Malcolm D. Lee brings real energy when skates bounce off the downbeats of "He's The Greatest Dancer" or glide through the bass lines of "Hollywood Swinging". I do not have many words to describe these moments in this film, let the disco speak for itself. Let the rhythms possess you with the desire to shake your rump. It is all good 70's fun, and it miraculously makes me nostalgic for memories that I have never experienced.
Go put on your dancing shoes and watch Roll Bounce. The soundtrack is truly transformative. However, I must add that we cannot stop listening to black voices when the record stops. We cannot continue to enjoy the culture without hearing the perspectives of those that continue to be silenced each and every day. Please listen carefully. Black lives matter. – Daniel Hrncir
Rating: 9.5/10
Roll Bounce is available on Digital HD and Blu-Ray.
The film stars Bow Wow, Chi McBride, Mike Epps, Wesley Jonathan, Meagan Good, and Nick Cannon.
---
Trending Now