Full Circle Flashback: 'Scooby-Doo' Review – "Like Wow"
---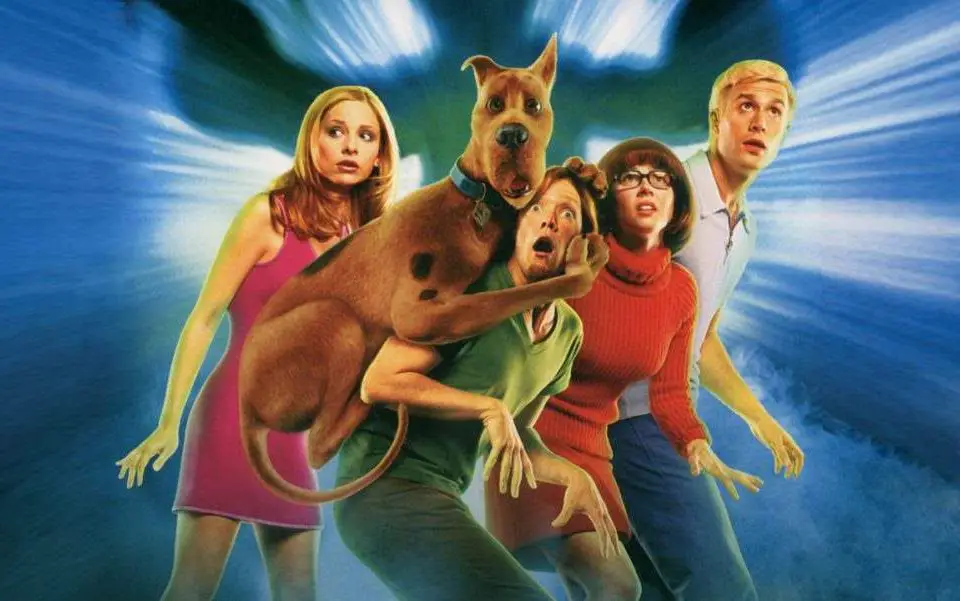 Before I could get my hands on that black-and-purple colored VHS tape titled THE EXORCIST, I had to settle for horror with training wheels. However, my gateway into the genre was not any less credible with animation and a groovy dog named Scooby-Doo. It was the perfect starting point. One viewing of Zombie Island will confirm my point. But it was not always the scary parts that I loved. Shaggy, Daphne, Velma, and Fred were all as vibrant and as colorful as their outfits. And the television show was so predictable that the formula of it was not a bore. Instead, it was comforting to know what to expect with each episode. But nothing could have prepared five-year-old me for screenwriter James Gunn's live-action adaptation.
It has been nearly two decades since then. And throughout that time, I have watched a few classics like Scream, I Know What You Did Last Summer, and Buffy the Vampire Slayer. With all of these flicks in mind, they give us a peek at the not-so-child-friendly Scooby-Doo we could have gotten. Originally, there was an R-rated cut of the film, but cuts were made and compromises were given. Not everything was cut, though. I do not care what anyone else thinks. Scooby-Doo is still one of the zaniest adaptations ever written. It puts to shame all other attempts at resuscitating intellectual properties, and Gunn does not bother to merely translate the source material to the big screen either. He gives this classic Hanna-Barbera cartoon, with all of its looping backgrounds and economical animation, a subversive spin that only fans of the series could daydream about.

Scooby-Doo follows the break-up of the Mystery Inc. gang. Velma blames Fred for stealing her credit after every mystery. And Daphne wants out from all of her kidnappings. This tension leaves Shaggy and his dog Scooby without their team of trusted friends. That is, until they receive a mysterious invitation two years later to solve a mystery at Spooky Island. Before the two have a chance to get their bearings, they meet the rest of the crew with the same invitation. A fast-forward of two years has given Daphne training in the martial arts, Fred a written novel, and Velma a job at NASA, which sets into motion a competition to see who can solve the mystery first. (Never mind what Shaggy and Scooby have accomplished in that span of time.) Little does the gang know, they ultimately need each other to make it through this latest nightmare alive.
I love the original Hanna-Barbera cartoon, but I will be the first to admit that its characters are about as two-dimensional as their drawings. And you can see this frustration as our characters in live-action try to defy their archetypes. Daphne does not want to be the damsel-in-distress any longer. Velma wants some recognition as the nerdy girl cast in the shadow of the charming, ascot-wearing playboy. Our favorite slackers, Scooby and Shaggy, will need to take up some responsibility to save their friends. As silly as Scooby-Doo might be, it challenges our favorite characters to be the heroes that we have always imagined them to be, but did not necessarily see within the cartoon.

And each of their performances are truly legendary. Obviously, Matthew Lilliard was born to play Shaggy. It does not matter whether you are a Scooby-Doo purist or not, you will find as much magic behind this Shaggy as you would behind Casey Kasem. If anything, Lilliard has given us a Shaggy that embodies the character whole. It is not just about the voice, Lilliard eats this role up with every single mannerism. Freddie Prinze Jr. and Sarah Michelle Gellar met on the set of I Know What You Did Last Summer. They both have a chemistry all their own. And Linda Cardellini gives Velma a a rare vulnerability that we would not expect from the brains of Mystery Inc. There is not a weak link.
This may have been the gang's live-action debut, but I get the impression that the legacy extends back farther. Only Fred could deliver a line to Velma like " I am a man of substance. Dorky chicks like you turn me on too". Only Daphne could take offense to wearing purple year-round, as if there are not seasonal colors to worry about. Every adult joke lands, every one-liner has become a staple of culture. I am sure that many parents have grimaced at the prospect of watching another family movie with a CGI dog. But I would like to believe that they laughed as much as the kids. Maybe they even stepped out the theater as Sugar Ray fans. All farts and burps aside, Scooby-Doo's humor is as smart as Velma.

Despite its rated R roots, Scooby-Doo manages to achieve a rare sincerity. Sure, the tone suggests something more mature than a family movie. However, I do think that Gunn's script can appeal to both children and adults alike. Friendship and teamwork are not silly little subjects. As simplistic as they might seem, they carry great importance over the whole length of our lives. We all need reminders at some point that we do not have to solve these life mysteries alone. Sometimes what we all need is a voice of reason, and in others, we need a dog. Whatever the case might be, we do not have to go through it alone.
I would like to preface the conclusion of this review with one comment. This review is not ironic. On the surface, Scooby-Doo might appear ironic too. But I do think its more sincere than most adaptations. We all have our own different ways of viewing it, and Gunn has found the perfect way of adapting to our expectations. Behind the wheel of Shaggy and Scooby's smoke-filled van might be you-know-what. But it could also be sizzling hamburgers. Ironic for adults, maybe. But not for meddling kids. They are only hamburgers.
What I am trying to say is that this live-action adaptation has lasting power. The jokes do not age poorly because we are a certain age. Instead, they remain as tasty as a comparison of Fred and a banana in a sundae split. It should then be no mystery why I genuinely love Scooby-Doo. Not for the memes, but its ability to speak to me at any and every moment of my life. – Daniel Hrncir
Rating: 10/10
Scooby-Doo is available on Digital HD and Blu-Ray.
The film stars Freddie Prinze Jr., Sarah Michelle Gellar, Matthew Lillard, Linda Cardellini, and Rowan Atkinson.
---
Trending Now