Like, A 'Scoob!' Review, Man.
---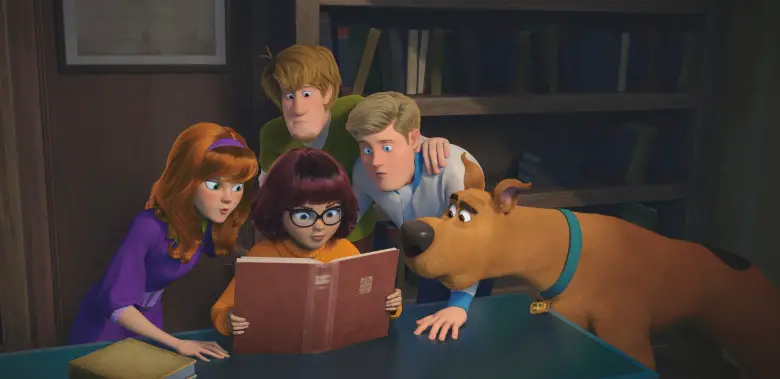 In the words of country artist Parker McCollum, "It's been a hell of a year." World War 3, the death of Kobe Bryant, COVID-19, and now Murder Hornets? It's been getting out of hand! To add to that, everything on TV is either about murder or a scandal. I think we all want something just a little light-hearted. Thankfully, that's exactly what Scoob! is!

Scoob! starts off with Scooby (Frank Welker) as a stray puppy on the run from the police. Eventually, he bumps into a lonely Norville "Shaggy" Rogers (Iain Armitage) and soon become instant friends. Coincidentally, it just happens to be Halloween, the one night for people to run around in spooky costumes. I think you see where they were going with this. While the film rushes through this opening rather quickly, it's efficient enough for its young target audience to grasp.
As Scooby and Shaggy celebrate Halloween, neighborhood bullies manage to steal their candy, meaning that they have to rush into a spooky house to retrieve it. Along the way, they meet a young Fred, Daphne, and Velma (Pierce Gagnon, Mckenna Grace, and Ariana Greenblatt respectively) to enter the house and get their candy back. It is here that they meet their first bad guy in a mask and solve their first mystery!

In the first of several nods to the original series, the film skips into the future with a recreation of the original Scooby-Doo title sequence. It is almost exactly shot for shot in the best way. As someone who grew up watching Scooby-Doo re-runs on Cartoon Network, this excited me! There have been countless Scooby-Doo incarnations on both small and big screens, but none of them really pay homage to the original quite like this.
However, once this scene ends, the film begins to depart from what defines the Scooby-Doo formula. We see the gang sitting in a diner discussing the potential future for Mystery Inc. Specifically, they want to turn their hobby into a full-blown business. Their celebrity investor – who's well known for finding talent – tells the team that Shaggy and Scooby are dead weight and should leave. After a falling out with Fred, Daphne, and Velma (now voiced by Zac Efron, Amanda Seyfried, and Gina Rodriguez respectively), Scooby and Shaggy go their separate ways.

But that's only the beginning of the deeply wild ride that Scoob! truly is. After some trouble brews at their usual hangout, Shaggy and Scooby are thrown into an adventure, which features many Hanna-Barbera favorites, such as Brian, the new Blue Falcon (Mark Wahlberg), Dynomutt (Ken Jeong), and Dick Dastardly (Jason Isaacs). It's now up to Shaggy and Scooby to help save the world. Though separated, Mystery Inc. learns that the brains, brawn, and looks just don't work without the heart.
Scoob! is the kind of fun, heartwarming movie that we all need right now. It has a perfect blend of humor for kids and adults. The movie's jokes are reminders that the kids who grew up with these cartoons are now the ones writing them. At one point, a character hilariously describes Shaggy as "what some middle-aged writer wrongfully assumes a teenage hippie would be like." Not to mention, another character refers to Shaggy and Scooby's beloved sandwiches as "hilariously oversized." The self-aware jokes and one-liners stand out a fair amount more than the plot, though.

For all the things Scoob! does right, there are a few things it does wrong. For example, everyone sort of just figures out where they need to go with little explanation as to how they figured it out. Additionally, the self-awareness of the original series seems to have overpowered the need to come up with an interesting plot. The plot isn't bad by any means, but it feels like it's been done too many times. I really enjoyed seeing the Hanna-Barbera characters on the big screen, but it felt like they could have been original characters and nothing would have been lost. Despite that, I'm glad they are there. I love those characters and always wished they got more recognition.
Scoob! has been getting some bad reviews, but as a family-friendly comedy movie, it wonderfully commits to its zaniness. It's so weird to me that a lot of adults are bashing it. This is a movie that knows its young audience and gives some treats to any parents watching. While it's not groundbreaking in any way, It's not bad – it's heartwarming and enjoyable for any age. I liked it quite a bit, and my 10-year-old cousin loved it even more. More than anything else, that's what matters most because this movie was intended for him and his age group and we, as critics, forget that sometimes. – Derek Flores
Rating: 7/10
Scoob! is now available on Digital HD.
Scoob! stars Will Forte, Mark Wahlberg, Jason Isaacs, Gina Rodriguez, Zac Efron, Amanda Seyfried, and Ken Jeong.
---
Trending Now