'Beastie Boys Story' Review: "A Heartfelt Tribute"
---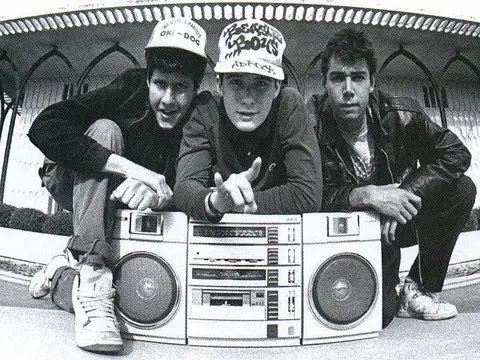 Do you remember the first band you got really into? For me it was the Beastie Boys. Hearing Licensed to Ill at the ripe old age of eight years old exposed me to a new world of bombastic rhymes and inventive production. I was hooked. The next few years were spent getting my hands on whatever Beastie Boys albums I could find, collecting their entire discography on CD. What I'm saying is that Beastie Boys Story is an important movie for me.
Despite my own personal connection to the material, Beastie Boys Story is the type of film anybody could get into. Directed by Spike Jonze (Her, Being John Malkovich), the film is actually mostly a taping of a live show put on by the two surviving Beastie Boys interspersed with documentary footage. Even with that conceit, it doesn't feel like watching a taping of a live event. Rather it's more akin to being physically dragged into the experiences of three young men by two very reliable narrators. Might I add charismatic narrators as well, with constant banter and running jokes such as them saying "this was the song that changed everything" no less than 3 times.

On a surface level, the early days of the Beastie Boys are a blast to follow. Adam Horovitz and Michael Diamond- aka Ad-Rock and Mike D, respectively- recount their days in the early '80s punk scene. Eventually, they meet Adam Yauch, aka MCA, who becomes the third member of their punk group that morphs into something of a rap trio. Seeing them mess around with new techniques, discovering a new sound in the process, is like something out of a biopic. There's a visceral thrill to seeing the three climb the ladder of success, putting out their smash hit debut Licensed to Ill in the process.
With success comes demons, and Beastie Boys Story doesn't shy away from that aspect of their career. Ad-Rock and Mike D lament that they became the party-obsessed frat bros they were meaning to make fun of; how their image was overtaking them. Ad-Rock heartbreakingly recounts the fact that in their early days they kicked out their friend Kate Schellenbach from the band due to the label's request. And when they get fed up with their lifestyle, they drop from their label and make an album that flops, Paul's Boutique (side note- it's my favorite of all of their albums).

There's your typical biopic arc. The rise and fall. Any other group would've called its quits after that. But that's what makes the Beastie Boys and Beastie Boys Story so special. Instead of taking their failure as a sign to go back to the sound that made them big, they instead go further into their own exploration. And that doesn't just apply to their music. Ad-Rock recounts how during a recording session of their song "Sure Shot", MCA went on the mic and performed lyrics that he didn't tell the other two about beforehand:
I want to say a little something that's long overdue
The disrespect to women has got to be through
To all the mothers and the sisters and the wives and friends
I want to offer my love and respect to the end
The lyric is a classic, but hearing how much it means to the Beastie Boys still shows the growth that they underwent. That's almost entirely due to Spike Jonze primarily focusing on the recounting of the stories by Ad-Rock and Mike D. It's a gamble that pays off because the two are so forthcoming and honest, letting their age wisen them rather than let them grow bitter. They seem as surprised as anybody that their next album Check Your Head found them more acclaim that only increased with the release of Ill Communcation. Through their narrative, it's clear: as the Beastie Boys grew as people, reforging their relationships, the better music they made and the more their fanbase increased.

It makes for a hell of an inspirational tale, culminating with the 1998 released of an album they consider their best, Check Your Head. Therein comes one of the few gripes I have with Beastie Boys Story. Although the film purports to tell the whole story, going through every significant event to this point, it skimps on covering their late period where they released two incredibly acclaimed albums and an instrumental album. It may not have fit their narrative, but it was still a part of their history.
Regardless, Beastie Boys Story is more than just a great music documentary. It's an affirmation that by taking risks and a proper dose of introspection, you can find success and personal growth. This is a story where the good guys won. And the best part? It's true. –James Preston Poole
Rating: 9/10
Beastie Boys Story is now available to stream on Apple TV+.
---
Trending Now