'Extraction' Review: "There's Always A Bigger Fish"
---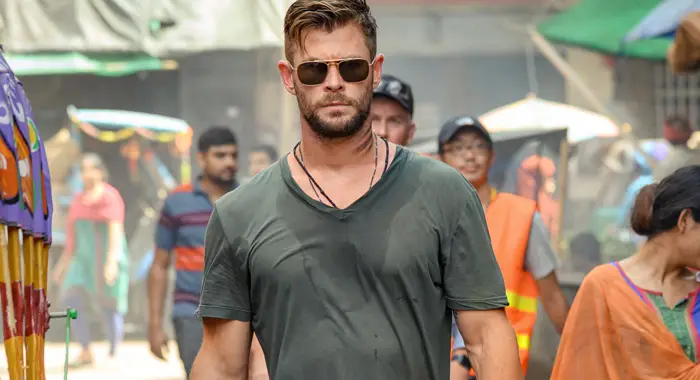 Extraction is an action film that revolves around exactly what its name indicates: extraction. Chris Hemsworth takes the lead role of black ops mercenary Tyler Rake in a film directed by stunt coordinator Sam Hargrave. As it turns out, Hargrave's background speaks volumes for what the film does well and what it does poorly. When I tried to remember the good parts of this movie, I had two thoughts: "it has decent action" and "it has nothing else". It feels beat for beat incredibly close to Taken, although there are distinctive differences.
Where Extraction fails is in its extraordinary inability to develop characters worthy of emotional attachment. Rake is a depressed man, reeling from decisions he made in his past. He feels a connection to Ovi (Rudhraksh Jaiswal), as to why he continues to protect Ovi after being told to leave him. That connection, however, fails to progress any farther in deeper meaning. Instead, the film surrounds itself with incessant violence, though credit to Hemsworth for tackling it effortlessly. The action sequences feature loads of guns and martial arts, but also a highly jittery camera. At some points, it can make you feel like you're a part of the scene. But in most cases, it can make you dizzy, as you try to focus on what's happening in the sequence.

Hemsworth makes a fine lead in an action film. Unfortunately, there was not a lick of a quip from him at all, even in the lighter moments. It's been a defining attribute in a lot of his films just to have some back and forth, and it would have really helped bring some brevity to a movie that needed it badly. There are absolutely perfect opportunities for multiple quips. I will say, Hemsworth having a fight scene with David Harbour was an interesting twist. Despite some beneficial points, Extraction is absolutely a grand waste of Hemsworth's talent.
While most times a mindless action film can be comforting and take you out of your realm for a little bit, this one absolutely fails to do that in the slightest. Extraction is overcome by gratuitous violence and action sequences, with nothing else involved. It doesn't care where its audience lies in terms of squeamish. Where it fails to play into topping each action sequence, is in one of the more famous lines, "there's always a bigger bada**". Said by the main villain in the movie, Extraction kills this in the final moments of the movie. I will refrain from hitting on spoiler territory, but the fact that we don't see that line come to fruition in a takedown made me even more frustrated.
Rating: 3/10
---
Extraction is now streaming on Netflix. The film stars Chris Hemsworth, Rudhraksh Jaiswal, and Randeep Hooda.
---
Trending Now