Top 5 Stoner Films of All Time
---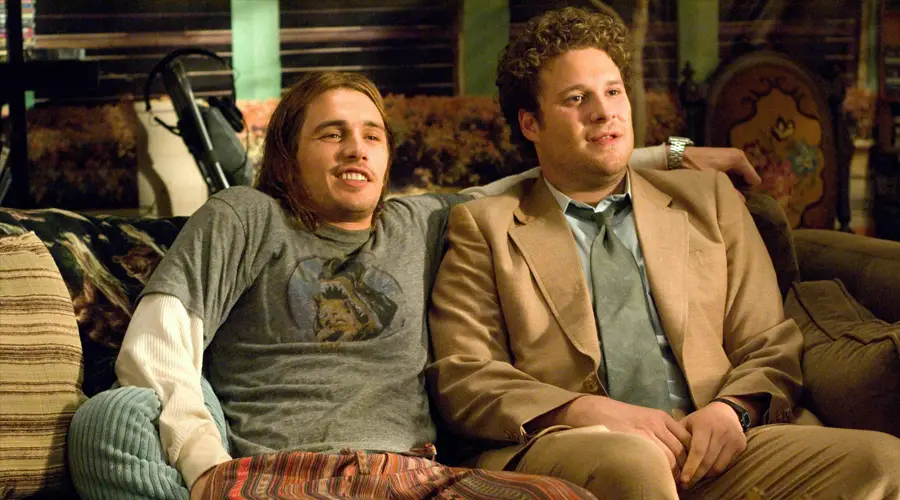 Today is 4/20 the "Stoner holiday." I have compiled a list of my personal top five stoner films of all time. From the 90s until now, we have been graced with some pretty amazing films that involve being stoned.
Some of these films star some of our favorite actors and actresses. You'll find that the genres are diverse, including coming of age, mystery films, and just movies about being STONED. Roll a joint, spark it, and let's see what films I have in my top five.
5. Fear and Loathing in Las Vegas (1998)

This Terry Gillam film starring Johnny Depp and Benicio Del Toro is a WILD RIDE. The duo takes a trip from LA to Las Vegas and consumes a massive amount of drugs on the way. Marijuana is just one of the several drugs involved in this film, but weed is all you need to enjoy this trip.
6 Joints/10
4. Dazed and Confused (1993)

This Texas set coming of age film was directed by Richard Linklater. The film stars a plethora of all-star Hollywood actors, whom, at this time, was barely starting out. Matthew McConaughey, Ben Affleck, Mila Kunis, Milla Jovovich, just to name a few. If you're from Texas this should definitely be on your list of stoner films. The film follows a group of teens on their last day of school in Austin, Texas during 1976. You're either a senior trying to party or an incoming freshman trying to not get hazed by next year's senior class.
6.5 Joints/10
3. How High (2001)

How High is a film about the perfect way to get into Harvard. Mix your best friends ashes in your w4eed, have his ghost appear, and ace your SAT exam. The two men are clearly not the Ivy League standard. They go through plenty of trials and tribulations to make sure they stay on campus. The Jesse Dylan directed film stars Method Man and Redman, two legends in hip hop. Yes, there's a second film but we don't acknowledge it. This is definitely a flick that you can just sit back, smoke, and laugh at until the Indica puts you to sleep.
6.5 Joints/10
2. Friday (1995)
F. Gary Gray has come a long way this since this film, but we can never forget this film. Starring Ice Cube, Chris Tucker, John Witherspoon (R.I.P.), Nia Long, and so many other icons… Friday is a film that hopefully at some point we've all gotten explicitly high too. Craig just got fired on his day off, and his best friend Smokey has the perfect idea: Get Craig high to take the edge off. Smokey, unfortunately, owes the neighborhood drug dealer Big Worm $200. I mean, what you do if somebody owed you $200? My thoughts exactly. So, Craig and Smokey must either get Big Worm his money or suffer the consequences. All the while, Craig has to deal with the neighborhood bully Deebo. This coming of age film is definitely more than just a top 5 stoner film. There are plenty of life lessons taught as well.
8 Joints/10
1. Pineapple Express (2008)

Dale Denton and Saul Silver must go down in the stoner Hall of Fame. Pineapple Express starring Seth Rogen, James Franco, Gary Cole, Rosie Perez, Danny McBride, Amber Heard, and another all-star cast is quite possibly the funniest stoner film I've ever seen. I still remember seeing this film in theaters and laughing so hard my stomach was hurting and I cried. Denton (Rogen) and Silver (Franco) are two stoners that go on a wild adventure after Dale witnesses a murder. The murder is from the only drug dealer in LA that deals a special strain of Marijuana, Pineapple Express. Denton drops a joint that pins him at the scene. He must try to escape death while trying to keep his relationship with his 18-year-old girlfriend Angie Anderson (Heard) from going off the rail. The nearly two-hour film directed by David Gordon Green (Halloween 2018) is definitely worth watching on any marijuana occasion, but definitely today.
8.5 Joints/10
Well, that rounds out my top 5. However, I have a few honorable mentions that didn't make the cut. If you have something you think you should be in the top 5, please comment below! Enjoy your 4/20, and please stay quarantined so we're not home on next year's! Thank you for reading!
Honorable Mentions:
6. Harold and Kumar go to White Castle
7. This is the End
8. Half Baked
9. Grandma's Boy
10. Jay and Silent Bob Strike Back
—–
Did you enjoy this article? If so, consider visiting our YouTube channel, where we discuss the latest and greatest in pop culture news.
---
Trending Now